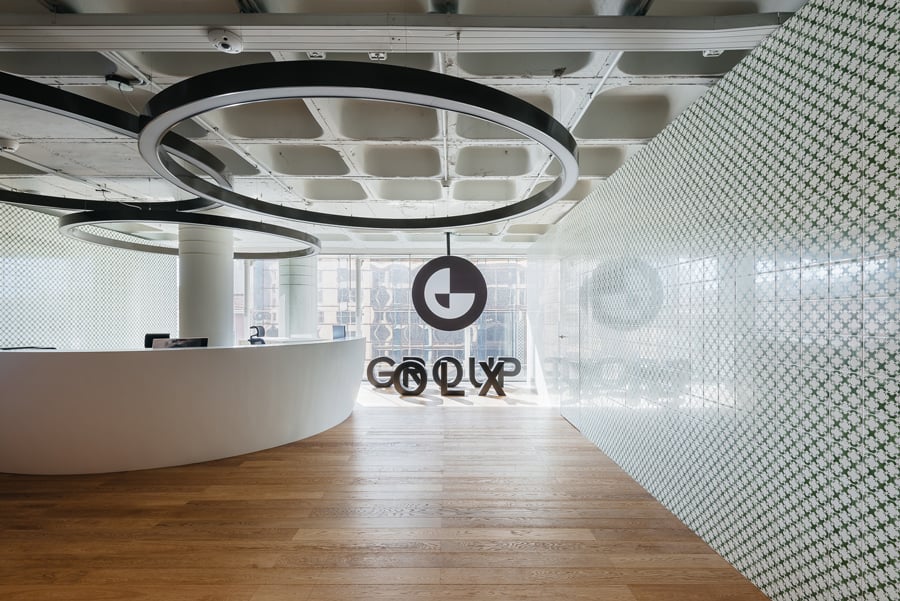 April 19, 2019
Using Local Craft and Materials, a Lisbon Office Roots Itself in the Surrounding City
When designing a new home for a company's Lisbon office, local firm Pedra Silva Arquitectos deployed Portuguese ceramics and wool to create a homey, relaxed, flexible-use workplace.
---
Though many Americans haven't heard of OLX, the company is a global giant: Every month 350 million people buy and sell goods on its online marketplaces. The growing enterprise tapped Portuguese firm Pedra Silva Arquitectos to design a new home for the 300 employees who work in its Lisbon office. Naturally, OLX sought a flexible work environment that could accommodate both collaborative and head-down, focused work. The office building has five facades and a large semicircular atrium, so employees would have to contend with irregularly shaped floor plates: This reality made wayfinding another priority. But most of all, says head architect Luís Pedra Silva, OLX requested "a space [that] could capture something that reflects its location, which is the city of Lisbon."
One logical choice was specifying the city's ever-present variegated ceramic tiles. Pedra Silva Arquitectos photographed tiles throughout the city and worked with a local manufacturer to reproduce a few favorite patterns. The firm also teamed up with Portuguese wool company Burel Mountain Originals to create acoustic wool tiles that double as privacy screens. Together, the colorful ceramic and wool elements provide clear navigational aids for employees. But more than that, they make clear the office's setting in the heart of Portugal.
You may also enjoy "Google Used Sensors to Connect Neurology and Aesthetics at Milan Design Week."
---
More from Metropolis
---
Would you like to comment on this article? Send your thoughts to: [email protected]