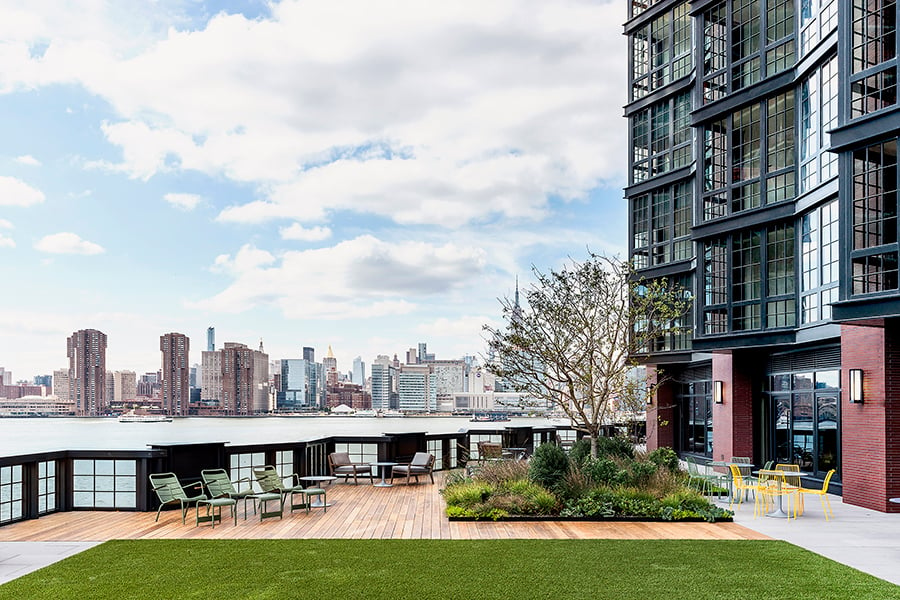 April 11, 2019
In Brooklyn, One Blue Slip Brings High-End Residential Development and New Public Spaces
The 30-story tower and its surroundings include design from Handel Architects, Gachot Studios, and James Corner Field Operations.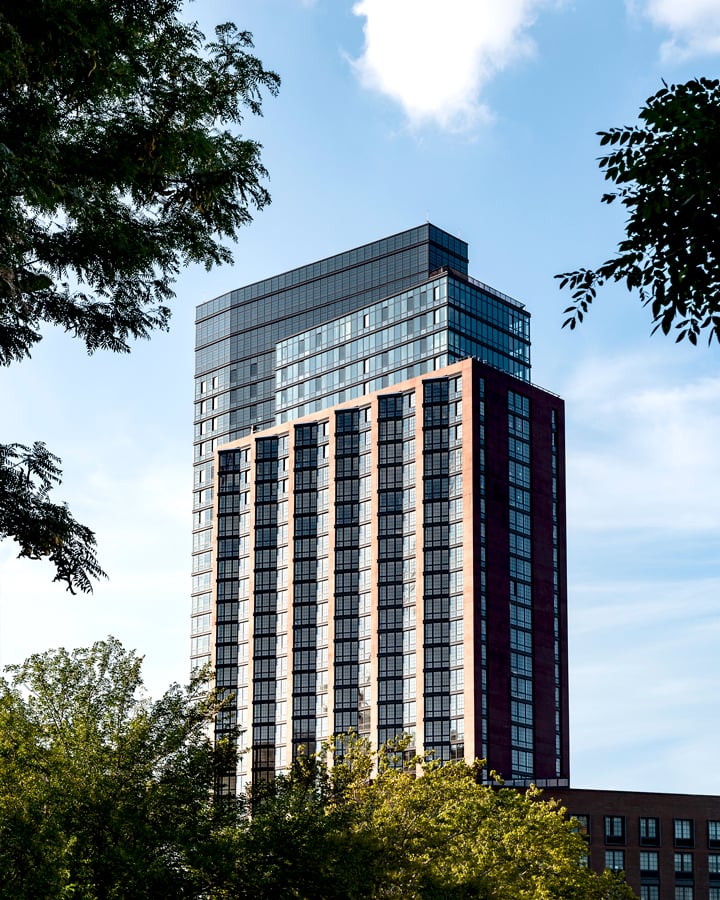 ---
In a once-industrial stretch of Greenpoint, Brooklyn, along the East River, a new neighborhood stands apart from many of New York's other riverfront properties. Handel Architects, which designed the master plan for the 22-acre mixed-income development, hopes the area will grow in concert with the changing waterfront—including the attendant flood risk and the challenges of remediating a former industrial site.
When complete, Greenpoint Landing will include approximately 5,500 rental units and 2,200 linear feet of resilient green space that links two city parks along a terraced esplanade designed by James Corner Field Operations (JCFO). So far, Handel has completed three affordable residential buildings there, along with the market-rate One Blue Slip, a 30-story tower developed by Park Tower Group and Brookfield Properties, that set the broader development's visual tone when it opened in August. (Two more towers, designed by OMA, are expected to break ground this summer.)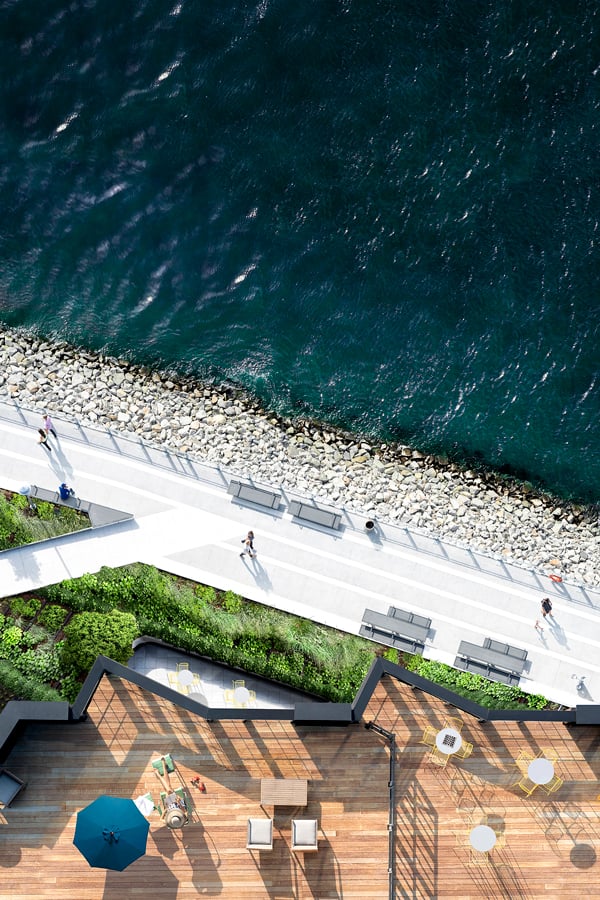 ---
The goal was to create a neighborhood marker that would reference its surroundings while being instantly recognizable across the river in Manhattan. "Honoring the context of Greenpoint was critical, and it's hard to do that at a tower scale in a way that doesn't become a pastiche or cliché," says Gary Handel, Handel Architects' founder and managing partner. So his team looked to the nearby warehouses and art studios that saturate the area, selecting Roman brick and installing generously proportioned divided-light windows.
---
More from Metropolis
---
Maximizing the site's expansive Manhattan views—long hidden behind fenced-in parking lots—informed the facade's signature sawtooth window bays. "We had to prove to everybody the form would work," says Handel, whose team used a mix of digital and physical models to demonstrate that the bays, which reference the serrated skylights often seen on warehouses, would capture the vista. (They do, with 90 percent of the units boasting skyline views.) "They give the building a tremendous amount of character," he explains, and serve to help break down its scale.
---
Inside, residents are greeted by a comfortable lobby centered on a fireplace set in black metal, a material that offers a visual "treasure hunt" through the building, Handel says. Gachot Studios designed the amenity areas, which include a fitness center, several lounges, a game room, and a coworking space, all informed by an approach partner Christine Gachot calls "hotel lite." These semipublic spaces echo the architecture with a palette of rift-cut white oak, blackened steel, and hints of oil-rubbed bronze. "We took a lot of our cues from Gary's team," says Gachot. "Their use of materiality is very pure." Custom velvet furniture and layers of hand-knotted rugs engender a homey feeling, while art pieces curated by the Brooklyn gallery Picture Room reinforce the local link.
Perhaps most enticingly, many New Yorkers will experience Greenpoint Landing through its public green spaces, which feature native-adaptive plantings—Eastern red cedar, black tupelo, winterberry—meant to stand up to harsh summers and the threat of inundation. More than parkland and picnic areas, then, the landscape serves as a rugged frontier whose elevated terracing can help protect Greenpoint from future storm surges, and is part of Handel's overall strategy to embrace the waterways rather than simply perch upon them. That meant remediating the land once the area was rezoned for residential use, a task undertaken by Langan Engineering & Environmental Services. "It's something cities are going to be faced with as they reclaim their waterfronts," Handel says, noting that "no one would propose residential use on a site that remains contaminated and posed any risk to people."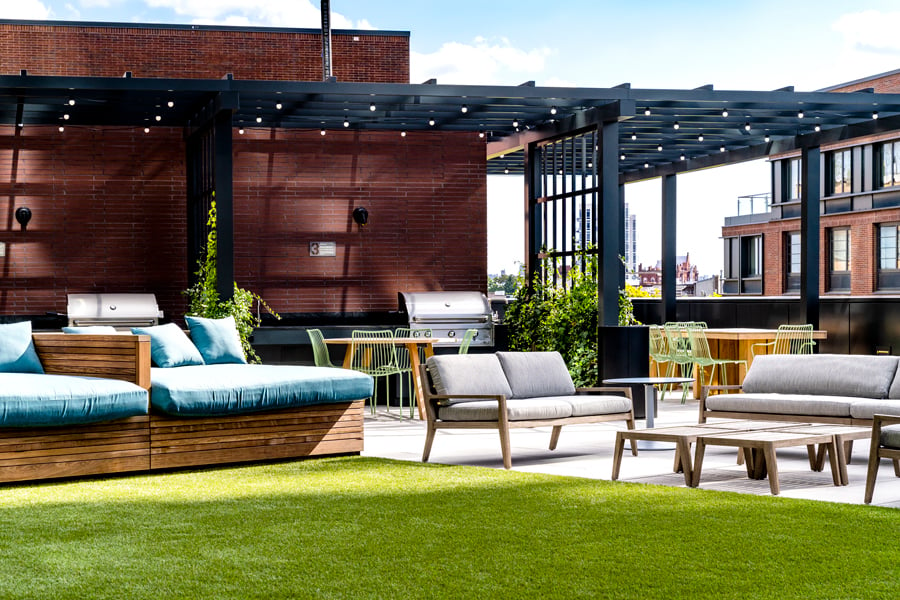 That idea is echoed in the way the public spaces will be used, not just by residents but, the designers hope, by the wider neighborhood. "These are urban parks, and we want them to be for people," says JCFO principal Karen Tamir. "We're thinking about ecology and sustainability, but people are in the front of our minds."
PROJECT CREDITS
DESIGN ARCHITECT: Handel Architects
INTERIORS: Gachot Studios
LANDSCAPING: James Corner Field Operations (JCFO), Future Green Studio
DEVELOPERS: Brookfield Properties, Park Tower Group
SELECTED SOURCES
EXTERIORS FACADE: Pacific Clay
LIGHTING: Bega
WINDOWS: Mannix, Kawneer, Schüco
DOORS: Kawneer
GLAZING: Guardian Glass
OUTDOORS FURNITURE: Custom design by JCFO, fabricated by Custom Lab
LIGHTING: Flushing Meadows, Century
BUILDING SYSTEMS CONVEYANCE: Jenkins & Huntington
MEP, SECURITY: Cosentini Associates
You may also enjoy "A Brutalist House in São Paulo Gets a Modern Refresh."
Would you like to comment on this article? Send your thoughts to: [email protected]