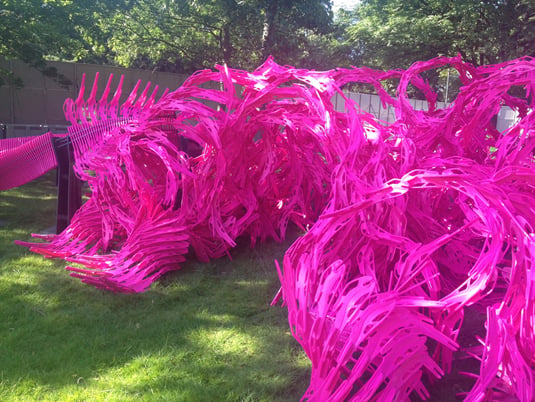 July 25, 2012
BLOOM Games Invites Londoners To Build an Urban Toy
London Mayor Boris Johnson's office has commissioned an urban installation by Bartlett architecture professors Alisa Andrasek and Jose Sanchez.
Design lovers and gamers unite! You can finally put all those mind numbing hours building replica LEGO figures to good public use, Olympics style. London Mayor Boris Johnson's office has commissioned an urban installation called BLOOM Games, by Bartlett architecture professors Alisa Andrasek and Jose Sanchez, for Victoria Park in the East End. True, there are no medals to distinguish you from your obviously inferior competitive builders. But there's no mandatory drug testing either. And vigilante spying on other gamers' constructs—totally allowed!
The makers of the game describe it as a swarming urban toy inspired by social gaming networks. Each fish-shaped block measures 40 centimeters (just under 16 inches long) and has three connection points. "The cells are universal since they are all the same, but the combinations are infinite. You quickly learn the logic," Andrasek says. "When two components interlock cumulatively, a frictional field produces its strength and stability."
---
More from Metropolis
---
The game officially begins during tomorrow's Opening Ceremonies at the free BT London Live event (tickets required) and lasts for seventeen days. The initial ground configuration: an estimated 6,000 neon pink components (the official Olympics color) arranged into an out-of-control spiraling futuristic hedge. Sixty thousand components will be fed into the installation over the course of the gaming with more pieces being added as playing intensifies.
The Greater London Authority is restricting the collaborative life-sized art game to two locations "for security reasons," according to the architects: Victoria Park and the main quad at University College London, with a third installation to be erected near the National Portrait Gallery in Trafalgar Square during the Paralympics, from August 28 to October 9. "No other locations are allowed, but it could still happen if people take the components and carry them around or if they get appropriated by the Occupy Movement," Andrasek says.
BLOOM Game is designed to piggyback on expected crowd migrations and give listless tourists something to do while standing on lines. An ideal alternative site: London's South Bank along the River Thames, with the long, linear landscape allowing for the organic growth of an enormous, uninterrupted series of structures.
Each component—a freebie souvenir, one per customer please—is composed of 100 percent recyclable PET plastic. Speculative renderings by the architects envision bizarre, rhythmic helixes and the possibility of building a massive but in all likelihood wobbly canopy structure that will provide minimal cover from rain. (See the official website at www.bloom-thegame.com.) Gamers be cautioned: children should not climb on the configurations. Pushing and pulling, hanging or leaning on—not a smart idea. "It's an infrastructure for the collective imagination, and it's proved to be very addictive in preliminary tests," Andrasek says. "Only by playing does the actual design emerge."
Laurie Manfra is a freelance architecture and design writer and publisher of the e-book imprint, Point Literary.