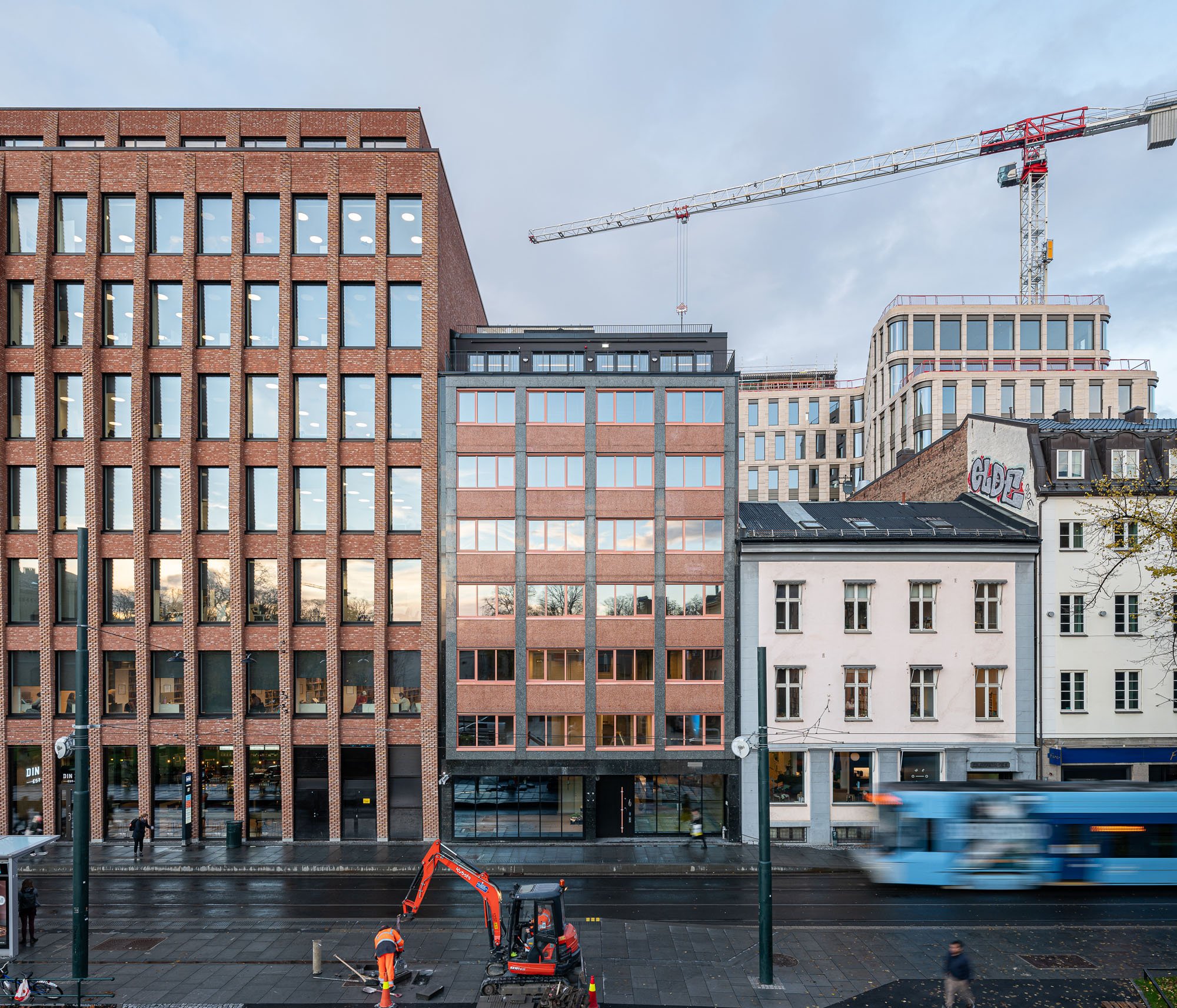 February 3, 2023
This Oslo Workplace Is Made of 80 Percent Upcycled Building Materials
The European Commission estimates that the building industry creates around a third of the world's waste. That's an almost unimaginable volume of demolition debris—wood offcuts, old tile and carpet, pieces of steel, windows that didn't quite fit, concrete rubble, and more. But viewed another way, all of that garbage is also a wealth of raw building materials waiting to take shape. Is it possible to design a building almost entirely from waste?
For Mad Arkitekter, an architecture studio founded in Oslo in 1997, the potential of reusing construction waste has been an obsession that led the firm to redesign its own offices with largely upcycled materials in 2021. When real estate developer Entra approached the firm about overhauling and expanding a 1958 office building nearby, the firm saw an opportunity to take reuse to the next level.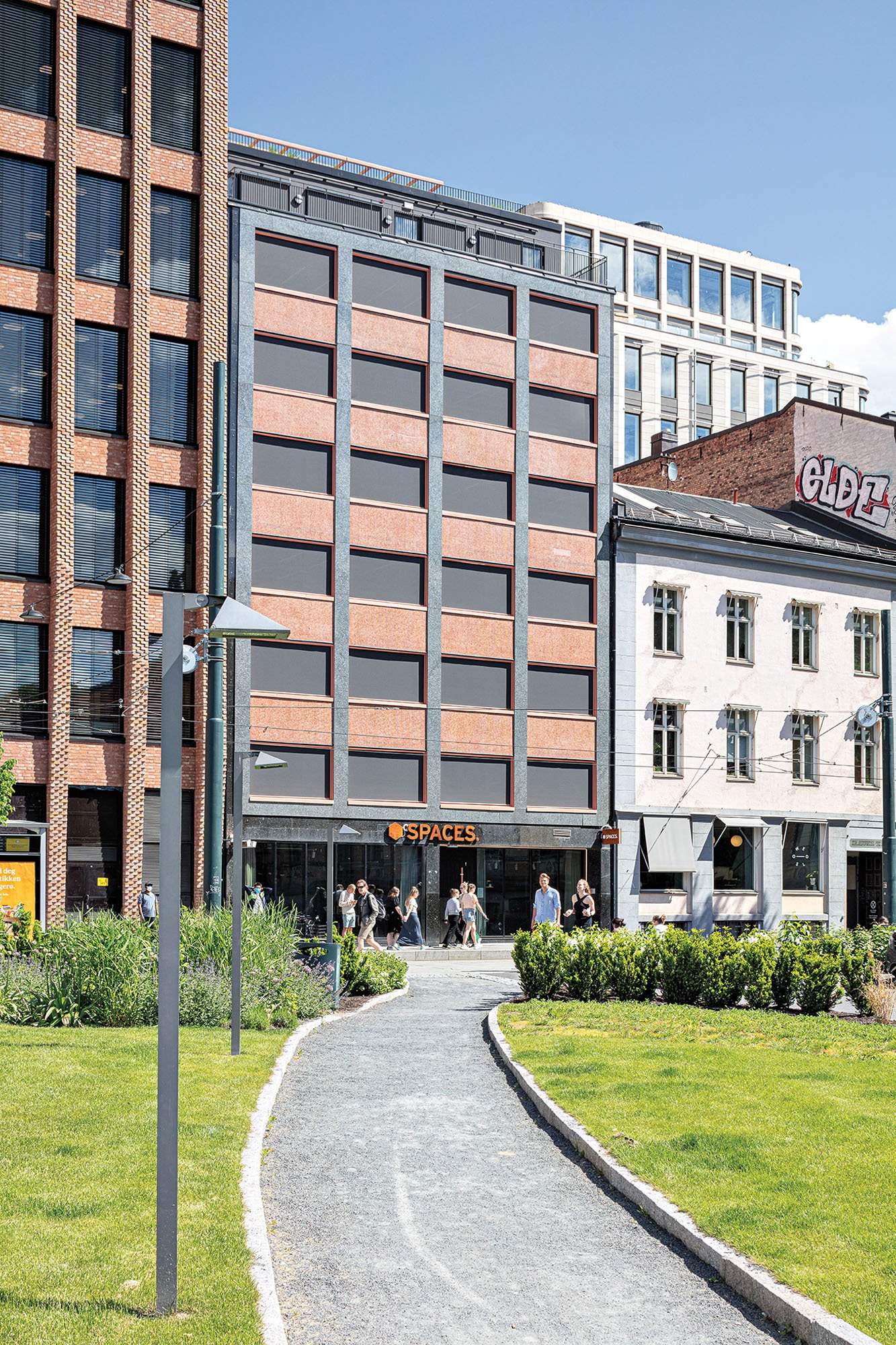 This Project Uses Nearly 80 Percent Reused Components
The project, referred to by its address at Kristian Augusts Gate 13, boasts nearly 80 percent reused components employed across the refurbished existing office building and an eight-story, 9,200-square-foot addition. The strategy cut its embodied carbon emissions by 70 percent compared with baseline new construction.
At 43,000 square feet in total, the building "is big enough to set an example, but it was small enough to handle," says Åshild Wangensteen Bjørvik, partner and CEO of Mad Arkitekter's Oslo office. Her design team sourced materials such as structural steel, tile, bricks, wood, cladding panels, windows, and even concrete floor plates from 25 demolition sites and building projects around Norway that she calls "donor buildings." Along the way, they proved that reuse has potential far beyond demonstration projects and off-grid homes.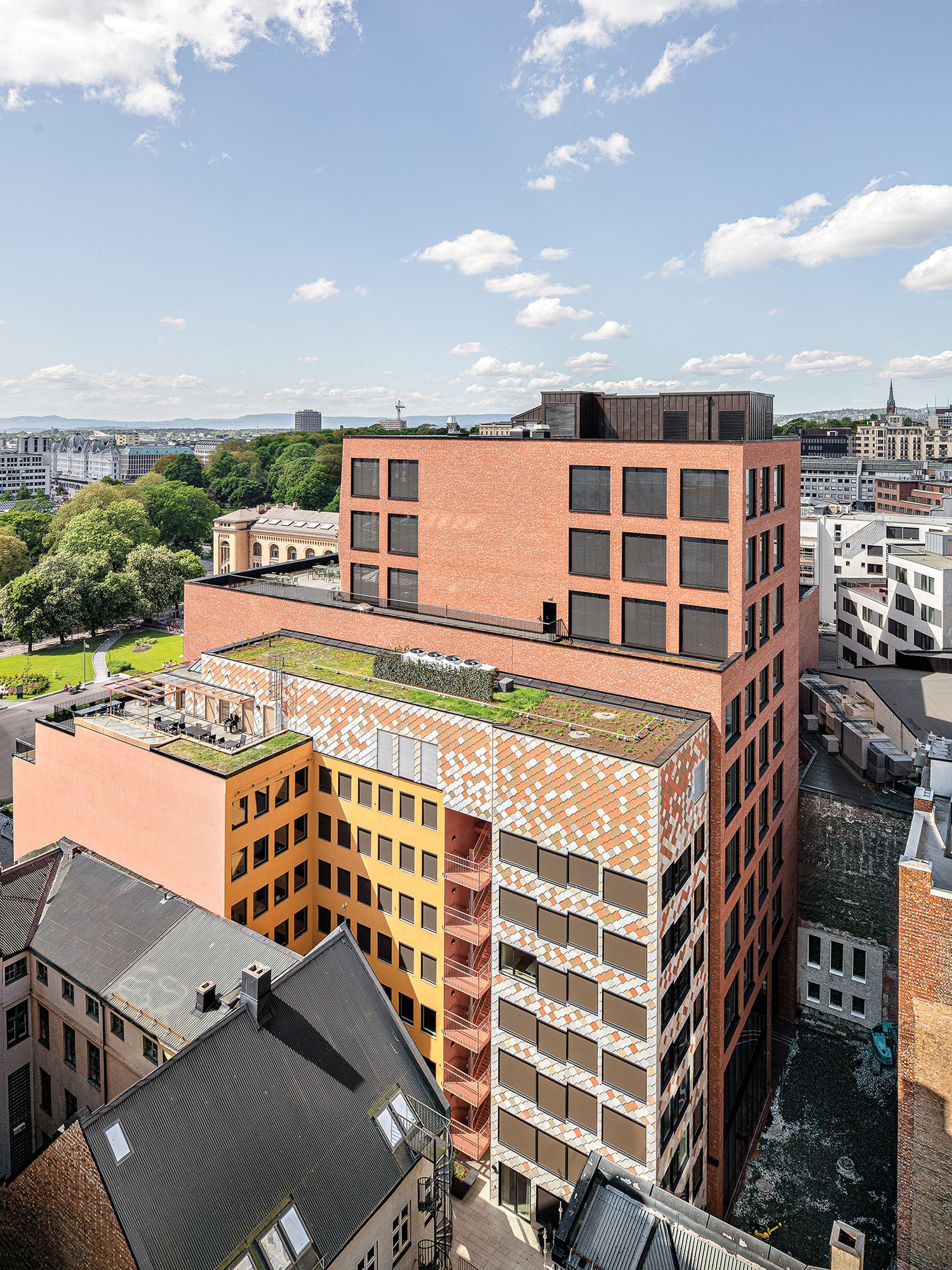 Hurdles For Material Reuse
The hurdles were many: Reuse is not exactly covered by building codes and regulations, the marketplace for reused materials is not well established, and coordinating the construction schedule with the demolition schedules of dozens of other projects required patience and flexibility. Certain elements couldn't be reused: Glass office partitions couldn't be found in time, and only three of the addition's floor slabs could be made of salvage.
Still, 80 percent is remarkable, and Bjørvik is optimistic that Kristian Augusts Gate 13 will create a pathway for subsequent reuse projects. "It was more expensive for these [steel and concrete] components in particular because they are complicated to reuse. But after this project, many others have followed. We made a new pathway, a new routine, a new way of doing things so that it's much easier now and the cost is going down."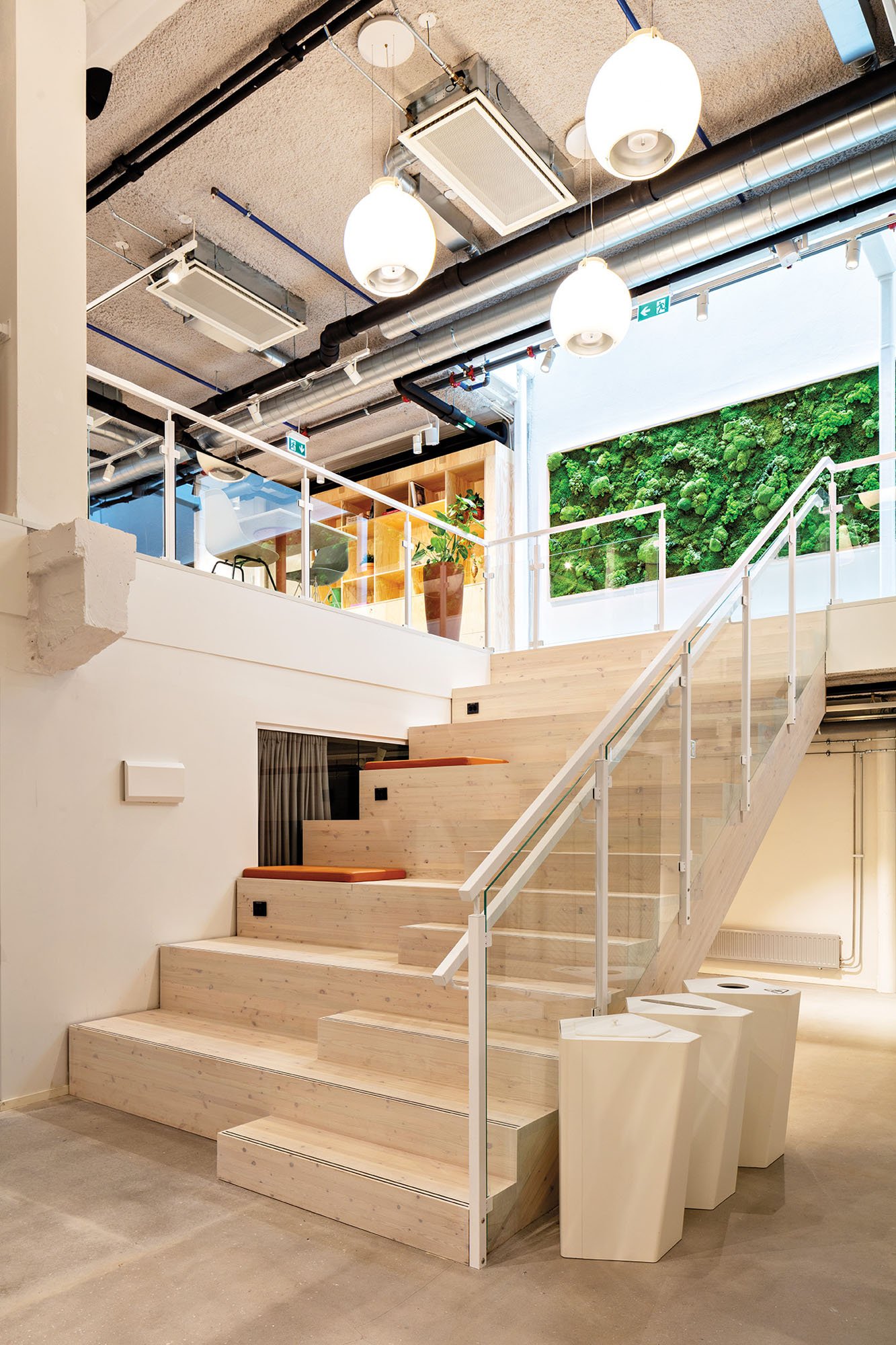 Key Partners for Mad Arkitekter's Reuse Project
To ensure safe repurposing of structural elements, the Mad Arkitekter team developed partnerships with research institutes and engineers in Norway to test steel and concrete for structural soundness. Support from the City of Oslo was also key. "The municipality really had confidence in us and that we would make a project that could handle both the law and the reuse, and certified that this building would last for years," says Bjørvik.
The building's tenant, coworking franchise Spaces, was another key partner. Originally, the interiors had to conform to the Spaces design manual, but given the varied availability of reused materials this wasn't always feasible. In most cases, Bjørvik says her team was able to find reused materials that fit the Spaces palette, but they persuaded the brand to allow for some flexibility. In the end, Spaces was so invested in the process, it worked with Mad to create a new design manual specifically for reused buildings.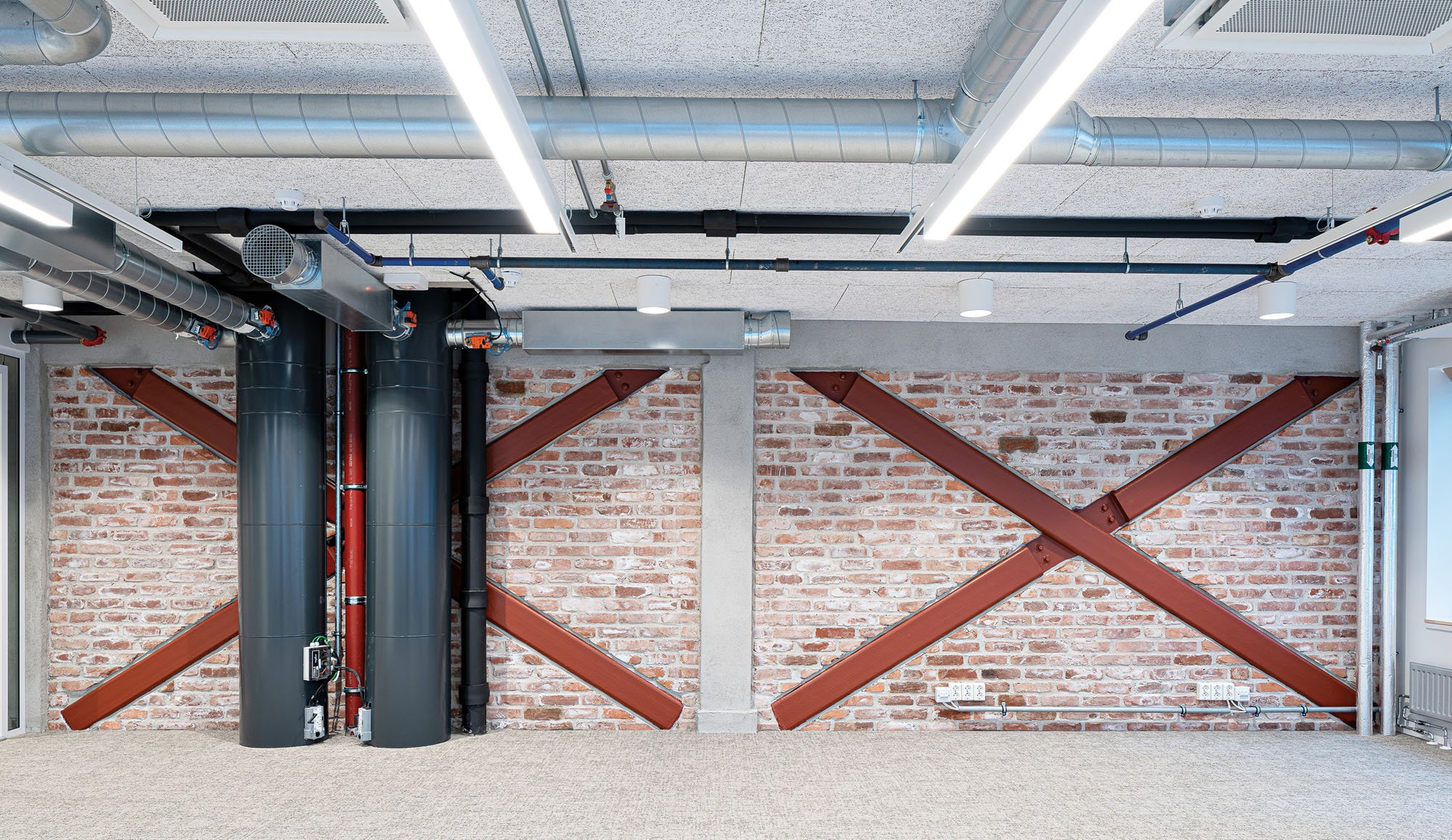 Inside the Space at Kristian Augusts Gate 13
Inside, the space is eclectic and welcoming, decorated with a mosaic salvaged from the 1958 office interior, as well as a bar and central staircase both made of upcycled timber. Office spaces are partitioned by demountable wood and glass walls, and a kitchen on the first floor and terraces on the addition serve as social spaces. A green roof further cements its sustainability credentials. Judged by its popularity with Oslo's tech and creative workers, the space is a success. "There are a lot of people who want to work in this building, and there's a wait list for renting space," Bjørvik notes with pride.
Her biggest piece of advice for reuse: You have to know your materials. "Everyone seems to think that the building industry revolution is digital. And yes, it can be. But it's very much physical," she says, pointing to a photograph of her team inspecting a pile of salvaged lumber. "You can't just scan everything; you have to use your hands and you have to have a much deeper collaboration between the craftsmen and the designers. It's an old-fashioned way to do it, but it has to be renewed in the future of building industry."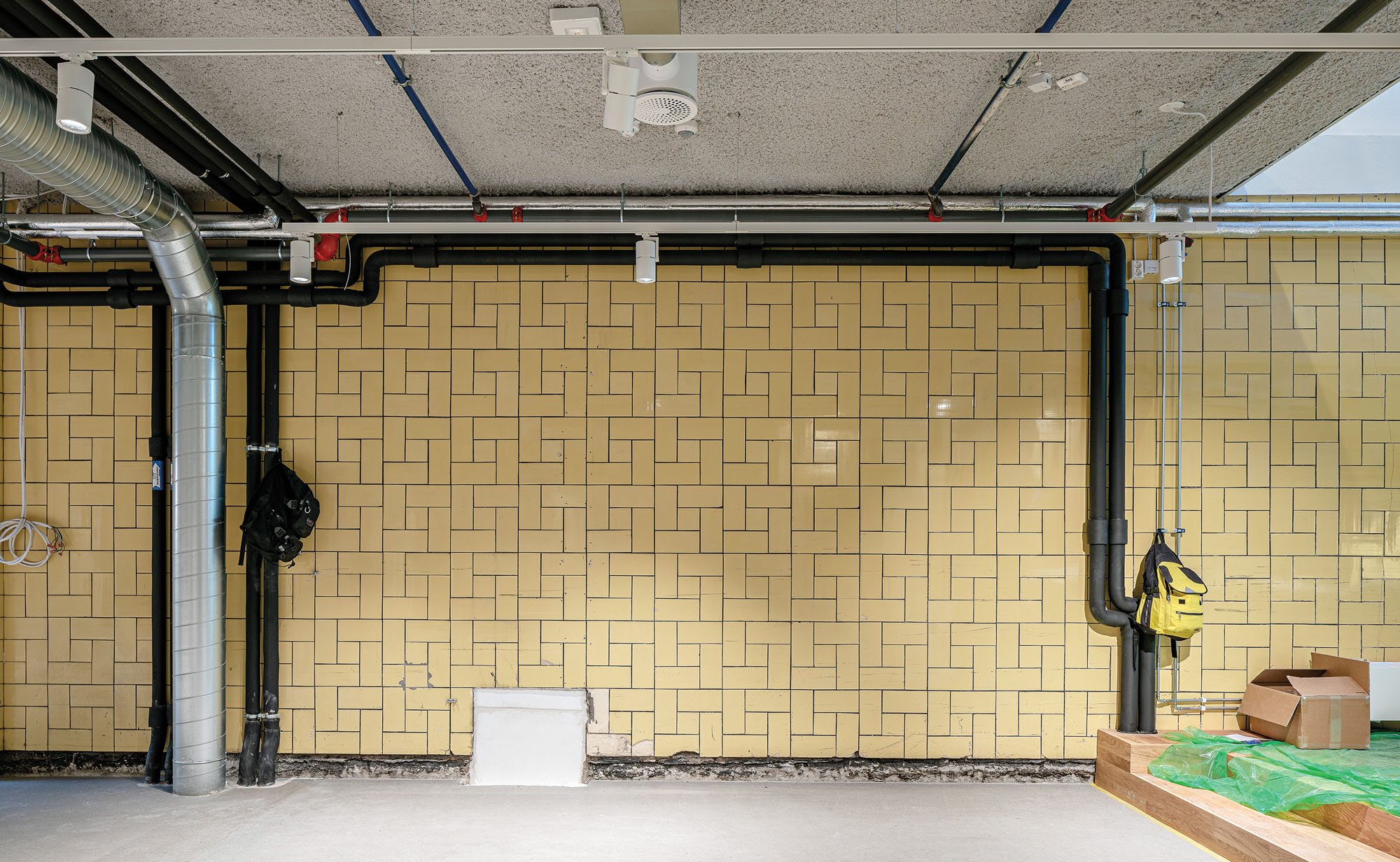 Would you like to comment on this article? Send your thoughts to: [email protected]