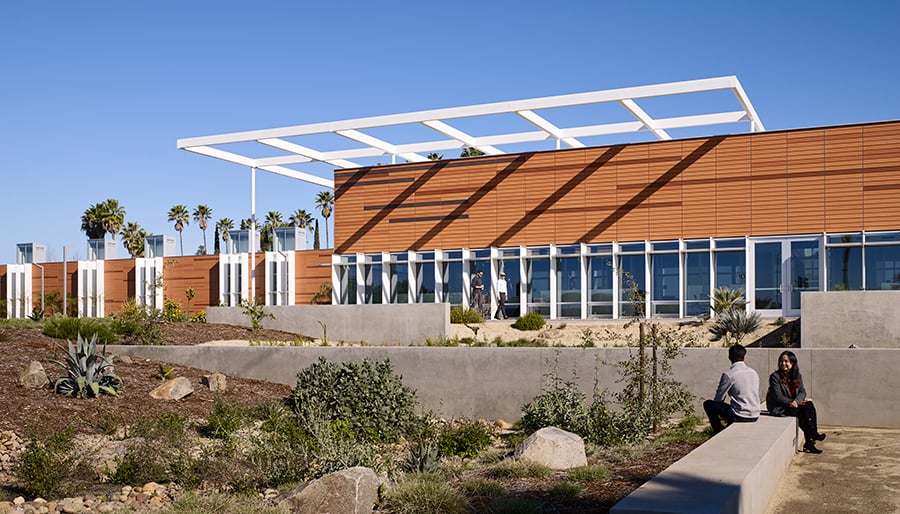 July 25, 2019
Facing a Limited Budget, This Community College Still Built a Net-Zero Facility
The design-build project—with architects BNIM and builders Level 10—features extensive passive ventilation driven by thermal chimneys.
The delivery man was lost. He'd circled Palomar College's campus twice already, looking for the maintenance warehouse. Finally, he pulled up to a sleek L-shaped complex located right at the campus entrance. The structure was clad with terra-cotta and surrounded by a native-species garden; the delivery man ducked into the building's sleek, glass-walled lobby.
"He came in and asked, 'Where's facilities?'" remembers Dennis Astl, the southern California community college's construction and planning manager. "When our admin told him he was in it, he turned around and said, 'You're kidding, it's too pretty.'"
Astl is proud of that story—he tells it at tours of Palomar's Maintenance and Operations complex, which opened officially on April 12th, four years after he first sat down with the project's general contractor and architect and told them he had two goals: to win a design award and to hit Net Zero energy usage. Everyone at that initial design meeting says Astl's clarity—along with the project's design-build format, which fostered close architect-builder collaboration—was the key to making something extraordinary, especially on a limited, public bond–funded budget of $15.5 million.
---
More from Metropolis
---
"We didn't take the easy path," says Mike Conroy of Level 10, the general contractor. "What's special about this project is we pushed ourselves outside the boundaries of what could have been just a normal maintenance building."
The task of architect Matthew Porreca, who leads Kansas City–based BNIM's California business (the firm has an office in San Diego), was to design a facility that would consolidate more than ten back-campus buildings, lots, and maintenance shops—one of which was nicknamed "the swamp." Even tougher, he had to convince experienced electricians, carpenters, landscapers, operations and custodial workers that he'd meet their needs on a far smaller footprint, and without putting air conditioning in any of their new shops.
"Our team definitely absorbed a lot of feedback," laughs Porreca now. "But we needed to be good listeners. They know what they do better than anyone."
Porreca had worked on campus projects before, but never a maintenance building, so he was free to approach its design with a fresh perspective. His Palomar designs had a makerspace vibe, with unfinished surfaces and creative storage systems. Hoping for a green light from the workers, Porreca used virtual reality for the first time, offering them a look at their new, albeit smaller, shops though a cardboard Google headset attached to a mobile phone.
"As soon as they saw it, they were like, 'Oh, I can work with that,'" says Porreca.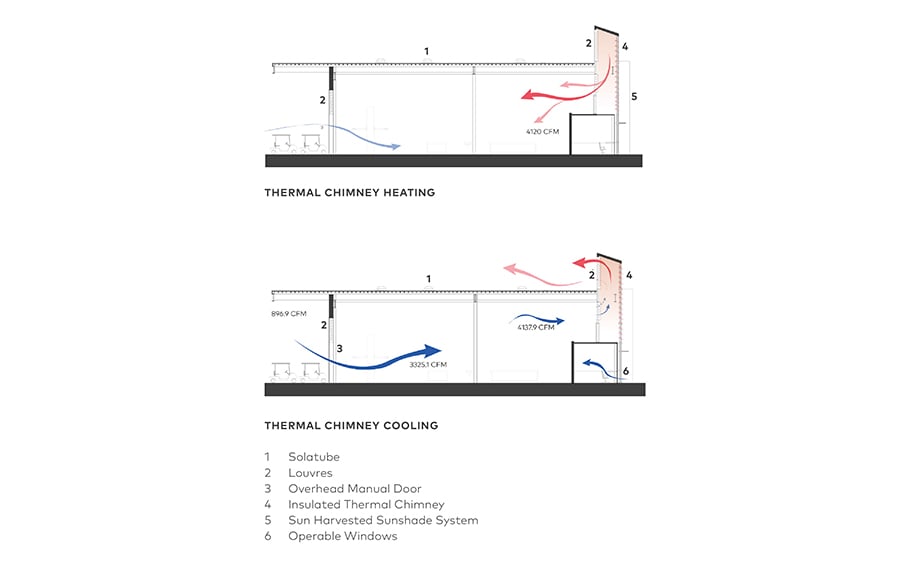 With that buy-in, Porreca and Conroy focused on tackling the Net Zero mandate. They eliminated two thirds of the facility's mechanical systems by using tall thermal chimneys that collect the sun's heat and—because heat rises—draw air up and out, creating a passive ventilation system. Workspaces stay cool, even when the desert's Santa Ana winds kick in. Many of the complex's walls are tilt-up concrete that's padded with exterior insulation and a terra-cotta rainscreen, allowing interiors to remain as cool as a dry basement. Porreca and Conroy made ample use of daylighting, too, and are crowning the complex this summer with an array of metered solar panels. Overall, they aim to provide 105 percent of the building's electrical demand. If they can pull that off for a year, Palomar will be the only community college in the world to be in the running for a Living Building Petal Certification.
Porreca says the best award for him has been watching Palomar's maintenance and operations workers adapt so easily to non-traditional, carbon-positive spaces. Eddy Seckendorf, a carpenter in his tenth year working at Palomar, brags about how steady the temperatures stay in his new shop, and how fresh the air feels.
"Honestly, it's pretty cool," says Seckendorf. "We keep looking at each other like, 'Wow, this does not suck at all.'"
You may also enjoy "Design Cities 2019: Tirana, Albania."
Would you like to comment on this article? Send your thoughts to: [email protected]