April 10, 2018
Parrish Art Museum Exhibition Explores How Photographers Manipulate and Portray Architecture
Image Building: How Photography Transforms Architecture features famous photographers past and present, from Ezra Stoller and Berenice Abbott, to Iwan Baan and Andreas Gursky.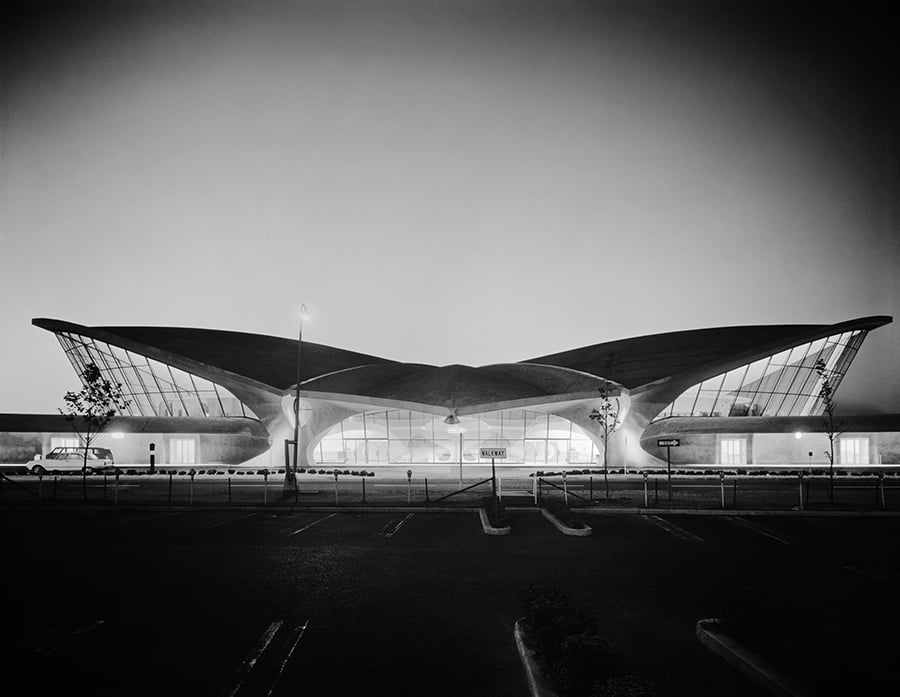 ---
Image Building: How Photography Transforms Architecture at the Parrish Art Museum features 57 photographs by artists who range from early modern architectural photographers such as Berenice Abbott, Samuel H. Gottscho, and Julius Shulman, to contemporary photographers like Iwan Baan, James Casebere, Thomas Demand, Andreas Gursky, and Hiroshi Sugimoto. In aggregate, their works—across different building types and  different eras—create a fascinating dialogue between past and present.
Interestingly, the Parrish's own 2012 Herzog & de Meuron–designed building on Long Island, which the New York Times describes as an "elongated, connected double barn," inspired the guest curator, Dr. Therese Lichtenstein—an art history teacher at the Ross School in East Hampton, N.Y. and a Surrealist photography expert—to tackle the subject of architecture.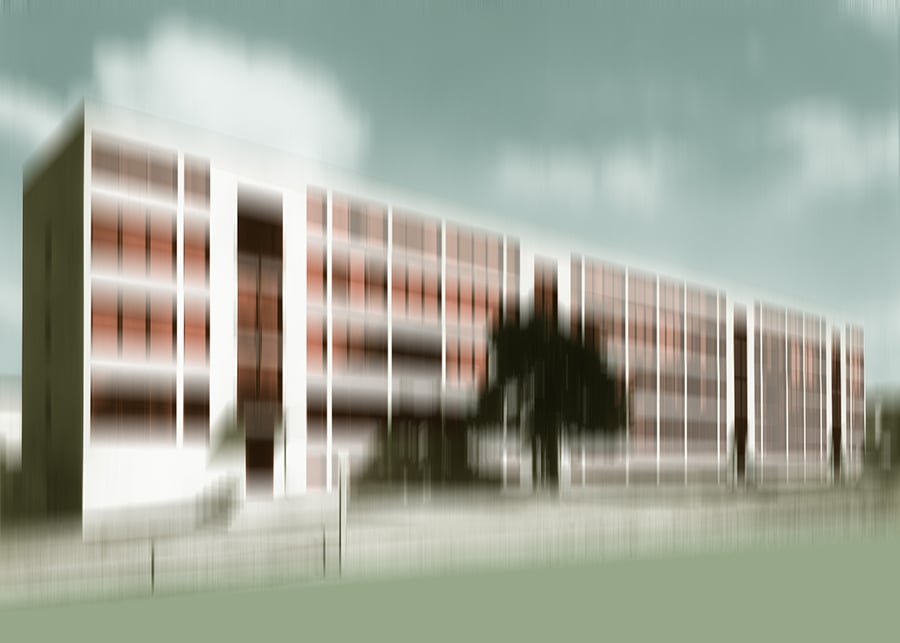 ---
Lichtenstein was also intrigued by the connection between Herzog & de Meuron and the architectural photographer Thomas Ruff. In 1994 Peter Blum published a monograph, Architectures of Herzog & de Meuron: Portraits of Thomas Ruff, featuring nine color photos by Ruff of the firm's projects. According to Lichtenstein's essay in the Parrish exhibition catalog, the firm hired Ruff "to see what [the buildings] would look like as art" through digital manipulation.  She goes on to quote Ruff, who said, "The difference between my predecessors and me is that they believed to have captured reality and I believe to have created a picture."
---
More from Metropolis
---
Ruff's two photos in Image Building celebrate the architecture of Mies van der Rohe through this sort of visual manipulation. D.p.b. 02, taken in 1999, features the recreated 1929 Barcelona pavilion, while w.h.s., taken in 2001, features an International Style affordable housing model Mies designed in 1927. Both images are painterly and blurry, defamiliarizing iconic Modern landmarks.
Manipulation of another sort is found in the images of Casebere and Demand, both of whom use 3D models of homes and institutional interiors to "bridge fantasy and reality," says Lichtenstein.  For instance, Demand, who trained as a sculptor and is also a filmmaker, uses colored paper and cardboard to construct life-size architectural models that he then photographs in a style meant to accentuate the artifice. Casebere's Dutchess County series, meanwhile, recreates suburban neighborhoods in upstate New York in large tabletop models to address the subprime mortgage crisis of the late aughts.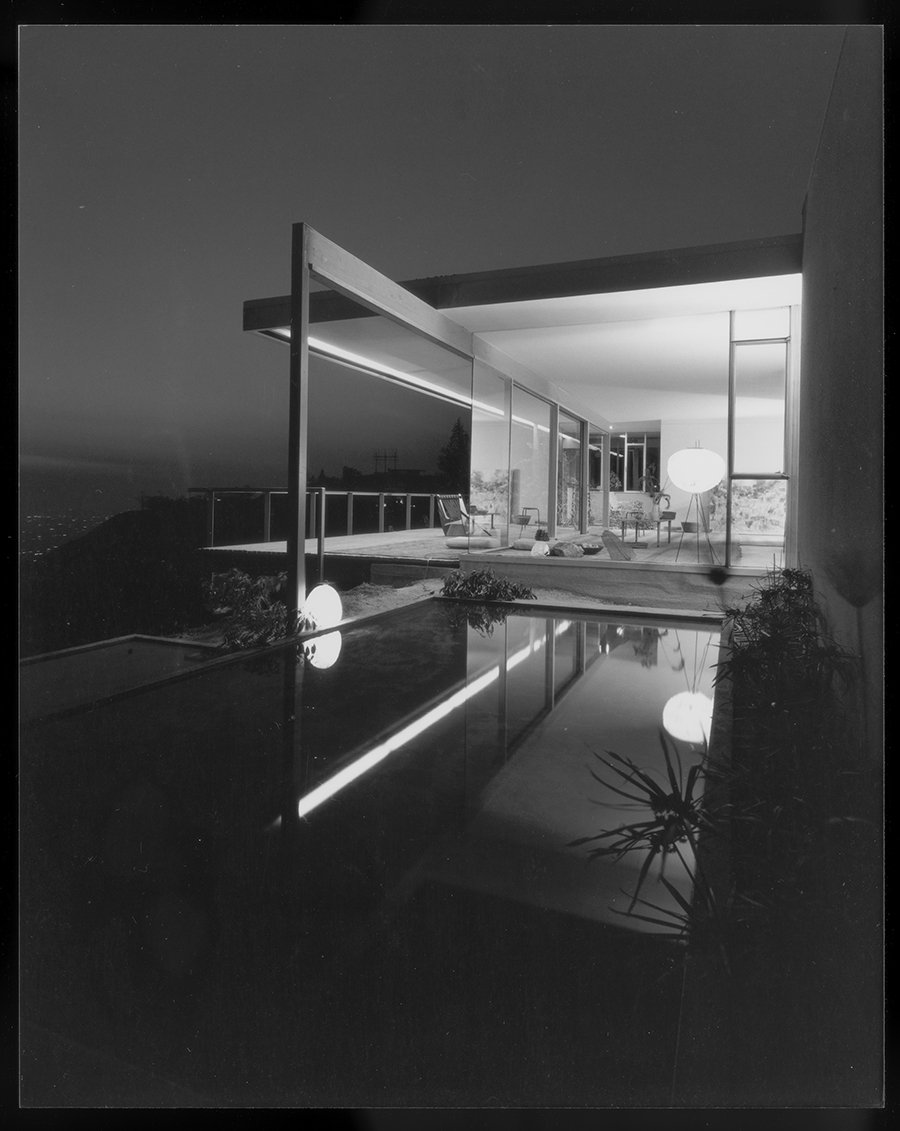 ---
Midcentury Modern architecture lovers will be entranced by the exhibition's wide-ranging selection of works, including photographs, period magazines, and books. One star here is Julius Shulman, whose photos depict homes built for the 1945 Case Study Houses program that saw leading Modernist architects (Eero Saarinen, Charles and Rae Eames, and Pierre Koenig, to name a few) design prototypes for mass-produced housing. Shulman's daytime and nighttime photos of a Koenig-designed Case Study House show how the house dramatically teeters over the Los Angeles landscape, underscoring the continuity between the building's indoor and outdoor spaces.
Other midcentury Modern photos on view include Ezra Stoller's 1962 image, TWA Terminal at Idlewild (now JFK Airport, Eero Saarinen, New York, NY), and equally elegant photos by the lesser-known photographer Balthazar Korab, of the TWA Flight Center and of Mies's Lake Shore Drive apartments in Chicago. The Chicago photo—which depicts the apartment complex juxtaposed with the tail fins of a Cadillac—expresses a specific moment and place, firmly rooting the building in its historical context.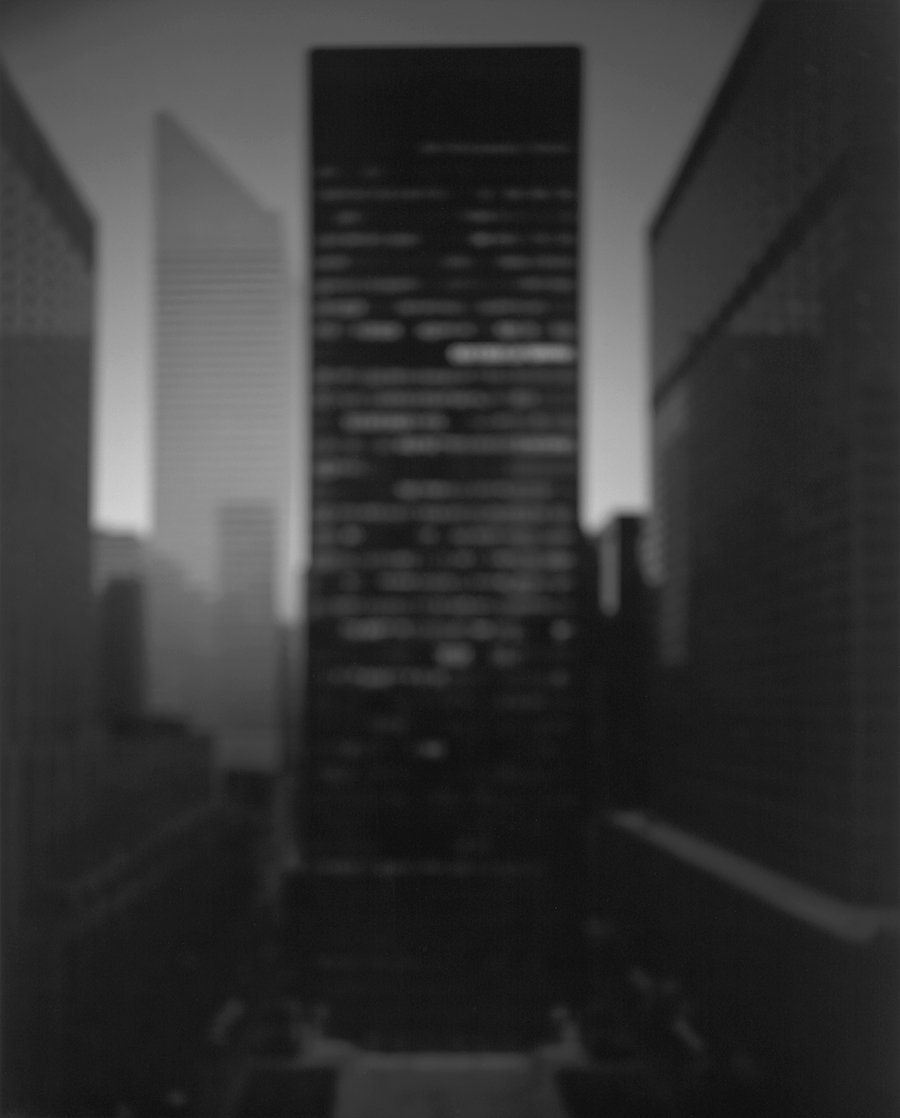 ---
Another of the exhibition's delights is its side-by-side display of the old and new. Stoller's 1958 photo of the Seagram Building in New York—an image Lichtenstein says emphasizes the building's sleek, industrial verticality—hangs next to a misty, enigmatic image of the same building shot nearly four decades later by Hiroshi Sugimoto using a large format camera and long exposure times. "Where Sugimoto's photograph is a meditation on inevitable change, making us consider what was, is and will be, Stoller's heroic, stable vision of the modernist icon celebrates the new," Lichtenstein observes.
An equally stimulating comparison comes in the juxtaposition of '30s-era nocturnal aerial views of New York with a photo of Manhattan taken in the immediate aftermath of Hurricane Sandy in 2012. The older photos, shot during the Great Depression by Gottscho and Abbott, are replete with twinkling lights that "brim with wonder and exhilaration, celebrating the power of new building technologies and the 'heroic materialism' of the modern city," Lichtenstein says. In stark opposition, the 2012 photograph, shot by Dutch photographer Iwan Baan, eerily documents Lower Manhattan pitch-dark, due to damage from the hurricane. Unlike its '30s counterparts, Baan's image, according to Lichtenstein, "powerfully contrasts the light and dark areas, the haves and have-nots." With this comparison and others, the exhibition showcases the power of architecture, beyond the building.
Image Building: How Photography Transforms Architecture is on display at the Parrish through June 17. It will travel to the Frist Art Museum in Nashville, where it will be shown from July 20 through October 28, 2018.
You may also enjoy "Iwan Baan Photographs MAD Architects–Designed Chaoyang Park Plaza."