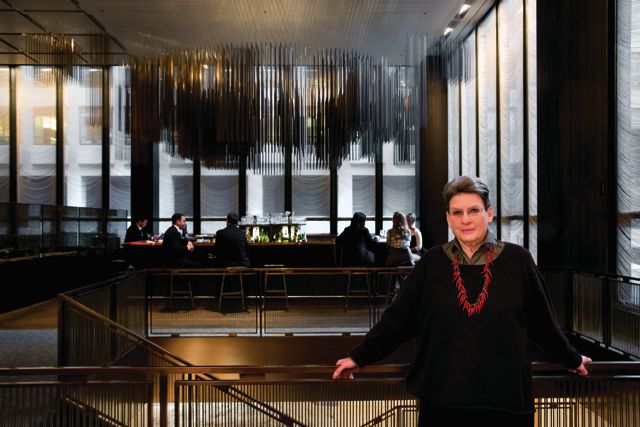 July 22, 2013
"I Was There": Phyllis Lambert on Mies and Building Seagram
A talk with Phyllis Lambert on the making of a masterpiece
Phyllis Lambert at the Four Seasons Restaurant in the Seagram Building in Manhattan.
Portrait by Bilyana Dimitrova
The Seagram Building in New York City—with its impeccable proportions, elegant bronze-and-glass curtain wall, and graceful plaza—is without question one of the great structures of the twentieth century. A key player in making it happen in 1954 was Phyllis Lambert. She was a 27-year-old artist living in Paris, when her father, Samuel Bronfman, founder of the Seagram distillery, asked her to take over the search for an architect to design the company's headquarters in New York City. She traveled the country, visiting architects, and ultimately picked Mies van der Rohe. The rest, as they say, is history.
---
More from Metropolis
---
Lambert has now written a fascinating account of the 38-story tower, Building Seagram (Yale University Press, 2013). Metropolis editorial director Paul Makovsky recently spoke to Lambert at the Four Seasons Restaurant in the Seagram Building, where they discussed the book, how she picked Mies for the project, and the legacy of the Canadian Centre for Architecture—the museum she founded in her home city of Montreal.
What inspired you to write the book?
It was inevitable, no? I started working on it right after the Mies in America exhibition that we did at the CCA with the Whitney Museum of American Art. I'd always wanted to do it. But first I was pulling together the exhibition, and then I did the associated book, which was a big leg up. I was able to learn a lot about Mies. And then, once that was done, I could start.
Your approach to the building is different from traditional forms of architectural history, which tend to look at buildings formally, as works of art.
I think that's boring.
What inspired you to look at it from different angles?
First of all, I was involved almost the whole time. I also found a lot of historic context in the Seagram files. It was fantastic. The attitude towards architecture at that time was pretty much zero. I tried to give a sense of who the actors were. What was Mies concerned with? What were the issues? And I know that well; I was there. So it was a process of remembering, and then researching into furthering those memories.
In the book you include early projects done by Seagram. I didn't know that Morris Lapidus designed the offices for the company when it was in the Chrysler Building in the 1930s.
Isn't that wonderful? I didn't know that either. The Seagram Building didn't happen in a vacuum. It is droll to say that Mies van der Rohe succeeded Morris Lapidus as architect for the Seagram Company.
How did you get interested in art and architecture?
I became a sculptor in Montreal, but I left when I went to college. And I was away for thirty years. When I was at Vassar I took courses in architectural and art history. And then in 1948 there was a great arts conference, which took place during my last year at Vassar and gave me an opportunity to learn about contemporary architecture. One of my good friends, Carol de Camp, organized it. There were some guys from Yale, and people like Ben Shahn and John Cage. With my fellow student Eve Borsook, as part of the conference, we did an exhibition on the interrelationship of art and architecture in the twentieth century. So we went to New York City and bought some magazines, which you could get for 10 cents each, and we
put brown paper down on the floor and pasted images on. We learned a huge amount in the process about the art and architectural revolution of the 1920s.
Were you meeting architects at the time?
No, no. I didn't meet any architects until I got that dreadful image. In the summer of 1954, while I was living in Paris, I received a "plan" from my father, a sketch of the proposed Seagram Building by Charles Luckman. I found it horrifying.
Your dad sent it to you?
Yes. Initially, they were going to expand, and then they decided, because there was no more room in the Chrysler Building, to find new space. The legal people made a deal to rent space at 380 Madison, in a building by Emery Roth, and my father went to look at it. "My god, it was one of the earth's ziggurats!" he said. To go from the Chrysler Building to this new space was was like going into the past, to something pretty grim. He said, "No, no, no." At that point, they decided to find a site and build.
Were you in Paris at the time?
Yes. But I was back and forth. I had been taking courses with Richard Krautheimer at the Institute of Fine Arts at New York University. And I talked to my father about it every so often. In the spring of 1954, my father came through Rome. I was staying there with Eve and took him to see Michelangelo's Palazzo Farnese. I kept talking to him about the building, so he knew I was interested.
Legend has it your mom was behind the push to put you in charge.
No, no, no, it wasn't my mother. That's a big myth in the family. My father wanted to lure me back from Paris. And despite my lack of training in architecture or business, I did believe in the importance of architecture in society. This belief got my father's attention, at exactly the moment when the business-as-usual Seagram executives and building professionals were planning the project.
What finally convinced you to come back?
My father said, "Come back and choose the marble for the ground floor." I was stunned. I said, "No, I'm nowhere near this." And then my mother said, "Why don't we see what she can do? Why don't we ask her back?" In New York City, I first talked with the architectural critic Lewis Mumford, whom I met through the stage designer Lee Simonson. Mumford was keen on Marcel Breuer and also Louis Kahn. Marie Alexander, a Vassar friend, put me in touch with Alfred Barr, the founding director of MoMA, who in turn introduced me to Philip Johnson. I looked around a lot, went to the Royal Institute of British Architects library in London, which was great. I was educating myself the whole time.
Phillip Johnson, Ludwig Mies van der Rohe, and Phyllis Lambert in front of an image of the model for the Seagram Building in 1955.
Courtesy Fonds Phyllis Lambert, Canadian Centre for Architecture, Montreal/United Press International
How did you compile the list of potential architects?
In the book, I write about meeting Eero Saarinen at Philip Johnson's Glass House. He proposed we draw up a list of architects according to three categories: those who could-but-shouldn't, those who should-but-couldn't, and those who could-and-should. Under "those who could-but-shouldn't" were Harrison & Abramowitz and SOM. "Those who should-but-couldn't" included younger architects, such as Marcel Breuer, Paul Rudolph, Minoru Yamasaki, and I.M. Pei, none of whom had completed large projects yet.
What did you think about Eero Saarinen?
We didn't discuss Philip and Eero, because they were both with me making up the list. I couldn't say to them, "Where should you be?" Eero was too young at any rate, and he hadn't done tall buildings.
Was Frank Lloyd Wright on the list?
He wasn't really considered. My uncle Allan was much more sociable than my father, and he knew a Seagram executive whose wife was the daughter of Frank Lloyd Wright. So Wright wrote a pitch to my uncle and correctly surmised that my father was the stumbling block. Wright, typically, suggested that he was the architect who could provide the solution. My father was so skeptical of Wright's proposal for a one-hundred-story building. He said, "I don't want to meet my maker so soon."
Once the list was narrowed down, how was the decision made between Le Corbusier and Mies?
I never met Le Corbusier. I just thought that Le Corbusier—with his interest in concrete and his very sculptural thing—would not be the architect for Park Avenue. I didn't think that would be a good influence there.
What did you see in Mies's work?
I went to Chicago to meet Mies and saw his growing campus at IIT. I visited all the architects in their offices, because otherwise there's no point. All the architects I spoke to said: "I do this differently than Mies." There was always a reference to Mies. He had done 860-880 Lake Shore Drive—such simple, deep, powerful, unpretentious buildings. They made a significant impression. And Mies himself was like that. I spoke to people and asked who they thought should do the building. And when I asked about Le Corbusier, everyone else said, "He sort of messed up on the UN building," or, "He didn't know the contractors and the building systems here." Mies said: "He's a wonderful artist. Of course, he could do it." Mies was a completely generous person.  I think Mies was a great architect because he wasn't saying: "What shape should a building be?" He was asking: "What is our society? What are the issues? We're an economic and technological society, so how do we build for that kind of society?" You have to ask those questions. Now it's very different.
A shot by the photographer Richard Pare showing the view looking south from above, taken in April 2010.
Richard Pare/Canadian Centre for Architecture, Montreal
After the building was completed, did your dad ever thank you?
He came and sat me on his knee and said good job. You could see it in his eyes. He wasn't an effusive person. Mies was like that too. But you could tell in his expression. He was very proud.
In terms of stewardship, you're also involved with an important organization, which you founded in 1979: the Canadian Centre for Architecture (CCA). How do you make sure that fifty years from now the CCA will still be doing great shows?
That is the $64,000 question. And I'm struggling with that now. It's a very small place. And as a stand-alone, it's hard to accomplish things. To get a proper board of directors is very difficult. Montreal does not possess the intellectual strength of New York City. I'm looking at all of that.
Now that the book is out, what are you researching?
I'm fascinated by the Axial Age, the period across the middle centuries of the first millennium BC, when mankind started to understand they had a history. I'm reading things like the Epic of Gilgamesh, the Bible. I never had reason to read them properly.
Is there an architectural angle in here?
Absolutely. Think of Vitruvius, think of the works in ancient Egypt and ancient Greece.
Another angle of the Seagram Building
Richard Pare/Canadian Centre for Architecture, Montreal