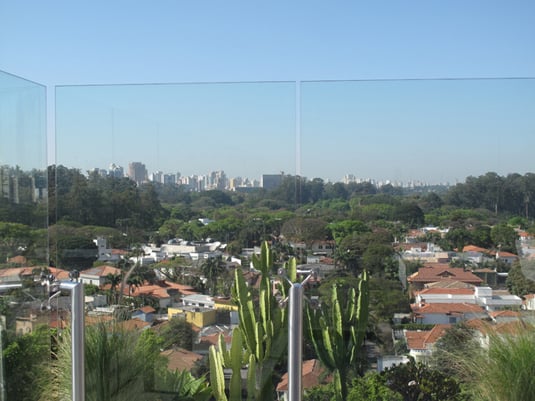 February 1, 2013
In Pictures: The Red Pool at Ruy Ohtake's Hotel Unique
Ruy Ohtake's Hotel Unique is known for its daring use of color
Like any megalopolis, Sao Paulo is a plethora of experiences at once fascinating and dizzying. Take a simple walk or drive and the city comes at you at a frantic pace, synched to an ever-growing volume of traffic and speed. The contrasts are closely juxtaposed, like an impossible surrealistic collage. From humble to ostentatious, jammed streets, popular dwellings next t neo-kitsch condo towers, favelas and Niemeyer, a Calatrava-esque cable bridge over one of the most polluted rivers, a constantly hovering helicopter flotilla, Mendes da Rocha classics here and there, and graffiti art everywhere. And so it goes in a city that never ends. If you are there with an agenda, the city absorbs you even more as the time pressure is added to finding routes to get to your appointed destination. Anything can happen.
That was the case for me this past summer while I was installing my solo show for BoomSPdesign, covering the conference, and simultaneously attending DesignWeekend, even as I was looking for new subjects to photograph. I was all over the place, crisscrossing the city non-stop, going in every direction, literally. By the fourth day I was ready hide and sleep in. But the opportunity to go on a DesignWeekend tour of private interiors by the Campana Brothers seemed like a must. The meeting point for our tour was at the trendy Hotel Unique, designed by Ruy Ohtake. I had shot the hotel before on an overcast day, so while we waited for the others to arrive, I escaped to the rooftop to take advantage of the better light conditions. This was exactly what I needed to balance the frantic days and re-charge. Up in the sky an oasis of tranquility awaited me.
---
More from Metropolis
---
Only a few tables were taken at Skye, the hotel's rooftop restaurant. The atmosphere was cool yet relaxed. I quickly crossed the elegant room, anxious to go out to the pool. It was too early for the breakfast crowd, and way too early for swimmers and sun worshippers. Out there, it's if I had entered another world, with the quintessentially urban skyline stretching across the horizon. Right in front of me is a long, welcoming pool, clad in shimmering, dark-red mosaic tiles, peacefully breaking the city's chaotic spell. All is very quiet and still, even the pool's water, moving ever so gently as if it, too, is slowly awaking; the lounge chairs still perfectly lined up and yet unused. I feel removed from the city, as if a spectator in a skybox, having a chance to fully take in the enormity and majesty of Sao Paulo. The hotel's central location within its lot (no immediate neighboring tall buildings obstruct the long views) further emphasizes the island like, spatial feeling of remoteness.
The sun is still low in the sky; its early light shimmering on the pool and creating all kinds of visual effects, from a psychedelic waving tile grid to reflective, red-jeweled liquid walls. In an ordinary pool these effects might not be noticed, but rendered in a strong vermilion takes on another dimension.
Ohtake is known for his daring use of color. The pool with its unexpected tone is reminiscent of conceptual art, yet it is a perfectly- functional swimming lap pool (a standard in hotels). It's only a detail, just a color choice, but a surprising one; its playfulness, gives the place a certain dose of whimsy, soothing both the urban and the architecture experience and allowing for a renewed appreciation of both.
Unfortunately I could not surrender to the pool's tempting call for a plunge. I had to be on my way to meet my tour group. But even so, I did indulge in some moments of pure architectural pleasure, of the kind that made time stand still. For a brief a moment all was right in this place. Just shows you that brief moments, in the proper setting, can leave a lasting impression.
Paul Clemence is an award-winning photographer whose work is part of many collections, including the Mies van der Rohe Archives and housed by MoMA, New York.  He exhibits both in the U.S. and on the international fine art circuit, from classic B & W prints to large scale photo installations. A published author, his work can also be seen in major design and lifestyle publications. His "Architecture Photography" Facebook page receives over half a million hits monthly. Photographs by Paul Celemence.