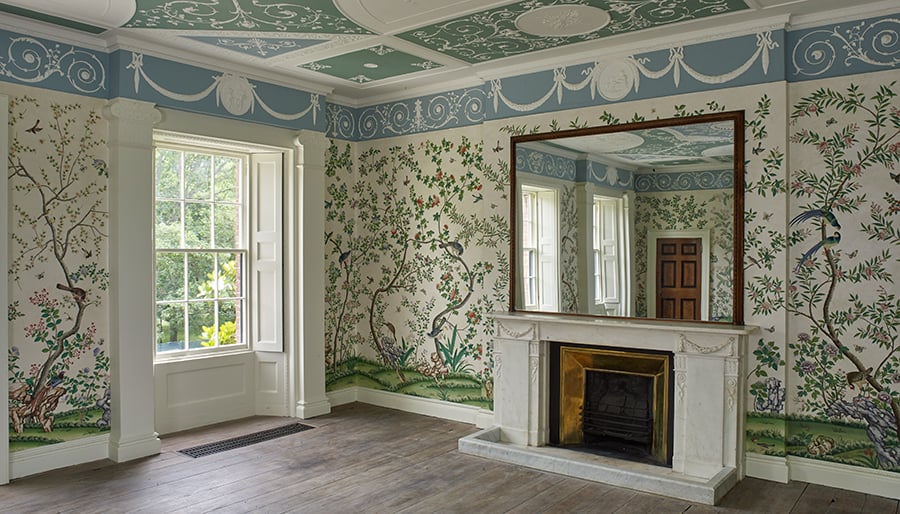 March 19, 2019
John Soane's Sumptuous Architecture Is Restored at Pitzhanger Manor
Previous renovations had nearly wiped out Soane's interiors at this mansion, but a three-year project revived his designs and installed a new, modern art gallery.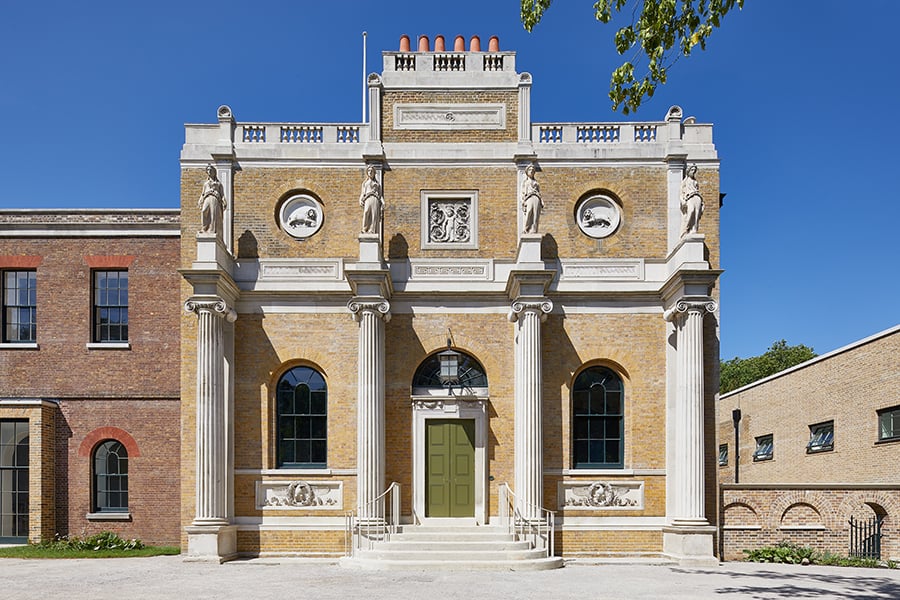 ---
Sir John Soane liked to party, so much so that in 1804 the architect built himself a weekend retreat in the then-rural borough of Ealing, about ten miles west of London. The Neoclassical-style Pitzhanger Manor was a place for Soane to show off his architectural prowess as well as his lavish taste through infamously rambunctious dinner parties for English cognoscenti.
However, Soane's tumultuous personal life cut short his pastoral paradise. Just six years after Soane finished construction of his manor, he fell into financial ruin and was forced to sell it. Pitzhanger cycled through a handful of private owners who took their liberties with the building. Some of its more prudish Victorian owners even went so far  as whitewashing its decadent details, covering up Soane's tricks of light, and demolishing the conservatory that blurred boundaries of indoor and outdoor space—all frighteningly modern ideas. The manor was eventually handed over to the local authority Ealing Council in the 1930s; the council built a public lending library for the borough on the site of Soane's demolished kitchen block.
200 years after Soane moved out, his lost touch has returned home. Following a three-year, £12 million restoration financially backed by the National Lottery Heritage Fund and helmed by the London-based architecture practice Jestico + Whiles, the Pitzhanger Manor is re-opening to the public. Many of Soane's masterful details have been restored, and more of the house is now accessible to the public than ever before.
---
More from Metropolis
---
---
The London office of architecture firm Jestico + Whiles won the bid for the project back in 2009 with a proposal that included an all-star team of preservation experts Julian Harrap Architects, museum specialists Ralph Appelbaum Associates, interior decoration gurus Hare & Humphreys, and landscape architects J & L Gibbons. (English law requires all restoration projects on a public building to be an open call.) Jestico + Whiles were to act as lead consultants. "Curating your own teams means you can bring on board people you respect and admire," Heinz Richardson, director of Jestico + Whiles, tells Metropolis. "We worked together in a way that gave everyone the space to bring their own expertise to the project."
Soane's villa was a wonder to behold in its day. Though it was rigidly Neoclassical on the exterior, those lucky enough to be invited over for dinner would discover a veritable feast for the eyes as well as the stomach. A honey-colored marble entrance hall bathed in golden light. Elsewhere, the manor featured faux hand-painted marble, Chinese wallpapers, sumptuous spandrels, canopy domed ceilings, and even a crowning roof lantern.
Soane took great care to integrate the building within his 28-acre private gardens, now the public Walpole Park, constructing a classical colonnade connecting his private manor and kitchen, as well as a spectacular conservatory overlooking the landscape. "Soane's use of light, his delight in asymmetry, oblique entrances and theatrical interiors that defy one's expectations make his buildings equally contemporary as classical," muses Richardson. Due to numerous renovations, by 1910 Soane's fantasy of a perfect, stage-set home was all but erased. Thanks to a near-forensic effort carried out by the architects, much of Soane's fantastical vision has been revived from scraps of paint or building sketches. A perfectly preserved marbling sample was discovered underneath boarded up internal windows—somehow missed by the Victorian deep cleanse—which Hare & Humphreys used to recreate the marble effect. Soane's love of drama has rubbed off on the interior designers, who have left patches of the drawing room's original ceiling fresco on display while perfectly reproducing the original. The modern roof light, colonnade, and conservatory have all been reconstructed.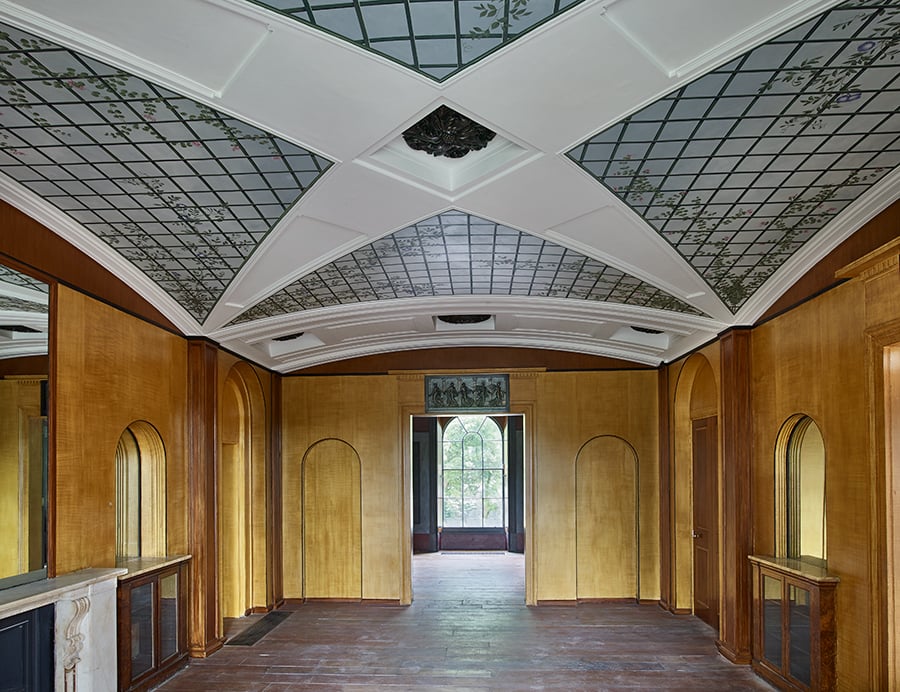 ---
Alongside the resurrection of the manor's baroque bling, Ealing's old public library has been upgraded into a contemporary art gallery, as a joint initiative between the Council and the Trust to transform Pitzhanger into a cultural and historical destination. It will host three exhibitions a year featuring the work of designers, architects, and artists inspired by Soane, beginning with a solo show by British artist Anish Kapoor.
The theatrical excess of Pitzhanger meets its natural foil in the new gallery, which is as slick as any new build. "Soane and I share an interest in concavity," Kapoor shared at the press conference in its 600 square-foot expanse. It seems that interest is contagious: After the artist's pithy speech, journalists are sticking their heads, hands, and selfie-ing away into the infinite abyss of Kapoor's sculptural voids.
How the public will react to this transformation remains yet to be seen. Speaking with volunteers and park-goers, the result so far seems positive, if somewhat surprised. "Growing up here, I played every day in this park," shares a recent volunteer while staring wistfully out from the elevated observatory. "Many people don't even know about the manor, but this restoration will show everyone just how lucky we are to have this history in our back garden."
Ealing is currently one of the most diverse boroughs in London. It is expected to balloon in population as the cost of living in central London continues to skyrocket and the new 26-mile Crossrail is completed in late 2019 (Ealing will have 2 stops). Ealing Council is ahead of the curve with the largest affordable home-building plan in London, which will see 2,500 genuinely affordable new homes by March 2022 (the council will control 1,138, while the rest will be built by private developers like construction giant Galliford Try).
The arrival of a new contemporary art gallery sets a tone for Ealing's future growth. One hopes the newly-restored Pitzhanger, with its rich legacy as well as its future functionality, will serve as guardian to the leafy expanse of Walpole Park—what drew Soane here in the first place—and retain the borough's history for decades to come.
You may also enjoy "For the Altanta-Based Firm BLDGS, No Building Is Beyond Rescuing."
Would you like to comment on this article? Send your thoughts to: [email protected]