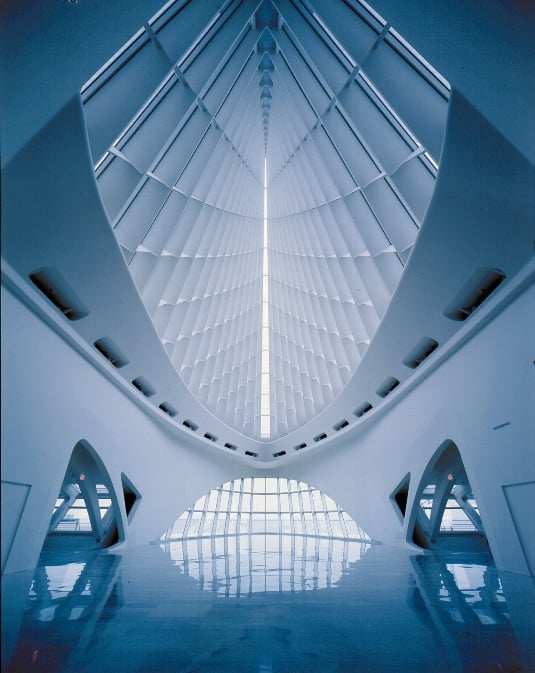 March 11, 2011
Places that Work: Milwaukee Art Museum
Image courtesy the Milawaukee Art Museum, Photo: Timothy Hursley.Whenever I'm in the Quadracci Pavilion at the Milwaukee Art Museum, I have to catch my breath. Being there is an exhilarating, intensely positive experience. The space works hard to prepare visitors for the experiences they're about to have as they proceed to view the collection–this makes the […]
Image courtesy the Milawaukee Art Museum, Photo: Timothy Hursley.
Whenever I'm in the Quadracci Pavilion at the Milwaukee Art Museum, I have to catch my breath. Being there is an exhilarating, intensely positive experience. The space works hard to prepare visitors for the experiences they're about to have as they proceed to view the collection–this makes the dramatic pavilion a place that works.
The Santiago Calatrava addition to the museum opened ten years ago, in 2001. The structure's famous wings that open and close, change the amount and quality of sunlight that enters the area immediately beneath them. This reception hall, used for many community and private events, is surrounded by an auditorium, a store, a café, and room for temporary exhibits.
---
More from Metropolis
---
I find the reception hall most intriguing – particularly as I amble deeper into the space, and get closer to Lake Michigan.  Calatrava's reinterpretation of a Gothic cathedral makes for a spiritual space, connecting us to the natural forces visible though a massive window overlooking the water. Rounded shapes and lines dominate the design; they're emotionally comforting and nurturing. The symmetry and rhythm of the architectural elements are stabilizing and calming. The repetition of decorative trusses in the corridor which exits from the reception hall near the lake is particularly forceful.
Image courtesy the Milawaukee Art Museum, Photo: Timothy Hursley.
The floor in the reception hall is highly polished; its reflective sheen brings to mind the surface of the adjacent lake.  These reflections also ripple from time to time as shadows shift, further linking those inside to the restorative landscape outside. When the space is naturally bathed in blue light, it's like being in a bubble floating on the lake.
Solitary moments are hard to find in Quadracci's reception hall. The building has become an architectural landmark, a favorite stop for locals and tourist alike. So when you're in Milwaukee next, hang out in the area near the window and be patient as school children and fussy babies move through, on their way to the café or the gift shop. You will be rewarded for your patience. Being alone in this hall makes for the kind of ethereal and spiritually rewarding experience we all need, and instinctively know we should have.
Sally Augustin, PhD, is a principal at Design with Science . She is also the editor of Research Design Connections and the author of Place Advantage: Applied Psychology for Interior Architecture (Wiley, 2009). She can be reached at [email protected] .
Sally Augustin's previous post in this series was about the IND Airport by HOK Architects.