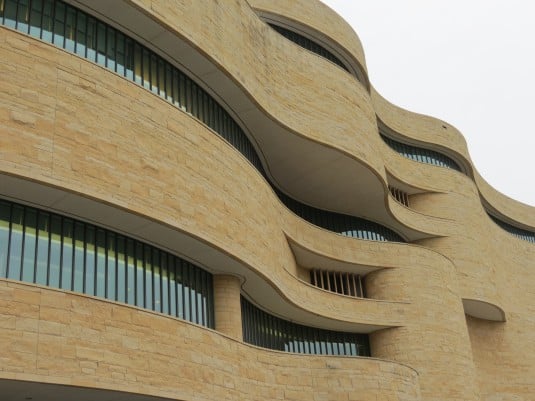 April 25, 2012
Places that Work: National Museum of the American Indian
The National Museum of the American Indian (NMAI) is a place that works because it attempts to reflect the cultures of those who first inhabited the Western Hemisphere. Located on the National Mall in Washington DC and operated by the Smithsonian Institution, the NMAI opened in 2004. There were many Native American architects affiliated with […]
The National Museum of the American Indian (NMAI) is a place that works because it attempts to reflect the cultures of those who first inhabited the Western Hemisphere. Located on the National Mall in Washington DC and operated by the Smithsonian Institution, the NMAI opened in 2004. There were many Native American architects affiliated with the project, initially lead by GBQC and Douglas Cardinal, Ltd. and included consultants representing various nations–Douglas Cardinal (Blackfoot), Johnpaul Jones (Cherokee/Choctaw), Donna House (Diné/Oneida), and Ramona Sakiestewa (Hopi).
These architects saw the importance of designing a space that supports the cultures of its primary users; their approach is in line expert findings that say that culture-place design alignment is key for psychological comfort. But this approach can be beneficial for other reasons – it helps people from other cultures understand the values of those who have created the space and the culture the museum represents. For non-native Americans it's important learn about those who were here before the Europeans arrived, their traditional and current approaches to life.
---
More from Metropolis
---
According to the NMAI website, before the design process began, "A series of themes emerged from the dialogues" with native communities and individuals, which resulted in a collaborative effort to create "a building and site rich with imagery, connections to the earth, and layers of meaning. The building is aligned perfectly to the cardinal directions and the center point of the Capitol dome, and filled with details, colors, and textures that reflect the Native universe." The statement goes on to say, "Native people believe that the earth remembers the experiences of past generations. The National Museum of the American Indian recognizes the importance of indigenous peoples' connection to the land; the grounds surrounding the building are considered an extension of the building and a vital part of the museum as a whole."
The many organic, curved surfaces inside and outside the museum reflect Native Americans' relationship with the natural environment. These curves and the natural materials used, combined with the landscaping, create an informal, relaxed atmosphere that supports considering the past, present, and future of the first Americans.
---
Sally Augustin, PhD, is a principal at Design with Science . She is also the editor of Research Design Connectionsand the author of Place Advantage: Applied Psychology for Interior Architecture (Wiley, 2009). She can be reached at [email protected]
Series Posts: Places that Work