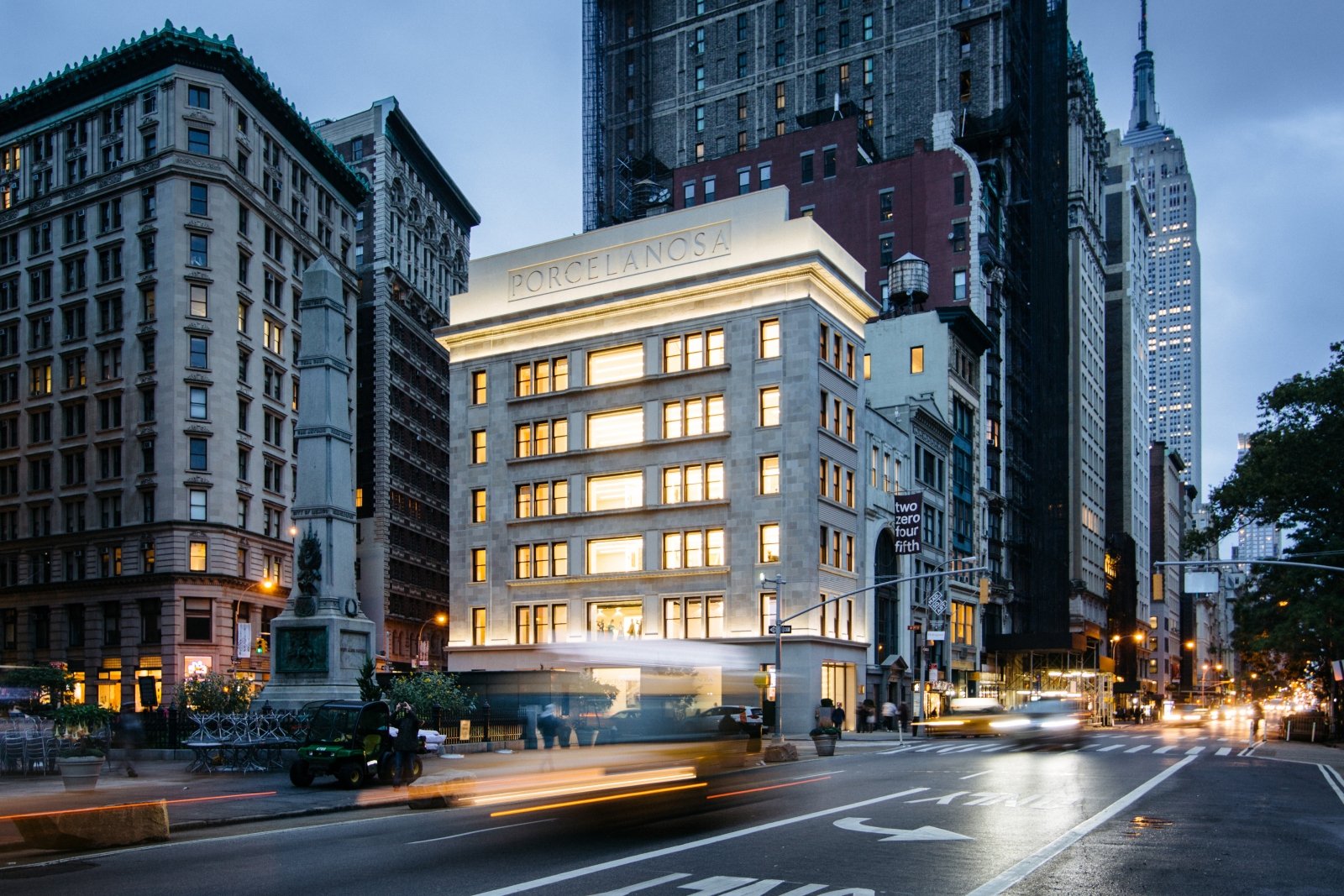 November 17, 2015
Porcelanosa's Flagship Opens in Heart of Manhattan
In searching for a firm foothold in New York City, Spanish tile maker Porcelanosa found an architectural gem in the heart of Manhattan.
Foster + Partners added LED strips on almost every ceiling as part of its renovation of Porcelanosa's New York flagship, giving the early-20th-century building a uniform glow after hours. Take a tour of the new store here.
---
When the staff members of Porcelanosa—the Spanish design-solutions company whose products include surfaces, fixtures, and building facades—began to search for their first New York retail store, they knew only that they needed street-level exposure in a central, well-trafficked location. The team scoured spaces in Soho, on 57th Street, and throughout the Flatiron and Madison Square Park area. It wasn't until they toured the Commodore Criterion Building, a majestic six-story granite structure from 1918 that borders Madison Square and sits just across from the famous Flatiron Building, that they knew they had a winner. "There was nothing setting us apart until we found this building," recalls Santiago Manent, Porcelanosa's director of sales and marketing. "Suddenly everybody knew it was right. It's a very unique building, and it's between Fifth Avenue and Broadway—two of the most prominent streets in the world."
It's certainly a long way from Villarreal, Castellón, in Spain's Valencia region, where the company was founded in 1973. Its founders, Manuel and Hector Colonques and Jose Soriano, worked in the orange business until one exceptionally bad winter wrecked that season's harvest and nearly did them in. Tired of being beholden to nature's capriciousness, the three entrepreneurs decided to develop a product that could literally weather any storm: porcelain tile. Porcelain was far more difficult to manufacture but ultimately stronger and easier to color than the red clay that was more common in the area. Porcelanosa quickly became known for its wall tiles, then expanded to floor tiles, and now carries glass, stone, and hardwood products, as well as bathroom furniture and fixtures. Today the company has eight factories and 400 showrooms around the world. And yet, despite having had a presence in the United States for 30 years (the first Porcelanosa store was in Anaheim, California), it had not staked a conspicuous claim in New York.
---
More from Metropolis
---
The new 18,000-square-foot store will no doubt up Porcelanosa's profile; it broadcasts refinement and taste, with cast-marble floors and broad picture windows. There's also an element of seriousness: Two young women sit behind an imposing desk at the entrance, signaling that the showroom is really not for the casual, walk-in browser. (According to Manent, a good portion of the company's clientele are professional designers and architects, though the hope is that the New York showroom will shift that ratio to enlarge the consumer base.) On the main wall of the first floor is an immense digital screen flashing pictures of merchandise, easily visible from the street. The use of technological gadgetry continues on the upper floors where clients choose tile, sinks, and bathtubs. iPads are positioned on consoles to allow users to customize images of bathrooms or kitchens with various materials they are considering. Meanwhile, the back walls of each floor are angled on a sharp diagonal, mirroring the similarly slanted direction of Broadway.
"There was nothing setting us apart until we found this building."
It's a subtle nod by architects Foster + Partners to the store's urban setting, which reminds customers of the site's prominence, as do the stunning views of early-20th-century architecture that surround it (Foster reopened all the windows, some of which had been bricked over). The architects swept the stairs and elevator to the back, clearing space for vignettes of bathrooms and kitchens as well as sliding panels stocked with various tiles and other surfaces. They also managed to sneak in an extra seventh floor (by adding half a floor that overlooks the sixth-floor product library). Foster, who has used Porcelanosa products in several projects, took extra care with the product library, where a skylight provides natural illumination for some 1,000 samples of tiles, mosaics, stones, hardwoods, and other materials. "This is designed to provide an ideal working environment for architects and designers," notes Taba Rasti, who was the project's architect.
Of course, a number of Porcelanosa items have been incorporated into the architecture, including the Rainscreen Façade System on the building's exterior. Krion, the company's newest product, which was introduced in 2012, crops up a number of times. A synthetic, ding-resistant indoor/outdoor nonporous surface available in 32 colors that can be easily molded, it was used to create a backlit frieze of the Brooklyn Bridge in the café on the second floor, and it makes an appearance in the library, in the form of two amply sized tables with wheels. The working bathrooms themselves are mini showrooms: "Zoning regulations stipulated that we had to have two bathrooms every two floors," Manent mentions while giving visitors a tour of the building, "but we sell bathrooms, so we didn't complain about that."
Designers and architects are excited about this new showroom. The designer Clodagh, whose clients include the Museum of Modern Art and Equinox Gym, has been working with Porcelanosa products for years (she also designed its Azrama Collection in stone and teak). She is currently using Porcelanosa's three-and-a-half-by-ten-foot tiles for a new hotel, called East, in Miami. "To find a tile of that size is really special," she says. Clodagh recalls Porcelanosa's former small showroom in New York, which was open by appointment only, and asserts that the new space's amenities, such as the sliding panels, will "make it a lot easier for designers to shop." But more than anything, Clodagh appreciates the company's top-down model: They manufacture, retail, and distribute all the products, so clients buy from the source, not a middleman. This ability to control the entire supply chain means that they are nimble and responsive to a customer's needs. "We're in the service business," Clodagh says matter-of-factly, "and that means that we need vendors to really hop on things. They're very much like those little grocery trucks running around New York, Fresh Direct." When asked to clarify this, she laughs. "I mean they are easy to deal with," she explains. "They're fresh and direct."
Despite the company's confident stride into the center of New York City, boldly renovating a landmark building, it wisely left intact the much-loved figurines of carolers that stood cheerfully over the cornice for years. Porcelanosa shipped the plaster sculptures, much aged and deteriorated, back to Valencia, where another regional specialty happens to be expertise in exactly this type of repair (such figures are used in the annual festival celebrating Saint Joseph). Today the carolers, now restored, are safely ensconced just inside the second-floor window, still gazing out on the busy intersection below, a sweet grace note from the Spanish firm to its new home.
Porcelanosa's roof deck has an unbeatable view of Broadway intersecting Fifth Avenue, straight across from the Flatiron Building. Directly across the new store lies Worth Square, a sliver of a plaza that Foster + Partners, the Department of Transportation, and the Madison Square Park Conservancy are currently working to upgrade.
The lobby of Porcelanosa's new Manhattan home