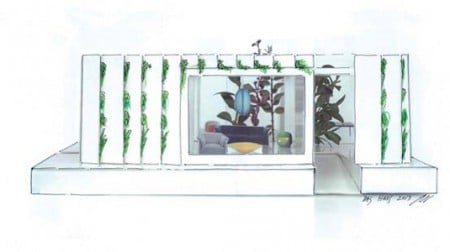 November 28, 2012
Previewing IMM Cologne
The highlights from the IMM Cologne Furniture Fair.
Luca Nichetto, designer of the IMM Cologne's 2013 "Das Haus" installation.
As you make plans for 2013, one of the must do's is a visit to the IMM Cologne furniture fair. Why? It's a great place to see strong furniture brands made in Germany. Austria, and Switzerland debuting innovative product releases. Earlier this year we saw the launch of Konstantin Grcic's Pro chair for Flötotto that was a hit at the show. Germany's robust economy means that strong German furniture brands like Walter Knoll, Dauphin, and E15 continue to showcase innovative products (the fair organizers estimate that around 1,250 companies from more than 50 countries will be in attendance). And if you are on the look out for the next design wunderkind, the fair's d3 Design Talents is among the best-curated exhibitions of young designers from around the world.
---
More from Metropolis
---
A rendering of "Das Haus" by Nichetto.
But the fair has other reasons that make it worth visiting. The LivingKitchen, which is held in odd-numbered years, is a great place to learn about the latest kitchen and bath trends. The famous engineering and precision of German luxury cars can also be found in the work of many of the country's kitchen and bathroom manufacturers, including Miele, Hansgrohe, Gaggenau, Dornbracht, and Poggenpohl. With 160 exhibitors from 18 countries, you'll be seeing popular kitchen trends that continue the idea of open plan kitchens, smart appliances, and the use of material combinations of ceramic, glass, stainless steel and wood.
The Torei tray tables by Nichetto for Cassina.
Another reason to visit the fair is their popular Ideal House where a guest designer envisions his or her personalized vision of a living space. Through the years we have seen installations by Hella Jongerius, Patricia Urquiola, Naoto Fukasawa, and the Bouroullec brothers–all of whom showed when they were relative unknowns. After a few years on hiatus, the fair brought back the Ideal House concept, "Das Haus," and last year, showcased the London studio Doshi Levien, who presented a very personal approach to their house, drawing upon various cultures and craft techniques and using both furniture that is actually on the market as well as specially commissioned pieces for the show. The organizers' new pick for the second edition of "Das Haus—Interiors on Stage 2013" is Luca Nichetto, a rising star in the European design scene.  Nichetto, who's based both in Venice and in Stockholm, has collaborated with brands such as Cassina, De Padova, Established & Sons, Foscarini, Kristalia, Moroso, and Venini, and his work combines the Italian understanding of craftsmanship with the cool, functional, and democratic philosophy of Scandinavian modernism.
Paffuta Lounge Chair by Nichetto for Discipline
Sustainability is central part of Nichetto's proposal with everything revolving around a centrally located living room that is intended to become the center of an eco-friendly way of living that integrates nature. The project will draw upon different sources of inspiration, from his upbringing in the Veneto region to the influence of California modernism as seen in the Eameses' Powers of Ten film, using the idea of different scales to create different spaces. In terms of furniture, Nichetto doesn't just want to use the furniture that he's created but to showcase product by other designers that he likes by the Italian and Scandinavian masters in addition to furniture from past Ideal Houses. To see the finished space, you'll have to visit IMM Cologne//LivingKitchen which takes place January 14 to 20, 2013 at the Koelnmesse fairgrounds. Learn more about Luca Nichetto's "Das House", and for coverage of past Ideal House designers, see Doshi Levien, Ronan and Erwan Bouroullec, Patricia Urquiola, and Naoto Fukasawa.