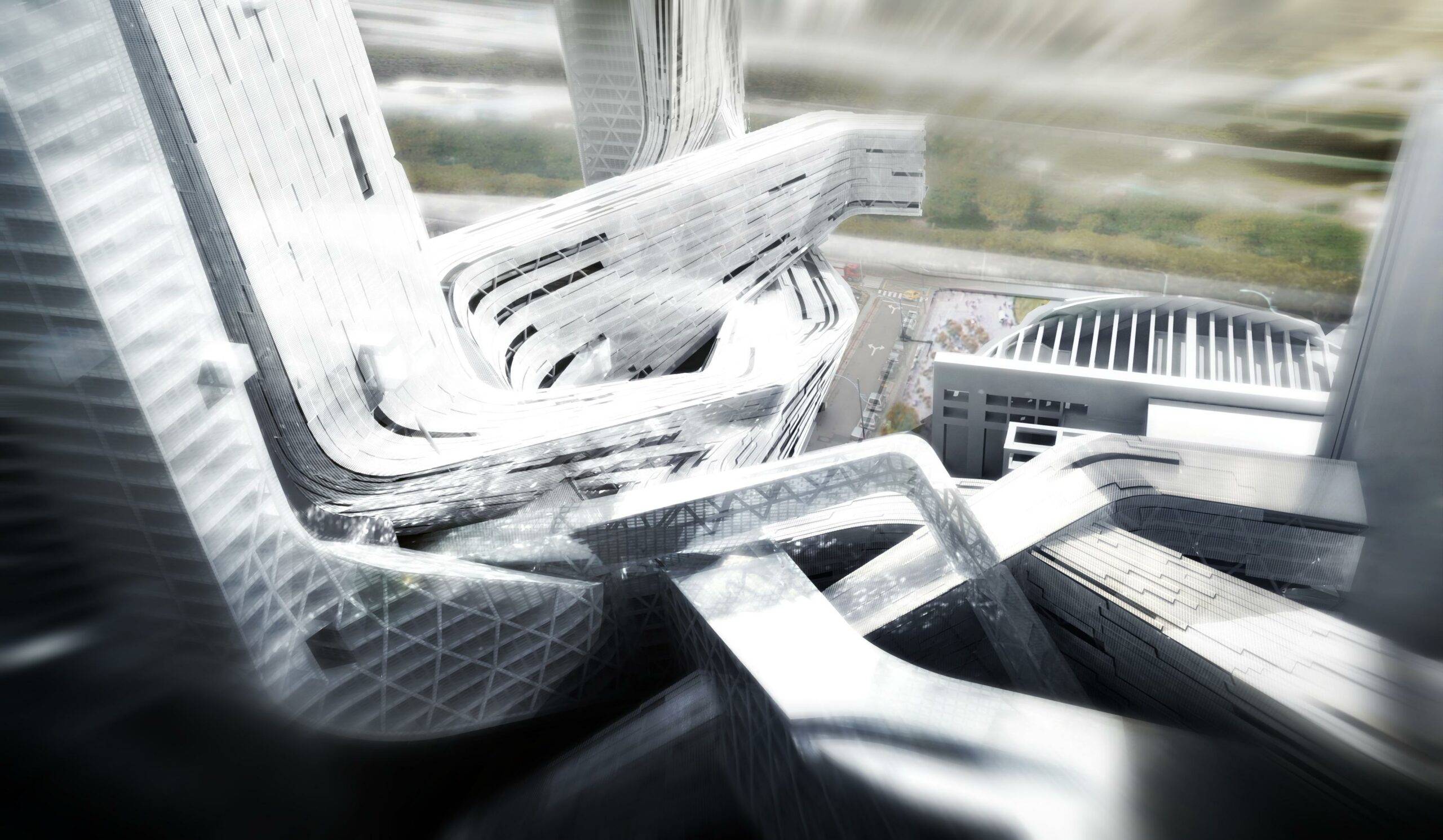 September 19, 2013
Morphosis' Thom Mayne—Not a Bad Boy, Just a Negotiator
Understanding that architecture is a negotiated act
National Building Museum Online and Metropolis Magazine contributor Andrew Caruso recently sat down with AIA Gold Medalist Thom Mayne to talk about the early days of his career and the major design school, public projects, and trajectory of work that followed. The architects goes on to muse on topics including innovation, politics, and education—and even makes time to debunk his reputation as the "bad boy" of architecture.
Adrew Caruso: Your professional career began in the discipline of planning. What led to the shift toward architecture and your eventual partnership with Jim Stafford?
Thom Mayne: I started working at the Pasadena redevelopment agency doing low cost housing, and that's where I met Jim [Stafford]. Coming out of USC, I had no background about Mies, Khan or Corbusier, for example. USC was very strong in being anti-historical, looking forward instead of backward. I was essentially naive.
---
More from Metropolis
---
Jim was a year ahead of me at USC and had part of the older regime at the school. When I met him at the planning agency, he started introducing me to history. I got fascinated by Paul Rudolph; and then it just took off. Jim guided me through this thought process, reestablishing me in the tradition of architecture.
AC: So you left the planning agency…
TM: I went to Dworsky for six months and didn't care for it, even though it was one of the more interesting offices in town at that time. Then I went to Gruen, the intellectual watering hole in LA. I really thrived there. They gave young people huge responsibility and that had enormous impact on my own office. I literally set my practice up with huge parallels to Gruen in terms of how I treat young people, the openness of the office and the atelier model. It's very egalitarian. The youngest person is treated with the same respect as the oldest.
AC: Tell us about the origins of your firm, Morphosis.
TM: The Archigram boys were setting up shop at UCLA in 1968-69 (my fourth and fifth year at USC). Word got out, and a group of us started hanging out at UCLA. It had a huge influence on me. Peter Cook and I now joke about it.
In 1972, Jim Stafford and I started our firm and the concept came directly from Archigram: the idea of a flexible, multi-faceted collective. It was a silent attack on the singularity and authority of the author, very much part of the political, social, and cultural thinking of the late '60s and early '70s.
AC: How did a budding teaching career fold into these formative years?
TM: In 1971, Jim brought me to Pomona for my first teaching job. But all of us got fired and, instead, we started the Southern California Institute of Architecture (SCI-Arc) in 1972, the same year Jim and I started Morphosis. Jim and I had very similar ideas about the multidisciplinary notion of a practice in terms of its social and collective structure.
Three years disappeared in a huge effort to get the school going. I did three small projects—all conceptual. We won our first Progressive Architecture award for the Sequoyah Educational Research Center in 1974—that was the first time anyone heard our name, Morphosis. And, SCI-Arc was on its feet. It was a miracle.
Four Towers In One (Competition)
Courtesy © Morphosis
AC: Had you ever considered that you would start a design school?
TM: No. I think that period of time was much more relaxed. I was doing what I wanted to do; I lived simply. I had my summers off to travel in Europe. I was single, and I was part of that generation in every sense. I was completely captivated in my own education and where we stood at that particular time in history.
At 27, I had no idea who I was as an architect. It was an absolutely ideal situation because I was asking questions just one step ahead, or actually, maybe equal to my students. It was a very interesting time to teach and different than where I am now, when I may rely too much on my experience.
AC: And you quickly began to build a cadre of like-minded colleagues?
TM: We were all broke. I go back to all my buddies and we joke about it. Bernard Tschumi was staying in my studio when he was lecturing at SCI-Arc. Daniel Libeskind shows up and he's still a kid. Steven Holl and I both had offices without air-conditioning or heating and we used gloves in the winter to draw.
We had this commonality among the whole group of us. We were all starting to practice, involved in our own questions, investigations, and research. We were curious. Inquiry was everything. It totally captivated us. It was 24/7.
AC: What guided you through this time in your career?
TM: It seemed very normal at the time. I was not at all ambitious. I had no idea where I was going and I couldn't care, really. There were very few plans. I find that young people today are much more focused on some sort of a trajectory. They are much more conscious of where they want to be. I was just the opposite.
AC: It's interesting that you find teaching during the earliest years of your career more valuable than teaching now.
TM: When I talk to young people who are starting to teach, it gives me a really useful perspective. I tell them to really enjoy it and to avoid insecurity about what they don't know. This is a plus. They're defining a generation in terms of what contemporary architecture means. As you get older, you can't do that.
Teaching had a huge amount to do with my formation as an architect. We probably got more out of it than the students did; I had no idea. When you teach, you're capable of articulating complex ideas that operate within an emotional, intuitive or private sense. But you learn to translate those because you have to. That's what you do when you sit with your students.
I divide architects that teach and don't teach. There's a line. I can see it immediately.
AC: Is there a way that you would define the ethos of SCI-Arc when it started? Has it remained consistent?
TM: The school never had a singular agenda. Jim and I looked to the AA and the Cooper Union as models. There appears to be no structure at SCI-Arc, but there is a very complicated structure. It allows what appears to be a cacophony, a certain kind of chaos or randomness.
What is so interesting is that nothing has changed. It has its own idiosyncratic propulsion that allows it to maintain this diversity and energy.
AC: What has been its secret for success?
TM: The reverse of what is going on right now in congress. All of us seemed to be interested in having a conversation with other people we didn't agree with. But, we could have a conversation. And that's what the juries were. All of us had our own trajectories, but we were able to talk across the aisle. The school still has that. It somehow resists any singular notion of what architecture is or isn't. It remains somehow committed to a broad and very idealistic notion of inquiry.
AC: What has architecture become for you over the course of your 40-year practice?
TM: I can't see architecture as not being a political act [sic]. I think the U.S. is kind of unique in that way, though Europe may be the same way. We depoliticize it—that would be a far more complicated conversation that probably starts with the reshaping of our profession.
London Embassy
Courtesy © Morphosis
AC: Does the political dimension of architecture relate to (or drive) your portfolio of public projects?
TM: The GSA work is amazingly coincidental. It just showed up and it made total sense for me, because that's what I think architecture is. A huge dilemma for the profession today is our lack of taking any control of the significant issues of our time. Our profession services the private sector in the most literal way, which is incredibly unuseful [sic] for our discipline that has limited voice.
AC: So what are some of the most significant issues of our time?
TM: I think the most compelling projects in our profession today are urbanistic. The issues of economic and environmental sustainability are going to be at an urban level.
You're talking to somebody who has never run a traditional practice. It's not a business. I produce work. I've never marketed, never called a publication. I've had times when the phone doesn't ring. I'm willing to go plus/minus in terms of work.
AC: What parts of your persona have played into your success?
TM: Unbeknownst to most people, I'm not a bad boy. I'm a negotiator and I understand architecture as a negotiated act. If you're going to get something built, there's no choice.
The GSA work arrived at a time when I was prepared to take on that responsibility. As architecture, they are what they are. I'm operating at 60%, 70% capability, but that's part of life. And I had to take a gulp to do that. At the same time, I'm really proud of working at that level. It's a complicated conversation. Your notion as an architect is not completely connected to your role as a citizen of this country and how you participate with large public projects.
AC: How do you see your mindset shift across the breadth of your practice?
TM: We are so defensive and do a lot of self-editing with our clients in this country because they're so conservative. I'm purposely overstating this, but by and large in this country, if a client asks if something has been done, the answer has to be, "Yes it has." In China, it's exactly the opposite. If I say, "Yes it has," they ask, "Then why are we doing this?"
We can only survive from innovation. It wasn't that many years ago that I was a "radical architect" and I wore that on my sleeve as a hugely positive thing. I connected myself to other people who considered themselves radical architects. But, it took me a long time to realize this was being used in an absolutely derogatory way to limit and isolate me.
AC: So what next for our profession?
TM: The nature of how we document our profession to the outside world is really destructive. The world needs only so many icons. Is it really a direction the whole profession can go?
What we should be looking at is the pure notion of ideas, and the use of those ideas as they solve problems; cultural, political, ecological, urbanistic, infrastructural, etc. I'd be the first one to say it, and I guess I'm an icon maker. It's not always appropriate. There are times when you need buildings with power, buildings that have a voice and talk optimistically about the potential of what architecture can be. But only certain projects demand that, and they're mostly public projects.
By the way, what do they call us? "St(ar)chitects"? The press invented that. It's embarrassing. It's an absolutely disgusting kind of idea. The press needs to somehow simplify arguments for the public who still want People Magazine. I think a lot of areas in architecture that are the most interesting, are in fact not necessarily interesting to the public.
AC: You've said that naysayers have been a consistent thread throughout your career. How have you leveraged them into a positive force for your work?
TM: Anyone that knows me will tell you that when I commit myself to a project and get involved in an idea, I'm pretty relentless. I can stay focused for years. Architecture is distance running, not sprinting. I'm very positive. I just keep making arguments. It goes back to teaching – you have to make a case, a narrative for a particular direction. And, I'm pretty tenacious. A lot of the time, it's the person that's willing to stay in the room the longest that is going to win the battle.
---
Andrew Caruso, AIA, NCARB, LEED AP BD+C, CDT, publishes and speaks internationally on issues of talent within the creative industries. His latest column, "Inside the Design Mind," explores the motivations of today's design icons and influencers, surfacing key elements of their identity and examining their agency within the community of practice. Andrew can be reached at: [email protected].