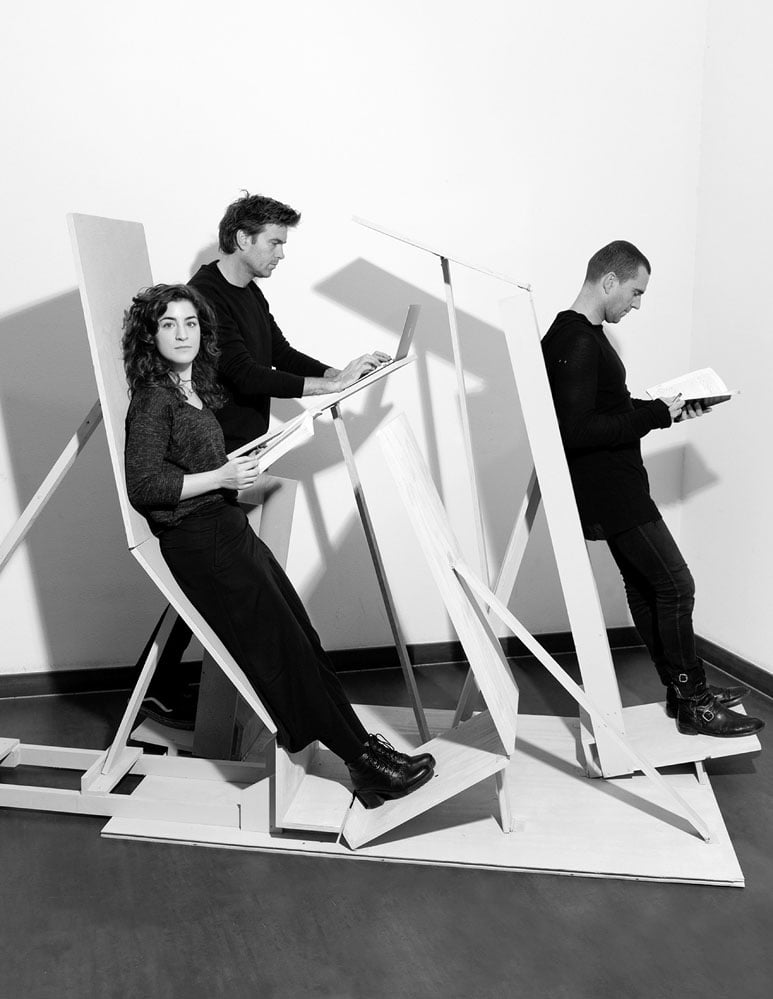 October 27, 2015
RAAAF Combines Design and Philosophy to Highlight Urgent Social Issues
The Dutch architects combine design and philosophy in works that highlight urgent social and cultural issues.
RAAAF junior project leader Arna Mačkić and founders Erik and Ronald Rietveld and junior project leader Arna Mačkić.
Courtesy Maarten Kools
The modern landscape is littered with abandoned fields and buildings, landfills, and trash heaps, as well as stagnant, inefficient, and soul-killing offices, schools, and shopping centers. Much of what humans build and shape is then left fallow, empty, and ruined. These postindustrial landscapes serve as a major starting point for the projects of Rietveld-Architecture-Art-Affordances (RAAAF), which sees them not as sites of tragedy, but as potential sources of energy, productivity, and enjoyment, with latent excess resources— affordances, in its terms—ready to mine.
RAAAF, composed of brothers Ronald and Erik Rietveld as well as architect Arna Mačkić, often presents these ideas in confrontational ways. For example, Vacant NL, the Dutch pavilion at the 2010 Venice Architecture Biennale, was composed of 10,000 models of government-owned vacant structures, making clear the magnitude of idle property in a nation facing an ever-present housing shortage.
---
More from Metropolis
---
On an altogether different scale, RAAAF challenged the assumption that the office environment comprises various configurations of desks and chairs in The End of Sitting. The interactive installation is based on a concept the studio developed in collaboration with artist Barbara Visser. Visitors were invited to find purchase within a landscape of beveled and irregular surfaces, unlocking countless ways of sitting, straddling, lying, crouching, kneeling, and resting while working. According to Ronald, the idea was "to offer a large variety of standing affordances so that people would be solicited by multiple possibilities for working in different positions, ideally motivating them to switch postures every 30 minutes or so."
This aggressively novel aspect of their work is present not just in the installations themselves but in RAAAF's process. "Our interventions are the result of an independent attitude and research agenda, starting from our own fascinations while confronting them with urgent societal issues," Ronald says. But it can also be attributed to the wide range of backgrounds the team members brought with them when they formed the studio in 2006. Ronald had previously worked as a landscape architect, while Erik delved deep into "the philosophy of embodied cognitive science," eventually earning a PhD. Mačkić added her architectural bona fides in 2009, but has also completed extensive research on urban destruction in the former Yugoslavia.
"Our interventions are the result of an independent attitude and research agenda, starting from our own fascinations while confronting them with urgent societal issues."
This union of design and philosophy results in strangely poetic, if haunting, projects. For Bunker 599, RAAAF, together with Atelier de Lyon, cut a concrete 19th-century pillbox in half, revealing its cramped interior spaces and metaphorically reopening a closed chapter of Dutch history. To illustrate its function as part of the New Dutch Waterline—a 53-mile-long lowland that could be intentionally flooded in case of invasion—the studio extended a jetty through the bunker, connecting the large highway above to the lake below. This concrete carbuncle turned out to be a treasure hidden in plain sight: The Dutch government designated it a national monument only after it had been split in two.
For Secret Operation 610, the team built a gigantic robot in an abandoned hangar, its acute angles and sinister forms taking cues from Cold War–era military design. This "brutal object," as RAAAF calls it, also serves as a classroom, giving easily distracted students some entertainment as it crawls down its accompanying runway on repurposed Caterpillar treads at an "excruciatingly slow pace."
Although RAAAF has revealed much about the mundane landscapes around us, there are still many more unexplored affordances out there to be discovered. The studio presented a 40-foot "cutout" of The End of Sitting at this year's Chicago Architecture Biennial, and is working on yet another revelation, this time underground. After Image will present the literal foundation of the Netherlands, a nation built on millions of piers, by excavating the ground beneath a former industrial building.
In the end, the genius of RAAAF is in its strategic interventions that, though small, invite viewers to imagine a completely different way of living. "What interests us," concludes Ronald, "is what the world would be like if we were free of conventional limits."
See the rest of this year's new talents here.
After Image shows the world below the Netherlands' terrain, constructed on millions of pillars. RAAAF's intervention reveals part of the exciting underworld of a former sugar silo, where uncovering the foundation of just one silo exposes an enormous concrete cathedral belowground.
Courtesy RAAAF
Secret Operation 610 transformed an aircraft bunker on the former NATO Soesterberg Air Base into an experimental workspace. The architectural language of the object revives the mysterious atmosphere of the Cold War.
Courtesy Michiel de Cleene
The End of Sitting is a real-life thinking model that questions our "sitting society." Almost the entirety of our surroundings has been designed for sitting, while evidence from medical research suggests that too much sitting can be unhealthy. The architectural installation is a concept for a new working environment wherein the chair and desk are no longer unquestioned starting points.
Courtesy Jan Kempenaers
Bunker 599, which cut a 19th-century concrete pillbox in half, sheds new light on Dutch and UNESCO policies on cultural heritage while making people look at their surroundings in a new way.
Courtesy Allard Bovenberg
Pretty Vacant, located in a disused chapel of the Centraal Museum Utrecht, is a foam screen based on the "negative spaces" of RAAAF's earlier installation Vacant NL, which was the Dutch submission for the Venice Architecture Biennale in 2010.
Courtesy Rob Thart
---
"RAAAF operates at the intersection of architecture, art, and landscape, which has interested me for many years. I first came to know Ronald Rietveld's work when he won the Dutch Prix de Rome, and have followed the practice he built up with his brother, the philosopher Erik Rietveld, ever since. Their landscape interventions have the power to evoke the nature of a place, whether the flat polders of the Netherlands or defensive bunkers and former U.S. Air Force bases, with simple abstract forms. Their conceptual installations have made space—in particular, empty and unused office space—visible. Their office landscape, which will be part of the Chicago Architecture Biennial this year, offers an alternative scenario to how we live and use existing structures. They have been at the forefront in the development of an architecture of affordances, designing potentials and activators rather than mere enclosures." —Aaron Betsky, dean of the Frank Lloyd Wright School of Architecture