July 12, 2018
This Small Rehearsal Studio in London Seamlessly Disappears Into Nature
Designed by local firm Reed Watts Architects for the Regent's Park Open Air Theatre, the practice space blends seamlessly with its verdant surroundings.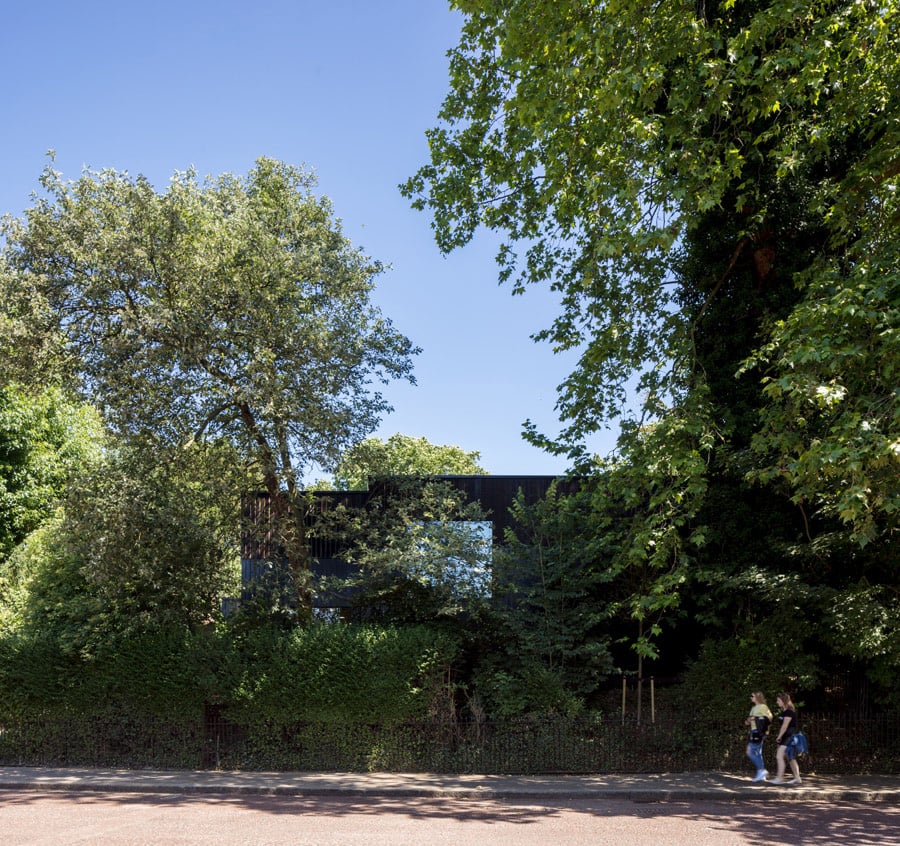 How do you design a building that isn't supposed to be seen? This was the challenge facing Jim Reed, director at Reed Watts Architects, for his project at the Regent's Park Open Air Theatre in central London.
Nestled in Regent's Park's theater grounds, Reed Watts's new rehearsal building, completed this May, was commissioned to bring all of the theater's production facilities on site without poking its head into view of picnickers on the Nannies Lawn, a sacred grassy plot named after the domestic laborers who cared for the aristocratic kids living around the royal park (so far, so Mary Poppins).
To make matters more complex, the proposed site for the rehearsal space, a 5,200-square-foot building completed in just seven months, was located 10 feet from a protected London plane tree (a type of sycamore), necessitating the use of pile foundations that were hand dug in order to avoid the tree's roots.
---
More from Metropolis
---
---
The resulting structure is thus, unsurprisingly, highly sensitive to its surroundings and blends seamlessly with the pre-existing landscape, both built and natural. The visual disappearing act is achieved with feather-edged larchwood cladding stained black on its face and left natural on its edge, meaning the color tone gradually shifts as one moves around the two-story cube and, crucially, it appears inconspicuous amidst the trees from the surrounding park.
Inside, the prefabricated structure of Austrian cross-laminated timber houses a 47-by-33-foot rehearsal studio that is aesthetically muted but technically sophisticated with a sprung floor and castellated beams from which actors can hang for rehearsing flying scenes (there was a recent run of Peter Pan at the theater). The studio is triple-glazed to prevent noise leaking either in or out, while a large window on the west side maintains a visual connection to the park.
Having worked on theater projects as an associate director at Haworth Tompkins (the firm won the Stirling Prize in 2014 for their work on the Everyman Theatre in Liverpool), Reed's work here is straightforward and confident, yet not without a little fun: at ground floor level a new kitchen facility opens out onto the lawn to reveal a snack bar painted in a shock of gold—a visual ta-da.
You might also like, "Bob Dylan's Archives, No Longer a Rolling Stone, to Be Housed in Olson Kundig-Designed Center."