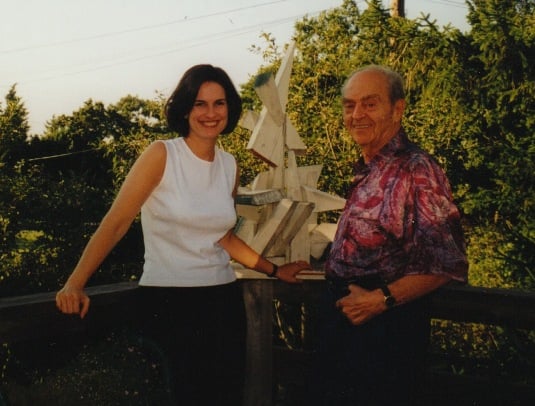 February 10, 2011
Remembering "Edgar T"
Edgar Tafel, who recently died at the age of 98, was the last surviving member of Frank Lloyd Wright's original Fellowship.
"Hello, Debra, this is Edgar T. calling," a jovial voice would chirp from my answering machine on Saturday mornings. Whether I picked up or not, he would continue: "The other Edgar was E.J., you know—Edgar Kaufmann."
Edgar Tafel, who recently died at the age of 98, was the last surviving member of Frank Lloyd Wright's original Fellowship. To me, and many others, he was history incarnate—propelling the past forward, granting us a tantalizing glimpse into the machinations of "the world's greatest architect" (as Wright once termed himself) at a zenith of his career. Edgar was the man who carried "Mr. Wright's" drawings in to the Johnson Wax Building presentation. He sharpened Wright's pencils as he rushed to create the Fallingwater drawings before E.J., en route to Taliesin from just 140 miles away, showed up in the drafting room. Subsequently, Edgar would be involved with the construction of both of these iconic buildings as well as Wingspread (Wind Point, Wisconsin), the sprawling home of Johnson Wax president, Herbert F. Johnson. Edgar was mythical. And I was his friend.
Image: Edgar Tafel with his 1995 Wright Spirit Award, a bell designed by Paolo Soleri (also a Taliesin Fellow), at the entry of his weekend home in Springs (East Hampton), New York, August 1998. Edgar also had a winter home in Venice, Florida.
---
More from Metropolis
---
I met the "man with a mind of his own"—as Wright described him, according to Edgar—at a Frank Lloyd Wright Building Conservancy event at the Lovness Residence (Stillwater, Minnesota) in the mid-1990s. A newly-minted member of the group's board of directors, I was wide-eyed about mingling with original Wright clients, scholars, former apprentices, and homeowners, not to mention meeting one of the Wright community's demigods. I first spied Edgar holding court in a cozy corner of the living room. Tall, lean, and nearly as nattily dressed as his mentor, he was clearly in his element, his sizeable ego swelling as the gathering around him grew. A new Conservancy friend introduced us, and I worked hard to rein in a plethora of pent-up questions that had mushroomed from my readings about him. I think we were both pleased to learn that we were fellow New Yorkers and could continue our conversation on home turf.
Several weeks later, a friend of mine from the Guggenheim Museum staff joined us for lunch at MoMA. Edgar brought us autographed copies of his book, Apprentice to Genius: Years with Frank Lloyd Wright, and regaled us with colorful details from its pages. My friend was amused by the story of how he connected Wright with an affordable "concrete man" for the Guggenheim project. In 2009, when the museum held a 50th anniversary gala, nothing warmed my heart more than seeing a smiling Edgar across the rotunda.
One spring evening some years ago, I was invited to a cocktail party at Edgar's townhouse at 14 East 11th Street. He designed its stunning interiors, once featured in House Beautiful, he said. After pointing out a treasured Japanese print given to him by Wright, he spirited me away for a tour. His downstairs archive was the highlight. There, he pulled out sample after sample of drawings, documents, and photographs from his Wright years, largely unseen by the everyday visitor—especially not with Edgar as a personal guide!

Edgar and the author with "Thataway," a sculpture designed by the architect, at his weekend home in Springs (East Hampton), New York, August 1998.
In 2003, I wrote to Edgar to let him know I was working on a book about Wright's mid-century years as a New Yorker, a time when the architect lived at the Plaza Hotel. He called me several days later: "I received your letter and was up all night thinking about the possibilities." Edgar was continually enthused about all-things-Wright—especially if he had figured in a particular story or could have a hand in creating a new one.
While conducting research for my 2007 graduate thesis on the reconstruction of Wright buildings, I unexpectedly discovered that Edgar had played a role in all three of my case studies. In 1966, he executed renovation work on SUNY-Buffalo's Darwin Martin House to convert it to a residence for the university's president. (The entire estate has since been restored.) Around the same time, Tokyo's Imperial Hotel was marked for demolition. He petitioned the AIA and other American foundations to save and reconstruct its key public rooms for posterity. Unsuccessful, he visited the hotel as it was being pulled down, obtaining samples of every structural element for SUNY-Buffalo's architecture department. In the early '70s, he saved the living room of the Frances W. Little House II—a Wayzata, Minnesota, prairie gem also on the brink of demise—by entreating the Metropolitan Museum of Art to house it in its expanding American Wing. As the saying goes, perhaps there really are no coincidences.
Wright's de facto missionary, Edgar lived even longer than his architectural mentor. From the moment we met, I sensed multiple forces operating within him—a deep admiration for Wright, a thinly veiled desire to have been Wright, and a devotion to his own work, which flowed forth following his departure from the Fellowship. For me, these swirling facets were an integral part of Edgar's complex and undeniable charisma.
Each time I attend an event in the AIANY's Edgar Tafel Hall, I will think of his satisfaction at having his name mounted on the wall, high above the heads of all those who gather there. In that room of perpetual discourse, there is no doubt that he will remain ever-present.
I will always treasure the gift of having known "Edgar T."