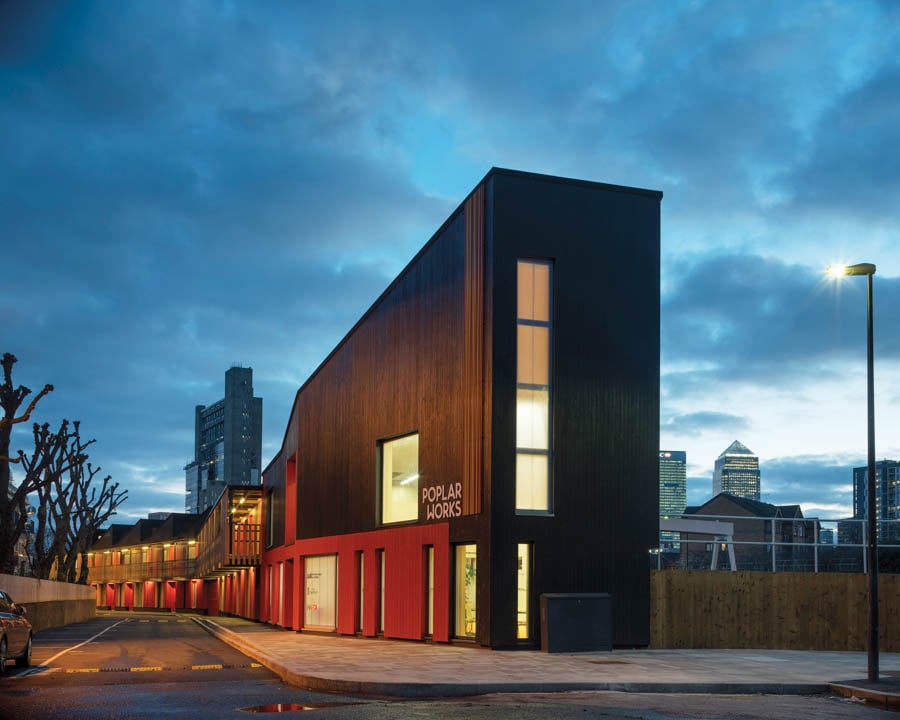 November 5, 2020
A Fashion Center in East London Looks to Sustainable Economic Regeneration
London-based firm Adams & Sutherland has recently transformed a row of underutilized garages into the fashion hub Poplar Works.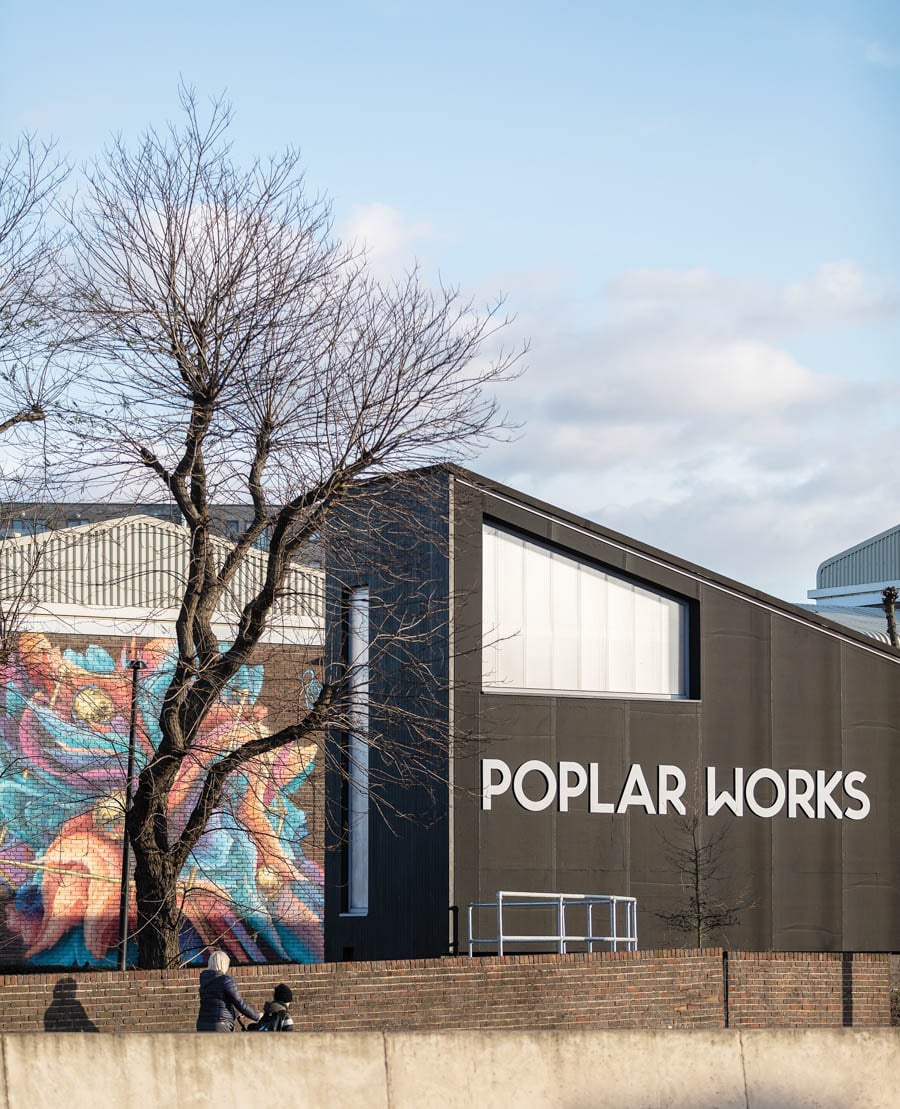 A zigzagging row of 100 dormant 1970s-era garages next to a deafening six-lane highway may seem an unlikely site for creative innovation and community regeneration. And yet that's exactly what Poplar Works, a new hub for sustainable fashion production, has become since opening earlier this year in East London's Poplar district.
"To us, the site was exciting," says Elizabeth Adams of London-based architecture firm Adams & Sutherland, which designed the building for Poplar's housing association, Poplar HARCA. "It was like working with a found object." Since 2015, Poplar HARCA has been devising creative solutions for sustainable development, mapping the borough's underused spaces and earmarking them for community-focused adaptive reuse. Adams transformed the decrepit garages into what is now home to 18,929 square feet of low-cost studios for fashion-related businesses, along with a public café and event space. The studios are a partnership with The Trampery, a shared-workspace enterprise, and London College of Fashion (LCF) also has a presence here.
Maintaining the existing walls and foundations, Adams & Sutherland removed the roofs and set a cross-laminated timber box on top, which contains a new upper story. Below, the design team embraced the building's industrial language with painted steel and surface-mounted conduits. Wrapping the new volume in black EPDM rubber proved to be a low-cost, low-carbon solution to insulation and waterproofing. Circulation is primarily external, which, along with semitransparent polycarbonate panels that front the studios, "establishes the feeling of an active street, where people might display their wares," says Adams.
---
More from Metropolis
---
The 45 studios vary in size and services, and tiered pricing is aimed at keeping them accessible. "Over the past five years, London has lost more than 30 percent of its affordable studio spaces," notes Charles Armstrong, founder and CEO of The Trampery. It's a fertile breeding ground for fashion innovators, with start-ups such as sustainable knitwear brand Essential Range sitting next to established designers such as Bethany Williams.
Blossom Young, who led the project for Poplar HARCA (some funding came from the mayor's office through the Good Growth Fund), describes her team's extensive community outreach as she leads me on a virtual tour of the complex one hot July day. "We must have knocked on 400 doors," she says. "It was lots of tea, lots of biscuits, but for us, a project like this starts and ends with community conversations."
The outreach revealed a need for affordable small-business workspace, especially among residents with fashion production skills. Poplar Works was designed around serving its neighbors, an effort that Adams calls "community sustainability." At the heart of the complex is 4,090 square feet of education and manufacturing space, run by LCF. Behind the walls of colorful painted timber is the school's Making for Change initiative, an outreach program that trains women in the London prison system in fashion skills. "To us, fashion is a way to connect to our communities and bring about social change," says Claire Swift, LCF's director of social responsibility.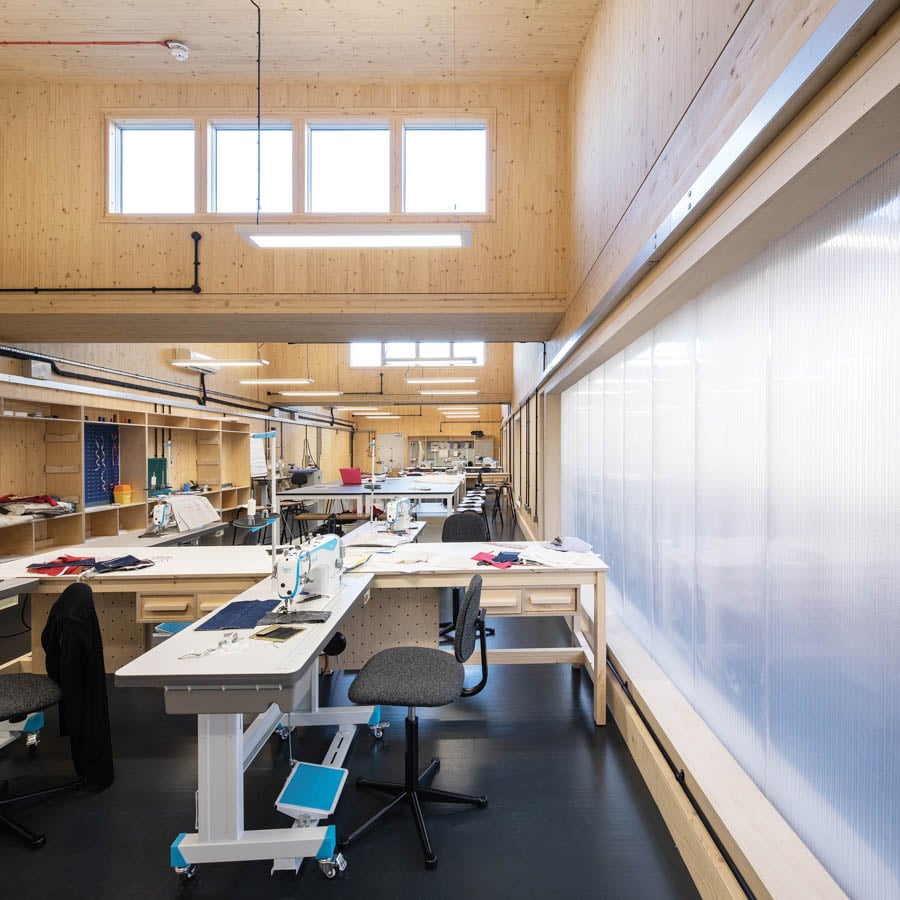 As LCF prepares to move to a new home in the East Bank, a culture and education district cropping up at the 2012 Olympics park, Poplar Works serves as a meeting ground for the institution in a slice of London with a long-standing fashion heritage due to successive waves of immigration. "We saw that fashion could create opportunities for locals to enter into new forms of industry using skills they already had," Young says. "It's about regrowing a local economy and cementing that economy as the foundation for the place moving forward."
In East London—particularly Poplar, where the recent refurbishment of Ernö Goldfinger's Brutalist Balfron Tower reflects the area's challenges with development—this type of grassroots development is far from common. Young, of HARCA, hopes that will change, as upwards of 15,000 new homes are slated to be built here in the next decade. "We want to remind future developers that people don't just live in houses," she says. "They live in places."
Adams seems to agree: "Poplar Works might stay, it might not. But no matter its life span, it will have done a job that is more than the sum of its parts."
You may also enjoy "Rafters and Ribbon: A New Home for Blu Dot in Portland."
Would you like to comment on this article? Send your thoughts to: [email protected]
---
Register here for Metropolis's Think Tank Thursdays 
and hear what leading firms across North America are thinking and working on today