August 25, 2021
In Kansas City, a Dialogue with the Past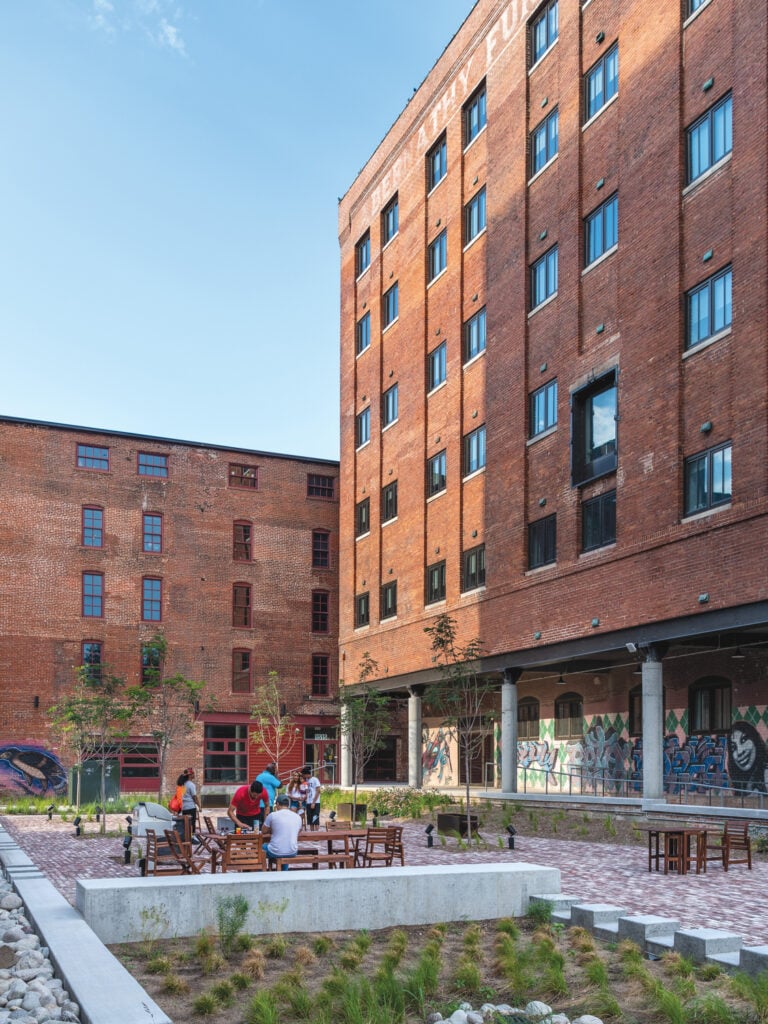 Just a few blocks from shops, art galleries, speakeasy-style bars, and a handful of haunted houses, the recently completed West Bottoms Flats is now the area's only significant residential development. To attract residents looking for affordable rents near the city center, the developer requested small apartments, a challenge given the buildings' massive floor plates. Selective demolition close to the center of each residential building's floor plan created a series of light courts, which allow daylight and fresh air into interior spaces.
Describing the architectural team's approach, project designer Elvis Achelpohl says it was important to express the materiality of the buildings while maintaining the "hidden, industrial, overgrown" aesthetic of the area. To complement exposed brick, concrete, and heavy timber throughout, a central courtyard features native plantings and is flanked by existing murals created by street artists over the decades. This light-touch approach is also apparent in the way the project addressed the site's alleys. In the area's heyday, railcars would move through alleys and pull into loading docks inside the buildings. In
recent years, as the West Bottoms turned into an industrial wasteland, the alleys—more sheltered and human-scale—became the primary pedestrian walkways through the neighborhood.
---
More from Metropolis
---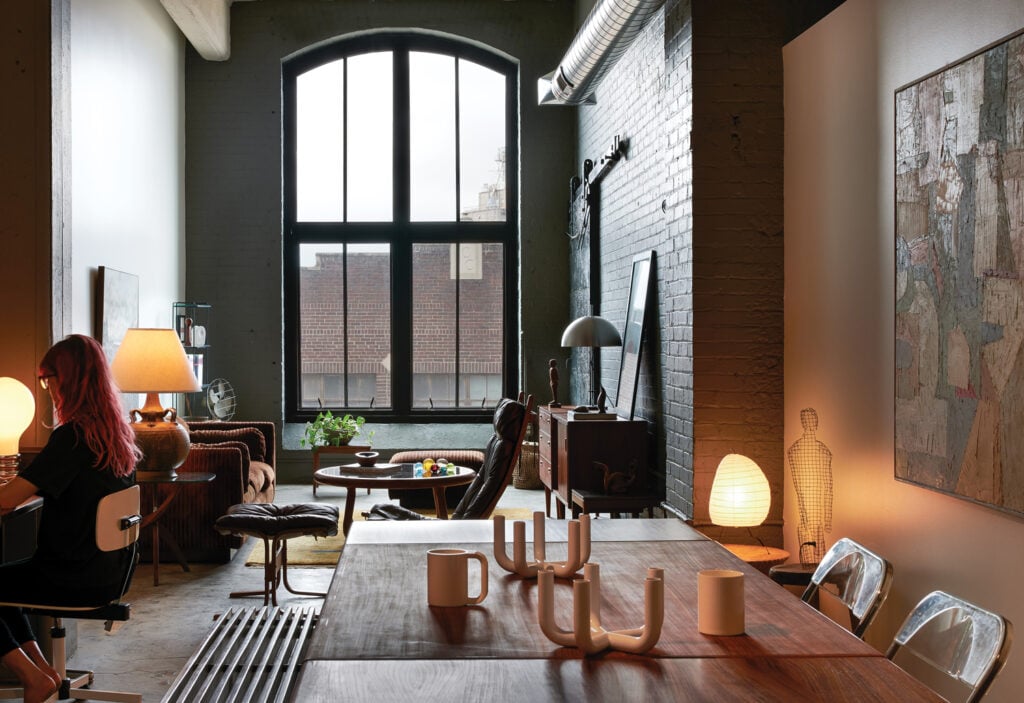 Achelpohl says responding to this condition meant not returning alleys to a strictly "back of house" role. Instead, the designers maintained street-facing facades to satisfy historic requirements. His team elevated loading docks and some alleyways with architectural elements such as glass garage doors or by adding entryways and lobbies to those sides of the buildings, a nod to the way the buildings were originally accessed.
The West Bottoms Flats occupies only about half a city block, but in many ways the project reaches beyond its footprint to support a better urban environment. Craig Scranton, project principal, says renovating four buildings at once was one way to seed a neighborhood. The development now sits in the middle of a newly created national historic district, West Bottoms-North, which radiates several blocks out and is intended to spur further development adhering to historic preservation standards.
Perhaps most important, the developer and the city teamed up to create a system that can collect up to 150,000 gallons of stormwater from alleys surrounding the buildings and, during major flood events, slowly release the water into the municipal combined storm and sewer system. Given the history of flooding in the area, this bit of green infrastructure—much like the overall project— is another example of investment that not only appreciates the past but protects it.
Project Credits
Design architect, interior architect and landscape architect: BNIM
Contractor: Rau Construction
Structural engineers: Bob D. Campbell 
Civil engineers: Taliaferro & Brown 
Code consultant: FP&C
Owner: MCM Company, Inc.
Photographer: Kelly Callewaert
Stager: Joshua Nunez
Would you like to comment on this article? Send your thoughts to: [email protected]