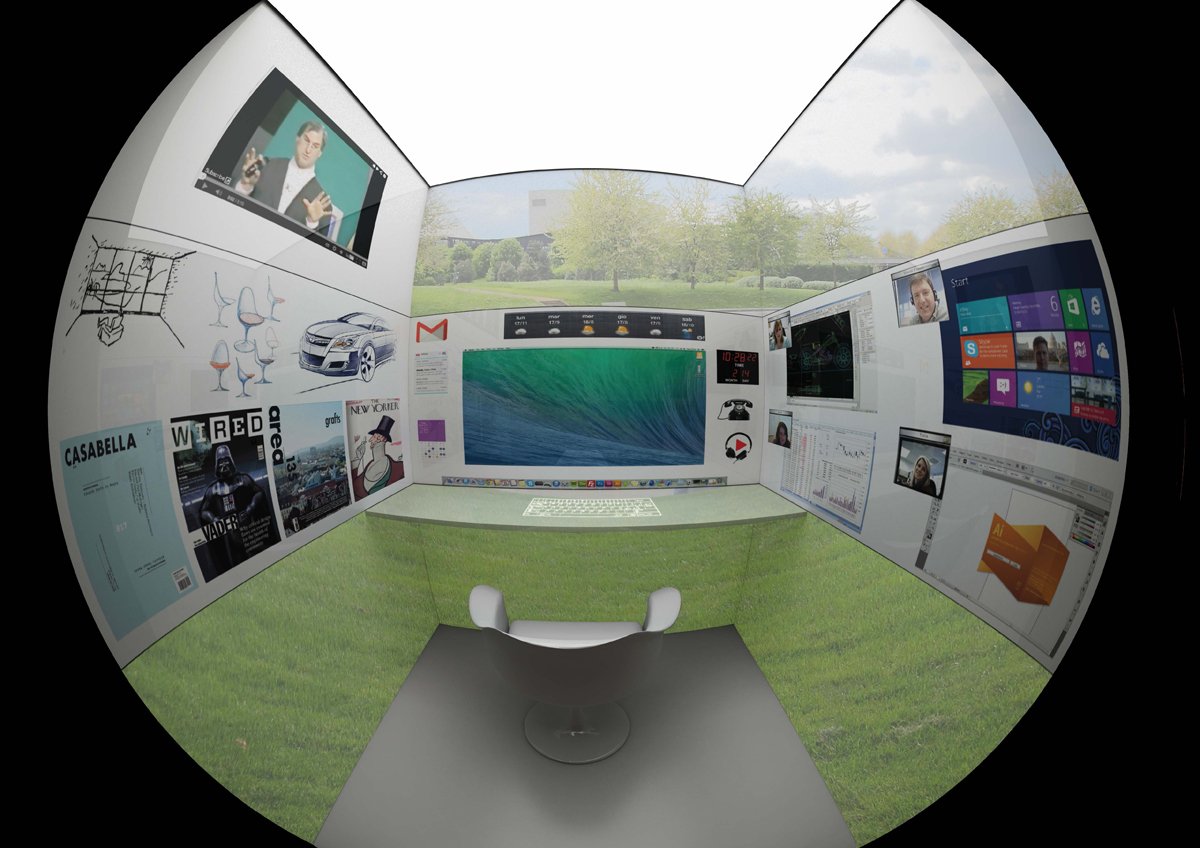 December 22, 2014
Revealed: Finalists of the Workplace of the Future 2.0 Competition
Modular spaces and integrated technology were the dominant themes among this year's top submissions.
For the second successive year, the Workplace of the Future competition, presented by Metropolis and Business Interiors by Staples, has called attention to the need for modern office spaces to better adapt to the rapidly changing needs of twenty-first century employees. This year's 10 finalists have been selected and the direction is clear: modular spaces and integrated technology will be key in the rethink of work environments.
Asked " to imagine what our work lives will look like in the next 15 years," the select 10—out of 153 submissions—showcased solutions that aim to accommodate a diverse, multigenerational labor pool that is working longer hours. Of the 10, the contenders are split almost evenly among architectural and design professionals with years of experience and students who are in or quickly approaching their final year.
The submissions were evaluated by a three-member jury, which included Rachel Casanova, director of workplace for Perkins+Will; Allsteel Office's A.J. Paron-Wildes; and Paul Makovsky, Metropolis's editorial and brand director. The winner and runner-up, who will receive $7,500 and $2,500 respectively, will be announced in the January issue of Metropolis.
---
More from Metropolis
---
Here are the 10 finalists and a brief description of their projects:
The Cell
Daniele Cremaschi, Fabio Damiani and Marco Quistini of StudioPANG
The Cell creates a series of workstations that can be deployed in different urban landscapes around the world to expand on the idea of working remotely.
The Harvesters
Sophia Pisimisi, student at Parsons–The New School for Design
The farmer's market meets the corporate world in Pisimisi's proposal where workers can farm their own vegetables via a rooftop greenspace. No time to go grocery shopping? Simply log on to the accompanying website to have your fresh produce delivered to your office below.
This proposal creates an office environment that allows for both group and collaborative work with the understanding that many employees need a balance between introverted and extroverted workspaces.
Organic Grid+
Sean Cassidy and Joe Wilson, UK-based interior designers
Organic Grid+ creates completely modifiable workplace that incorporates greenspace and health conscious plugins to create an office that employees find pleasurable and want to be in.
On the Right Track
Peggy Hsu, Tray 6
Influenced by the work/life balance of the Dutch, Hsu's proposal shows how incorporating periodic physical activity and downtime within the working environment can result in increased productivity, creativity and health.
Picnic Meeting


Wang Chong, architect
Inspired by the fact that architects spend a lot of time at their desks, Picnic Meeting utilizes five portable devices to create a meeting space virtually anywhere, including a park.
Sharing, Living Work
Obi Vattanawong, student at the University of British Columbia
Vattanawong's proposal imagines a work environment that is driven by the needs of the workforce and not economic pressures. By allowing for flexibility and encouraging spatial awareness, workspaces can be readjusted for multiple purposes.
Startup Box
Andrew Burdick, director of Ennead Lab
Startup Box merges elements of an office building and school environment to create a flexible and collaborative entrepreneurial hub where emerging talent and ideas can be incubated.
Transformer
Paul Athineos, principal and founder of Architects Rule
With the idea that the future office cannot be static, Transformer supports collaborative and solitary workstyles via flexible spaces which integrate technology.
Nova Oculus
Justin Yoo, Laura Stargala, and Liam Martin—all students at Cornell University
Employees can literally have their work and tools at their fingertips via a contact lens and accompanying halo that creates a collaborative virtual reality space.
Flux
Amanda Crane, Amy Stock, and Halie Zulch—all students at University of Cincinnati
Transitworks
​Will Ready, student at Auburn University