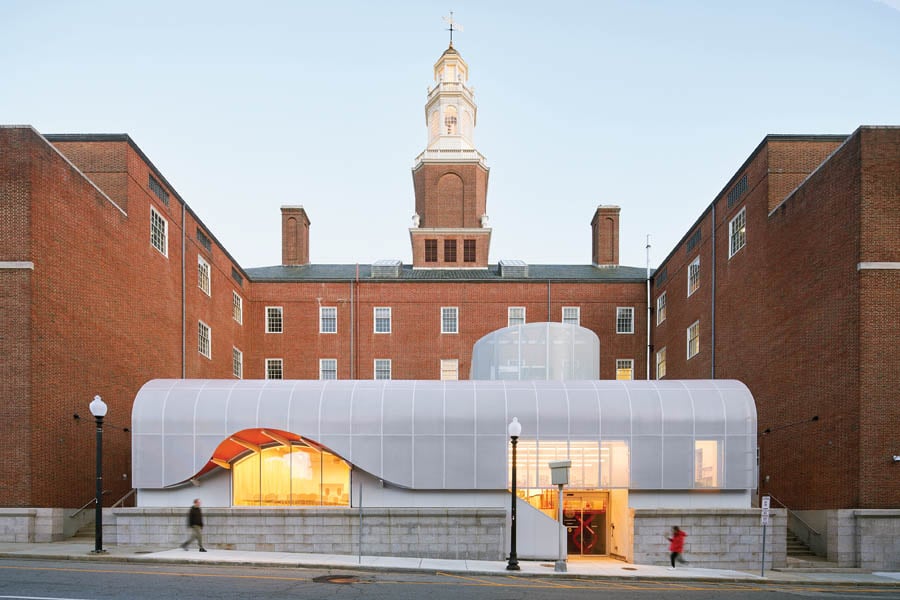 September 3, 2019
WORKac Crafts a Progressive New Student Center for RISD
Updating an existing structure and adding a bold new one, the firm has balanced playfulness and seriousness, art and work, old and new.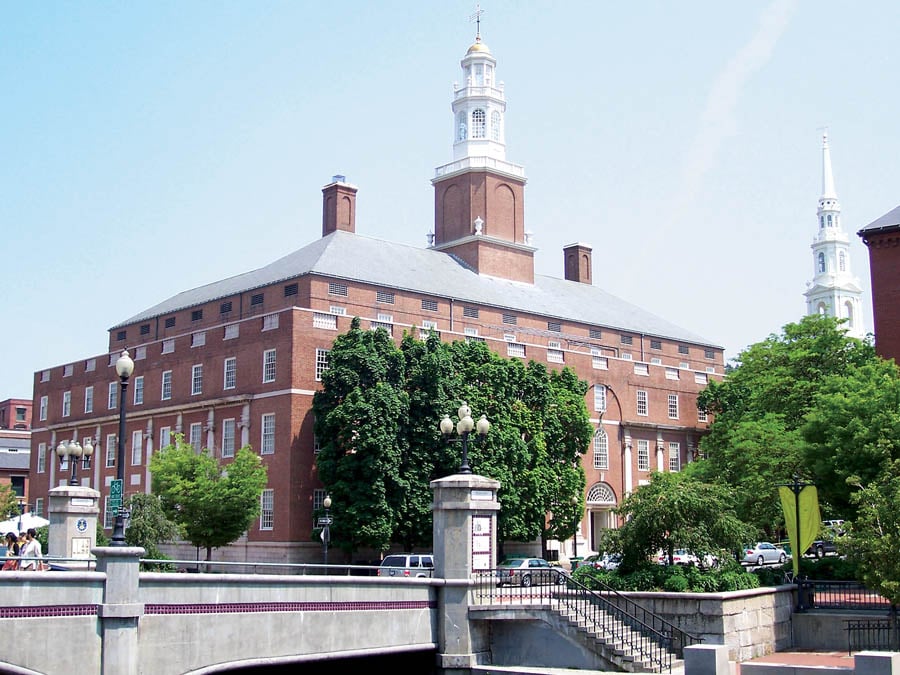 Leaning against the wall of the newly renovated student center at the Rhode Island School of Design (RISD), cheerily perched on a pale wooden table outside the mail room, is an oversize envelope—maybe three and a half feet wide and two and a half feet tall—inscribed with the phrase "HOW TO ADDRESS AN ENVELOPE."
At first glance, it's hilarious and also sad, reminding a writer of both the loss of analog epistolary culture and its glorious and joyous replacement with a shift toward the digital. To someone else, a visiting parent perhaps, the presence of these instructions could feel like confirmation of everything people say about the youth of today—"THEY DON'T KNOW HOW TO ADDRESS AN ENVELOPE ANYMORE SOMETHING AVOCADO TOAST HOMEOWNERSHIP!" And to someone else, say, someone trying to figure out the New York architecture firm WORK Architecture Company (WORKac), which designed the center but had nothing to do with the envelope, it's an ideal introduction: The project is surprising, it's light, it reminds us of the constancy of change, and it nods to the vibrant culture of the contemporary art school.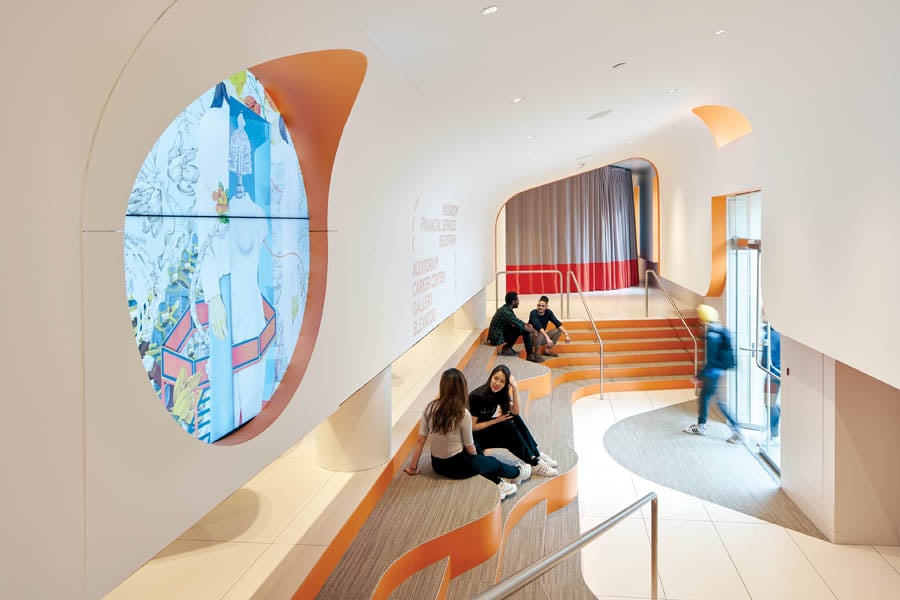 "We wanted to make a more RISD entrance for the campus," cofounder (with Amale Andraos) and principal Dan Wood says, standing by the door most people walk through to get to that mail room, or career services, or the registrar's office, or a lecture hall. It's a hot day in Rhode Island, where he grew up (he tries to go for work in his home state whenever possible), and Wood is taking me through the airy, orange-detailed new facility. Programmatically, the existing building, which dates to 1948 and was most recently used by an insurance company, was renovated to accommodate an increased number of administrative offices, in addition to a gathering space for design crits and get-togethers. A new addition that WORKac strongly pushed for, which occupies a former parking lot, holds a lecture hall/screening room and the mail room.
---
More from Metropolis
---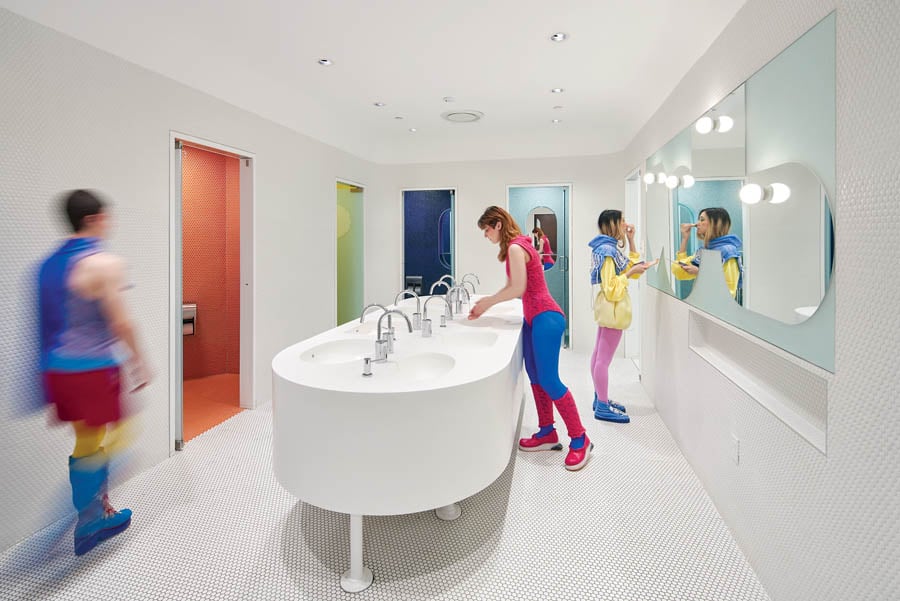 "It was a rabbit warren of offices," Wood says of the older structure. "The idea was to open it up to use this cool situation from the entrance." That cool situation is a height slippage; the front door on the building's south side is halfway down a sloping street and so presented the architects with the opportunity to set up interesting sight lines. To harness that visual datum, WORKac cranked up the walls, which curve and vault in places as they weave their way throughout the center, making what could feel like an accident into a cohesive aesthetic statement. From the entrance, orange stairs that flow gently into stepped seating lead up to the main gathering area, while the gap beneath the floating partitions draws the visitor's eye to opposing walls and the cosmetically updated elevator bank.
More programmed areas splinter off the main room; the registrar's office, a large open space, was originally designed to be a café. While it isn't one at the moment, all the infrastructure is there, and the feeling of easy conviviality, writ architectural, suffuses this section. Behind that, a glass door leads to an airy corridor populated on either side with independent offices, home to the humming industry that keeps higher education running. On the opposite side of the main space is the career center, a similar hallway furnished with perforated chairs that link to the perforated ceiling and the general idea of perforation and transparency that appears throughout.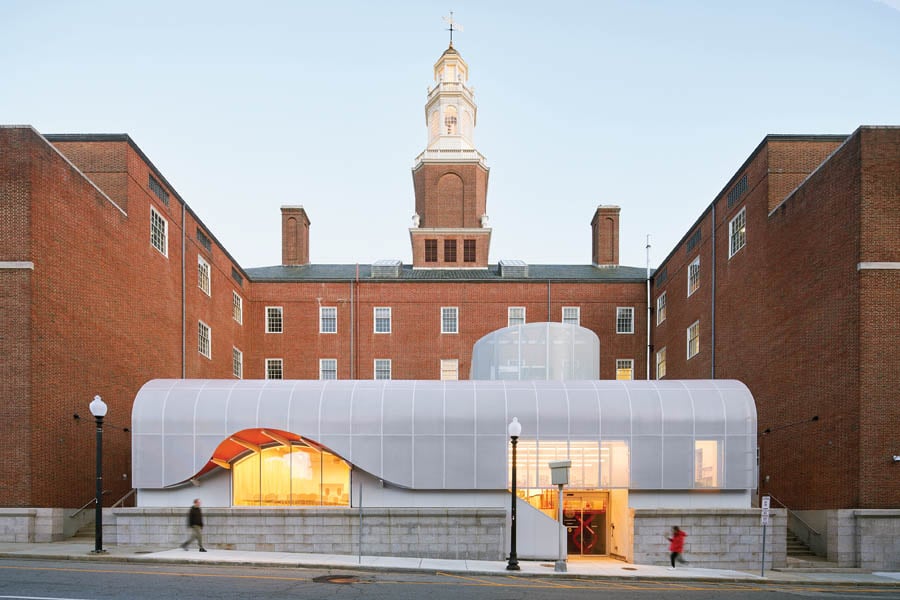 Back in the main gathering area, two massive circular curtains offer great flexibility. When the curtains are closed, it's possible to create two virtually soundproof rooms. When they're open, they offer the hint of some sort of spatial organization, visible in the perfectly circular tracks that detail the ceiling, and a crush of material held together wherever students want it to be. It's a marker of both the nimbleness of the space and the power that the students hold; they can both literally and figuratively create what they want.
Elsewhere, in another nod to the progressive nature of the design, is a gender-inclusive bathroom built in collaboration with QSPACE, a queer architectural research consortium. In them, students will find a shared sink with individual rooms, each differently shaped and colored and with coordinating tiny icons (rather than determinative, binary signage). The new center also features an ultrahigh-tech lecture hall/performance space. But it's that mail room again that is the high point for WORKac. Asked to design a mail room, at first the principals were confused. "We were like, 'Who are all these letter-writing art students?'" Wood recalls. The architects' clients gently reminded them of the existence of mail-order culture, another seemingly peak 2019 vibe. The mail room does more than offer a place for students to enthusiastically film their unboxing videos and enjoy learning how to address a letter; it also completely changes the building's exterior on the northwest side. Where there used to be parking spaces now stands a sleek contemporary structure whose wall deepens, in different lighting and from different vantage points, into a vibrant RISD-branded red.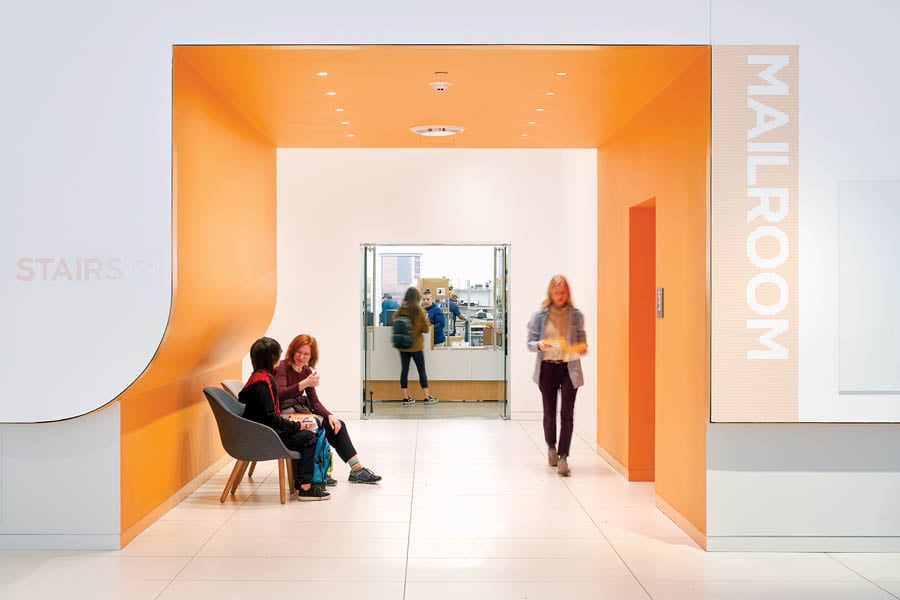 It's a move that fits in with much of WORKac's work, which can start out almost imperceptibly poppy, then move into a rigorous urban context with a seeming flick of the wrist—a contiguous sight line; a well-considered wall graphic by frequent collaborators 2×4; a move like putting the lift that brings up the mail in front of a picture window, drawing attention to the mechanics behind the curtain while still being half arch, half direct. The student center reminds us, through its blend of playfulness and seriousness, art and work, that everything is changing right now. The kids might need help learning how to address a letter. They might spend a lot of time ordering junk they don't need off the internet. But they're discovering here how to see, how to work together, and how to think. And they just might be all right.