September 25, 2018
At Rockwell Group's New Blue School, "the Space Is Almost the Third Teacher"
The 28,000-square-foot facility, which opened this month in Manhattan's Financial District, is Rockwell's second project for the Blue School.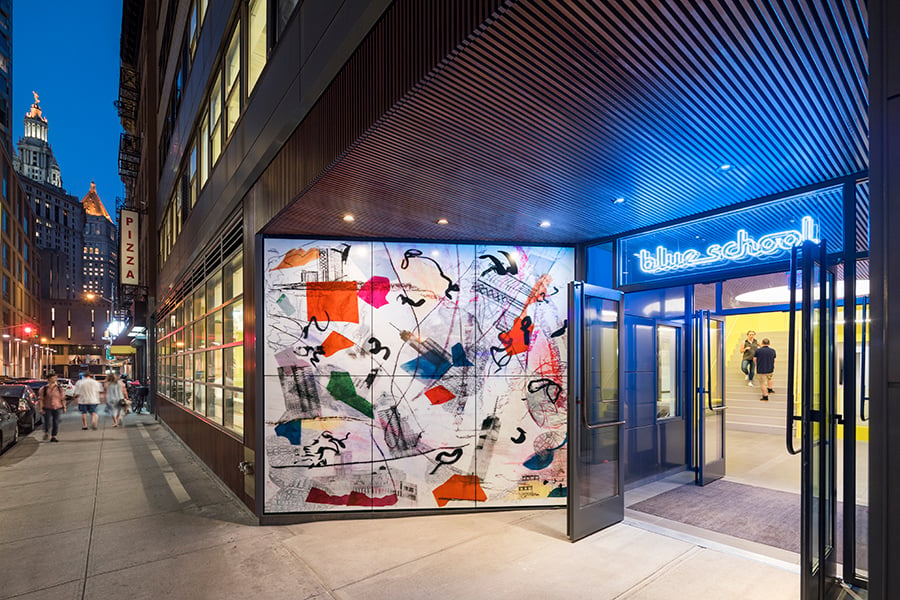 ---
Every classroom in the new Blue School has its own, brightly-colored stage—or at least, you'd think they were stages. The nomenclature varies depending on whom you ask: architect David Rockwell calls them "urban porches" while Ashley Hughes, the school's director of operations, simply referred to them as "niches." In any case, these variegated platforms are simple but adaptable classroom elements: they can be used for group work, presentations, or quiet individual reading. "Teachers will think of ways to use [the platforms], but the idea behind it is just that it adds that layer of flexibility for different types of instruction," says Hughes. The stages/corners/niches are indicative of a playfully simple approach that New York City–based Rockwell Group used for the school, which ushered in its first students on September 6.
The stage analogy is an apt one, considering that the school's founders are alumni of the New York performance staple, the Blue Man Group. Blue School, founded in 2006, is a private pre-K through 8th grade institution that prides itself with its progressive approach to education—one that promotes self-expression, collaboration, play, and social activism.
This project wasn't the first time Rockwell Group had worked with Blue School. In 2010, the school's co-founder (and Blue Man Group co-founder) Matt Goldman sought Rockwell after learning of the architect's Imagination Playground system; the duo quickly found they had a shared an enthusiasm for the importance of play and design in education. That same year, Goldman commissioned Rockwell to create the program's first dedicated school building by adaptively re-using a Polshek Partnership–designed structure in the South Street Seaport. (Previously, Blue School's classrooms had been spread throughout several buildings.) However, with its attendance burgeoning, the school again tapped Rockwell Group in 2015 to adapt another structure—this time, former medical offices at 156 William Street for its middle schoolers.
---
More from Metropolis
---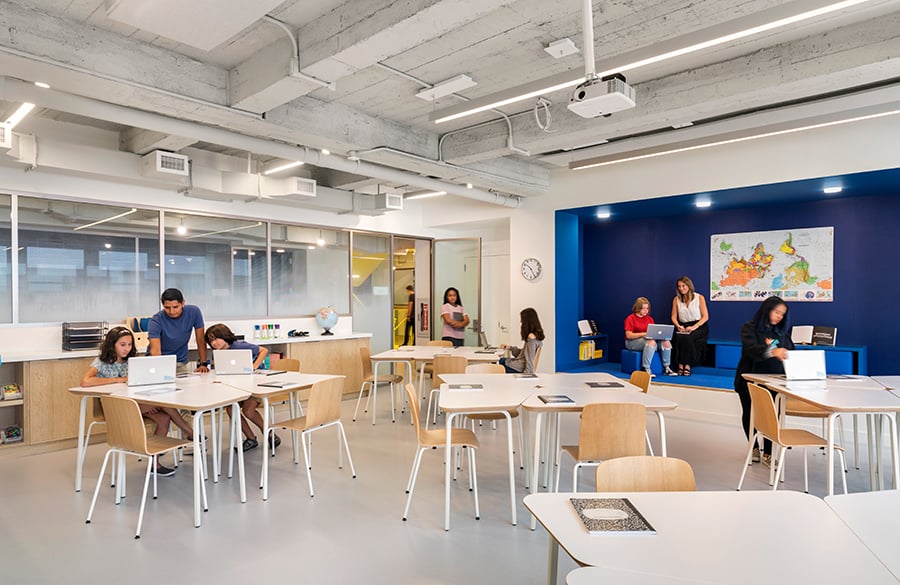 ---
While the architects were familiar with the Blue School program and its values, this would only be their second school project, and the expansion posed fresh challenges: How could the space be best adapted to these older students' needs? What could be improved from the last school?
Rockwell Group embarked on interviews with students, teachers, administrators, and select parents. Students had specific demands for a playground and gymnasium (both of which were built, to varying extents) as well as smaller perks: "Kids certainly want more of a sense of independence in this middle-school range," says Rockwell, and the firm responded with personal lockers and hallway benches for more intimate between-class hangouts. The architects also answered the teachers' demands for closed-off offices for solo work as well as workstations where students could easily find their instructors outside class.
Both students and teachers were united on a particular point: in the old building, the arts studio was a sunlit penthouse while the STEAM room was tucked into lower levels. Both groups wanted these classrooms adjacent in the new school, a request Rockwell Group was happy to grant: the two rooms are side-by-side, with sliding panels that quickly open for combined STEAM classes. For example, one lesson involves pairing circuitry building with studies on the history of electricity; another uses art and STEAM tools to build model cities.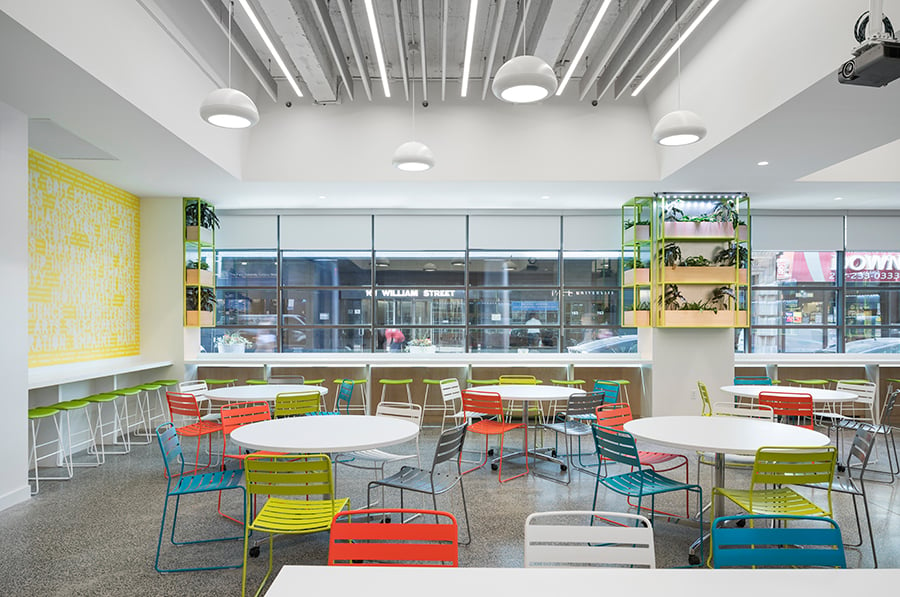 ---
While the STEM room may resemble the woodshop of your childhood school, most of the classrooms are more likely to recall a contemporary creative office, a comparison Goldman embraces. "There's this whole concept of giving students multiple ways to sit down, multiple ways to be in the space," he says.
Like adult employees, students are expected to find the workspace that best suits the task at hand—whether it's head-down reading or group work. "Collaboration is one of the pillars of [the] Blue School, so the idea [is] that the environment can actually support a collaborative feel collaborative environment," adds Goldman.
Nowhere is this idea more evident than the school's library, which features ample workstation options, from sprawling cushions to a large communal work table and personal reading niches.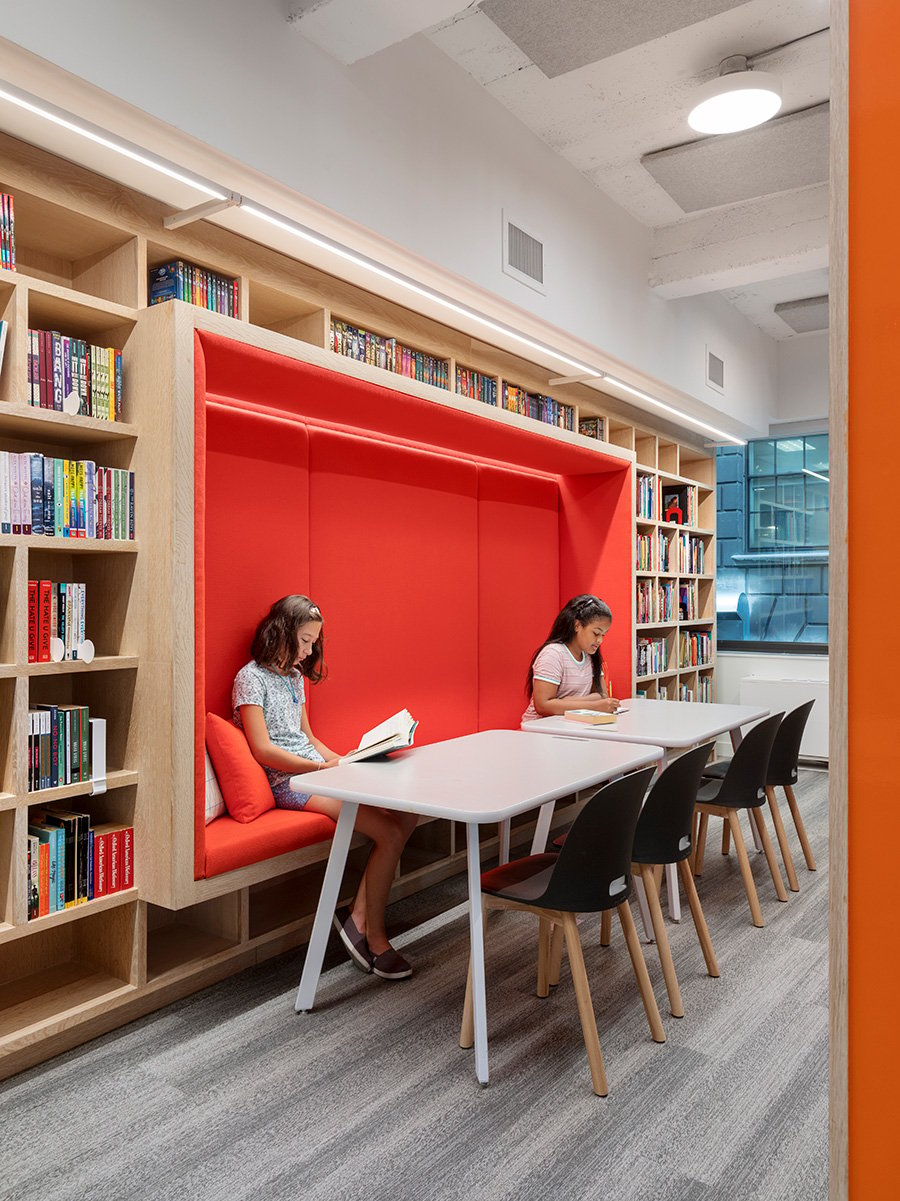 ---
The classrooms don't feature the same obvious plentitude of workstation options, but they do have a different kind of flexibility: custom-designed desks that, thanks to their irregular trapezoid shape, can interlock in 12 different configurations depending on group sizes and the group work. A whiteboard, projector, and, of course, the colorful platforms mean that teacher and students will have multiple ways of working in one room: "I'm really excited about those classrooms and I can't wait to see how that unfolds and lives," says Hughes.
The school's design is really predicated on the idea that teachers and students will find their own ways to use the space. "The entire school is seen as a project-based, spontaneous collaborative learning environment," says Rockwell.
That idea is best expressed in the basement, in a 500-square-foot room that precedes the gymnasium and music/dance room. Lined with Flavor Paper wallpaper, the space comes equipped with Rockwell Group–designed foam furniture and no set program: it could be a classroom, lobby, playground—really whatever its current users want it to be.
Rockwell has set the stage, but left the performance up to the students and teachers.
You may also enjoy "Set Alongside a Lush Crater, Kunlé Adeyemi's New School Plants Deep Roots in Tanzania."