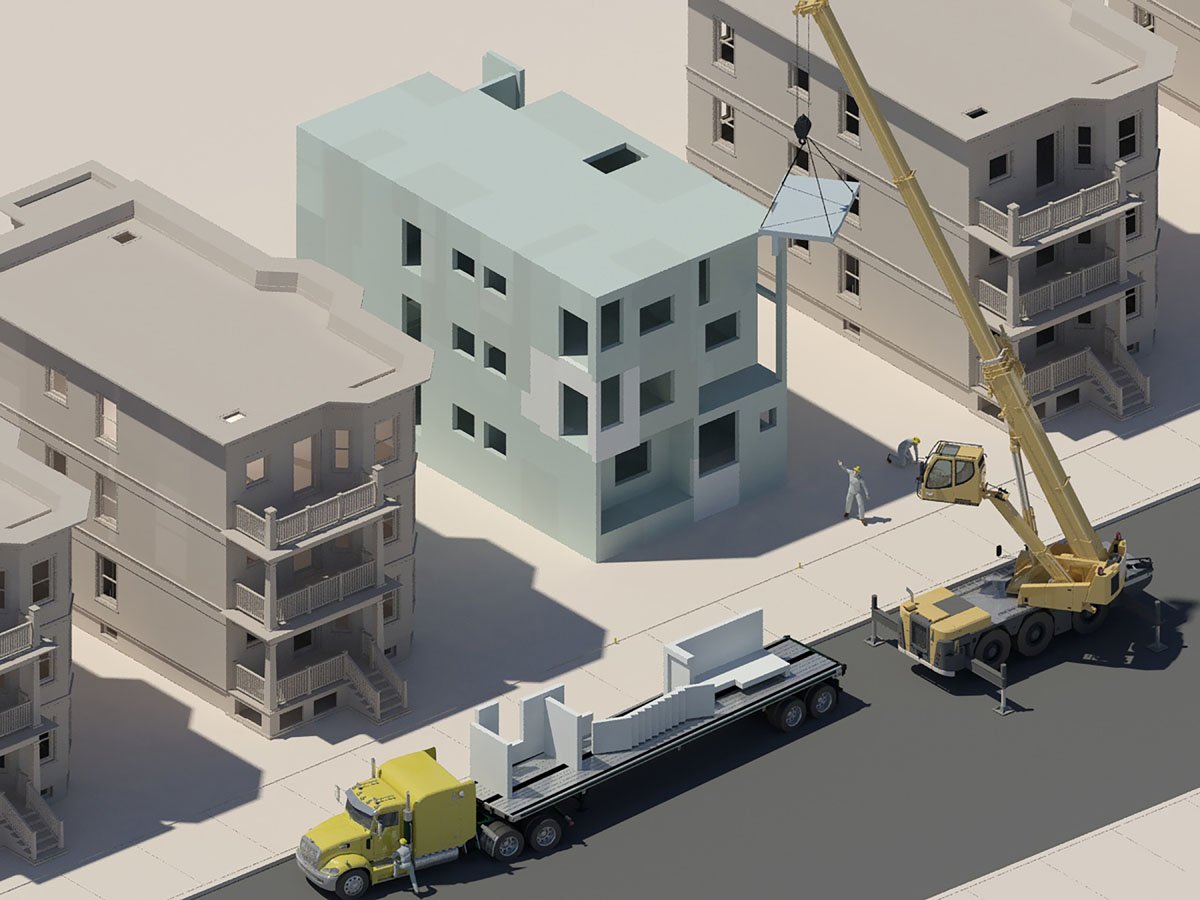 November 2, 2015
A Roof for Everyone: Speculative Designs for the Future of Affordable Housing
The Center for Architecture's "Designing Affordability" opens many more areas for engagement between architecture and activism.
One of the speculative projects in Designing Affordability is Casting Affordability, designed by Larry Sass, an associate professor at the Massachusetts Institute of Technology. The project deploys new construction technologies to drive down cost.
Courtesy Larry Sass
---
Affordable housing is once again among the major topics of discussion for architects and designers, especially in New York City, where most residents have felt the squeeze of exorbitant rents. Designing Affordability: Quicker, Smarter, More Efficient Housing Now, on view at the Center for Architecture through January 16, delivers a wide-ranging survey of potential solutions for the world's housing woes, with a focus on 23 conceptual and built projects curated by Marc Norman, a Loeb Fellow at Harvard GSD.
Grouped into categories such as Leveraging Land and Constructing Modularity, the projects collectively reach beyond the typical pro forma–based approach to discussing affordability, offering instead ideas rooted in the language of space. Because of this, they tackle problems in ways much deeper and potentially more effective than number crunching.
---
More from Metropolis
---
Projects such as My Micro New York by nArchitects and Songpa Micro Housing by SsD/Dyne Architects build on Modernist and Metabolist experiments with modularity, delivering aggregations of stacked capsule units enlivened by common spaces and views. CityHome, developed by the MIT Media Lab, adds a technological component to its modules and includes a resourceful system of pull-out furniture, in which a bed, desk, table, and storage space are integrated into a stack.
But the most innovative project is Urbanism from Within, by California College of the Arts, which studies a number of strategies for reformatting the interiors of existing Victorian houses in San Francisco to create "in-law units." Some of these include retrofitting garages to create high-ceilinged ground-floor apartments, maximizing the usage of gable spaces, and adding new street access to upper stories. These schemes are effective in spite of San Francisco's almost impossibly restrictive zoning and development regulations. Working from the inside out seems like one of the most commonsense and least disruptive approaches for achieving a greater number of affordable housing units without destroying and replacing swatches of a well-loved urban fabric, particularly in dense neighborhoods.
By contrast, other featured projects, particularly those in the New York City area, can seem like simple reiterations of default ways in which developers work. If Modernist housing projects of the '60s and '70s tended to neglect safety, sustainability, and quality of life in favor of grand statements, many of the projects in Designing Affordability skew in the opposite direction, offering a multitude of practical approaches tailored to diverse demographic groups, but doing little to address the root causes of skyrocketing rent prices, land values, and construction costs. Display text explains this increase over time and compares various figures relating property prices to annual incomes, while images breaking from strict grids on the walls form an apt metaphor for the ways each project attempts to overcome the obstacles, including land-use regulation and social inertia. If, so far, design has fallen short of serving as more than a palliative to a world-wide problem that will keep growing in scope, Designing Affordability opens many more areas for engagement between architecture and activism.
Marvel Architects' Atlantic-Fulton Affordable Housing project in Clinton Hill, Brooklyn, consists of two buildings containing a total of 114 affordable units.
Courtesy Marvel Architects
The city's first micro-housing development, nArchitects' My Micro NY, is scheduled for completion in December. The project, which will pack in 55 units ranging in size from 250 to 370 square feet, was the winning design of the Department of Housing Preservation and Development-sponsored adAPT NYC competition in 2013.
Courtesy nArchitects
LOT-EK's Spacious co-working hotel presents a novel concept that sees modular bedrooms converted into working areas during the day.
Courtesy LOT-EK
Designing Affordability: Quicker, Smarter, More Efficient Housing Now is on view at the Center for Architecture through January 16.
Courtesy Bernheimer Architecture