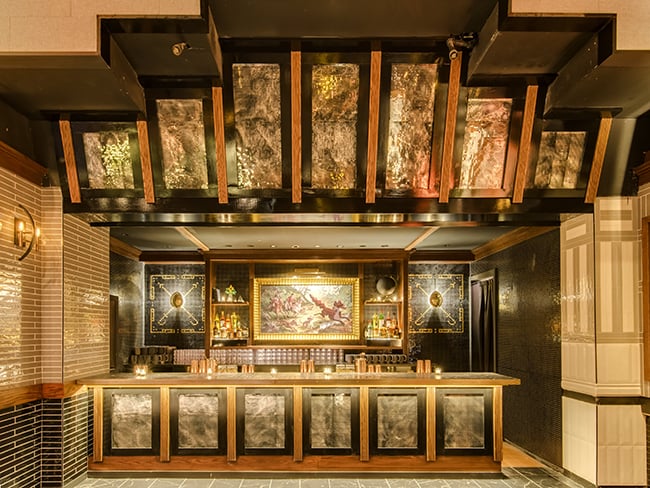 October 10, 2016
This Traditional New York Social Club Was Given The 8-Bit Treatment
"Squares" puts a clever twist on the idea of the traditional New York social club.
Images Courtesy Reunion Goods & Services
Forget Pokemon Go—revelers at this cheeky new nightspot in New York's Nomad neighborhood may find themselves with a distinct yearning for the 8-bit landscapes of Super Mario Bros. The latest creative venture from Quality Branded president and founder Michael Stillman, Squares puts a clever twist on the idea of the traditional New York social club. All the usual tropes are still present—fireplaces, trophy shelfs, mounted deer heads—but as playfully pixelated facsimiles created using mosaic tiles.
Before turning the traditional social club concept on its head, New York design studio Reunion Goods & Services sought inspiration in the real deal. Poring through old tomes and collections, they looked to as many relevant historical and contemporary spaces they could find, from gentlemen's clubs of London, to university clubs, subway stations, and Viennese coffee houses.
"We wanted to create a place that was both fun and full of energy but also made sense in such a historic and grand New York neighborhood," says Eric Adolfsen, one of Reunion's principals and lead designer on the project. "We often bring a sense of humor to our design and as a result we're sensitive to the fine line between being witty and being gimmicky.  Because we were distilling archetypes of social clubs, this historical perspective gave our designs an injection of seriousness."
---
More from Metropolis
---
One of best things about designing a nightclub—and working with an adventurous client like Stillman—says Reunion's Laura Flam, is that the overarching theme of the place is to have fun, meaning there's more room for risk-taking. The results are irreverent mashups like a DJ booth built into a fireplace and chandeliers crafted from semi-mirrored glass referencing disco balls.
Almost the entirety of the 2,000 square foot club is composed of mosaic tile—around 25,000 pieces of it—ranging from glazed porcelain from Japan to Nero Marquina squares on the bar top. Behind the bar, a striking black glass and 24kt gold tile mosaic of fishing spears frames two vintage turtle sconces by American designer Arthur Court, which in turn flank an artwork by Laura Bifano that depicts a classic hunting scene: hounds and men on horses chasing, of course, a pixelated fox.