August 12, 2019
A Sensitive Renovation and Expansion Breathes New Life Into an Aspen Escape
Originally designed by noted Aspen Modernist Eleanor "Ellie" Brickham, this house was updated by local firm Rowland + Broughton (R+B).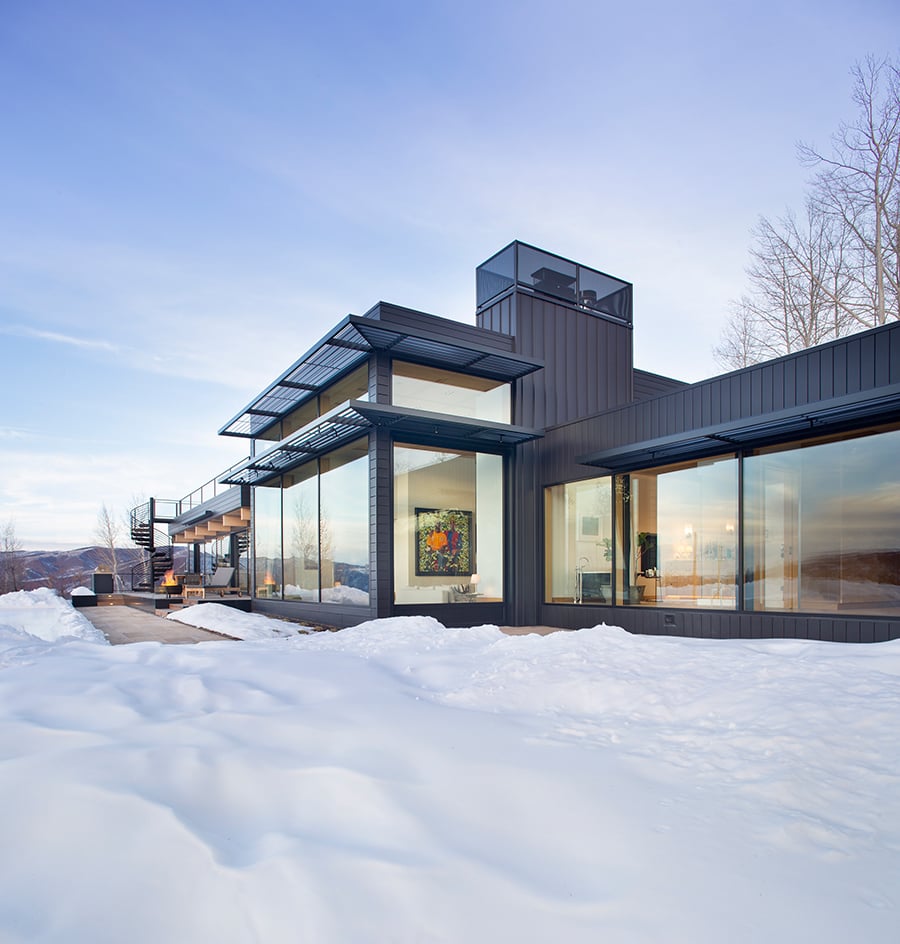 ---
The Ridge House in Aspen, Colorado, has a pedigreed past. The residence was built in 1968 for Olympic ski legend Stein Eriksen by the architect Eleanor "Ellie" Brickham, who designed scores of homes in the area and is closely associated with the moniker "Aspen Modern." The house's current owners—an Obama-era ambassador to Austria and her investment banker husband—aren't as well-known, but they make up for it in their cultivated tastes (their art collection features work from the painter Kehinde Wiley, among others). When the couple found the house too small and outdated for their family of five, they tapped local award-winning firm Rowland + Broughton (R+B). The architects complied, smoothing out wrinkles and modernizing the historic house with sleek contemporary materials.
To accommodate new bedrooms and living spaces within the existing plan, principal Sarah Broughton and her team extended the existing 100-foot spine that runs north-south through the house. This hallway also serves to naturally divide the interiors into public versus private zones, which are, moreover, articulated on the exterior facades. Where the western side of the house is light, glassy, and transparent, its large glass expanses breaking up solid stone walls, the eastern flank (which holds the garage, mud room, and a guest suite) has a heavier, opaquer feel.
Yet, the architects avoided the rigidity that might come from such a clear-cut parti by cutting openings through interior partition walls. "There's a lot of porosity," says Broughton, "[created by] openings you can walk through, some framed with wood, or the drywall just returns. It creates this great flow between rooms and opens the landscape to the house, so that each space is multidimensional."
---
More from Metropolis
---
Throughout the project, the R+B team also worked to preserve the house's original feel, blending in the new architecture by retaining carefully selected original details. For example, the architects relocated Stein Eriksen's original front door to the master suite. They also preserved and added several stone walls that capture the ranch-like spirit of the site, which was once rural, high alpine ranchland, carpeted with pastures that were hayed every summer.
You may also enjoy "In Banff, a Renovation Helps an Artists' Residences Complex Return to Nature."
Would you like to comment on this article? Send your thoughts to: [email protected]