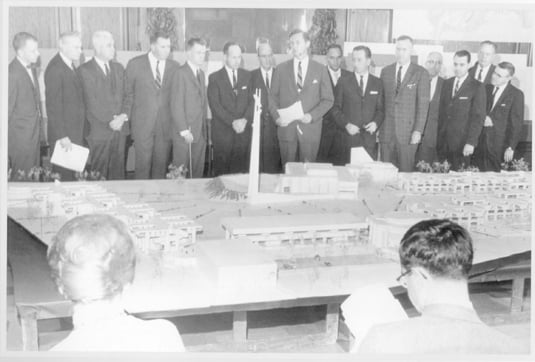 December 18, 2012
Rudolph Renovation Architects designLAB on "Courting" a Hero
designLAB rennovated a Paul Rudolph building at UMass Dartmouth, and we interviewed them about how they dealt with making changes to a historic structure.
Paul Rudolph's Claire T. Carney Library at UMass Dartmouth, Western facade during renovation
All images courtesy designLAB
When I read Robert Campbell's recent article in The Boston Globe on designLAB's sensitive renovation of a significant Paul Rudolph building at UMass Dartmouth, I was intrigued to learn more. Rudolph masterplanned the UMass Darthmouth campus, of which the library was but one component. But what really got me going was a single word—Brutalism. For some time now we've been covering this experimental, some call it aggressive or even willful and arrogant, form making. Our story on the ongoing struggles to keep Bertrand Goldberg's iconic Brigham and Women's Hospital in Chicago dates to 2009, and the last-minute reprieve of Rudolph's Orange County Government Center brightened my day even as I mourned the loss other important works from that optimistic period in our culture's history.
It's no surprise, then, that the Boston architecture firm, designLAB Architects' success at the library at UMass Dartmouth re-awakened my evergreen curiosity about Rudolph, Brutalism, preservation, adaptation, research, and progress. So I went to the source and asked designLAB's Robert J. Miklos, FAIA, to talk frankly about these and other issues swirling around one of the most controversial movements in architecture history.
Susan S. Szenasy: Now that your renovation work on Paul Rudolph's Claire T. Carney Library at the University of Massachusetts Dartmouth is nearing completion, it would be great to hear some of your reflections on the project. I believe that you and your firm, designLAB, consider Rudolph an architecture hero. That relationship can be intimidating to some architects. Did you struggle with Rudolph's spirit? Or did his spirit seem to be at ease with your re-interpretation of his iconic building?
---
More from Metropolis
---
Robert J. Miklos: Truthfully, we don't see him as a hero.  His work is heroic, perhaps, but I am a product of 1970s GSD and was conditioned to reject the work of Rudolph. At designLAB, our "courtship" of the hero was a long process of research and analysis before we were able to find any true "affection" for his work.
It started with a talented young designer on the team who studied his early work at the University of Florida. There, Rudolph truly is a hero, if not a cult figure. I traveled to Florida to tour all his work in Sarasota—it was inspiring. His career is filled with contradictions: rationalism vs. expressionism, structural determinism vs. a personal obsession for hexagonal form. While we were continually trying to understand the original intentions and spirit of this project, we always recognized it as one of many experiments filled with successes and flaws. A radical approach to the interpretation and transformation was necessary, yet we believe our approach is rooted in the spirit of Rudolph. It's also important to note that at designLAB, we are invested in expanding the language of a specific context, whether natural or constructed.
In this project, the existing building was that context, which we termed "Post-Utopian." Our methodology is similar to what we have used in other contexts, determining when to push back, when to be deferential. Throughout our design process we immersed ourselves in Rudolph's ideas and process developing a dialog between existing and new where the interventions might amplify the power of his original ideas and compositional themes. We also were not afraid to correct inconsistencies in his approach.
Rudolph (third from left of center) presents the plan for the UMass Dartmouth campus.
The library's eastern facade during renovation
SSS: While these Brutalist buildings are largely unloved, I believe they are important expressions of national heritage and we cannot afford to lose them. How would you assess Brutalism's role in shaping our built environment?
RJM: Indeed, this period of American architecture—while unloved—is an important part of our cultural history. It was about inventing a new expression for a new era of optimism, growth, and prosperity. In many ways it was not only confident but also arrogant—the post-war attitude that "we can do anything." Through the economic optimism and engineering advancements came the experimental freedom to work with concrete as sculpture—a material often regarded as cold, harsh, and to many, "ugly." Brutalism in many ways has the inverse predicament of fascist architecture, which is compositionally and stylistically embraced, while shameful in its sociopolitical statement. Ironically, Brutalism was conceived in the political background of the Kennedy years and the "Great Society" that followed, but few would say it symbolized that epic.
Rudolph's campus at UMD is not only significant for its dramatic exploration of the Brutalist language, but also for its comprehensive planning ideas. It is a complete utopian vision, an oasis for commuters who leave their cars at the circular perimeter road and travel uninterrupted through a complex system of concrete caverns, cantilevered forms, and vibrant op-art interiors. Rudolph was certainly interested in creating new environments for social interactions, populating the interior and exterior landscapes with concrete hexagonal seating alcoves. This is a campus of "lounge pits." Our design team was fascinated with the social order of his lounge pits—or "happenings." These were the inspiration for the new "walnut events" strategically placed within the open plan, mediating between existing and new, inside and out. These new objects capture the spirit of Rudolph's concrete forms, while creating a more inviting and flexible condition for social interaction.
It's important to recognize that—whether the reaction is positive or negative—Brutalist architecture created a lasting impression.  With these works, architects were not afraid of making a statement by creating a new type of built form in stark contrast to the anonymous architecture of our built environment.
Historic "happenings" in the hexagon lounge pits
Historic Atrium
SSS: Many concrete buildings of the era, now turning 50, have not stood up as well as the Carney has. What can you tell us about Rudolph's understanding of his materials and their behavior in the climates he was building in (after all, he grew up in the pre-air conditioned South, and his early work reflects his understanding of place)? In working on the building, what did you learn about Rudolph's site-specific work that you find useful in your work in the 21st century?
RJM: While Paul Rudolph's early work created a dialogue with place, this project created it's own "place." UMD is very much a juxtaposition—the new object imposed onto a rural New England farm of 650 acres. It was the Starship Enterprise landed, which was its strength. The architectural form was in no way adapted to the place in terms of climatic response and this is the most significant failure of the building. Rudolph's library was an energy monster. Converting it to a sustainable building at LEED standards was a major focus of the renovation.
Ironically, the library was disconnected from Rudolph's own campus plan. Our transformation integrates the buildings with the exterior, providing a connection with place. We worked within his rules and geometries to create new outdoor spaces compositionally linked to the interior spaces we created. This required a new transparency not present in the original building. The new transparency was achieved by stripping back the concrete block forms, revealing an open structural frame reminiscent of his early work, then enclosing the concrete sculpture in glass.
Rudolph's library benefited from excellent craftsmanship by the formwork carpenters resulting in beautifully patterned concrete, however that doesn't mean the building held up particularly well. This building has withstood the severity of Northeast climate changes over time, not out of a sophisticated understanding of thermal and moisture protection, but rather by brute force and mass. Its concrete frame is virtually indestructible. Single panel glazing, un-insulated walls, and inefficient mechanical systems were products of a virtually 'free' energy era. Fortunately, with advances in building materials and technology we were able to adapt the performance of Rudolph's iconic building without compromising its strength and spirit.
Library prior to renovation
SSS: Your work, while respectful of the original design, is unafraid to improve upon the master's work. In fact, Rudolph and designLAB have proven to be a powerful team. This willingness to adapt modern icons seems to be changing the dialogue of historic preservation; this feels like a step forward. What are your thoughts on this shift to a more open-minded, less slavish recreation of the past?
RJM: We are great admirers and students of many eras of architecture and what it represents culturally. We believe that architecture is fundamentally a 'cultural art'. What is striking about modernism—Brutalism in particular—is that, unlike many previous architectural styles the language was grounded in ideas, not formal principles. The form developed from those ideas was often more experimental than previous movements. This resulted in more risk taking and often more failures as new and untested materials and assemblies were used. In approaching this project we wanted to preserve his ideas about campus, education, society, and the importance of gathering together to share knowledge. We believe that these are the principles that were most important in Rudolph's experiment, rather than the formal rules he used to create them. This attitude guided our critique, modification, and enhancement of his formal language. Spaces that served program needs well remained intact, those that did not were modified, and some that were lost were restored.
We had the record of 40 years of use, the successes and failures of the original work to guide the assessment. We fully anticipate that the building will undergo a similar process in future years, providing an additional layer to the composition as the dialogue is extended. Buildings evolve, and we are responsible for directing that evolution. designLAB works often in the realm of traditional restoration, where the preservation of the historic language is critical to the buildings continued use. On the other end of the spectrum, we are also willing to erase historic fabric when we feel the project is better served by another interpretation. It's not a dogma. It's a judgment call that is made after much research and hours of debate between the members of our design team.
An interior skylight space after renovation
Interior after renovation
SSS: Your firm's name contains the suffix LAB, which assumes research and discovery. The concept of embodied energy is in favor of saving hard-to-demolish concrete buildings, and finding new ways to reuse them. How has our recently rediscovered understanding that the built environment grows out of the natural environment shaped your work at Carney? And what road to discovery are you on today?
RJM: In this project, the decision to re-purpose Rudolph's library was motivated by economics, not a desire to preserve the architectural legacy of Brutalism or even its embodied energy. Despite all the challenges, it was more cost-effective to renovate and add than demolish and replace with an entirely new structure. The commitment to legacy and sustainability grew from the ongoing dialogue between the design team and the university. You are right that we included the suffix LAB to capture spirit of research and discovery in our practice. The research and discovery for each project is really the greatest key to its ultimate direction.
In this project, we were fortunate enough to find and speak with Gratton Gill, Rudolph's lead architect on the project. Gratton continued to work through the project completion at UMD with Desmond and Lord after Rudolph was let go, and spent each weekend traveling to New York to seek out Rudolph's advice. As we've become more invested in the discussion of preserving modern landmarks, we have found that timing is critical, as we're losing many of the great architects of the time. It's fascinating to engage them directly in dialogue, to hear their intentions first-hand. In our conversations with Gratton we discovered that many of the building elements that needed modification were the same elements he considered unresolved. That generation of architects was aware of the experimental nature of modernism, and as such seemed self-aware of their relative successes and failures. In the discussion of the dilemma of "preservation" of mid-century modernism, the authors of these works might be among the greatest advocates for a re-interpretive approach.
For designLAB, the research, analysis, and techniques we've developed through this transformation have fundamentally changed the way we practice. We believe the most significant result is not the programmatic, environmental, or economic success. The most important accomplishment is to see a current generation of university students embracing an artifact from 40 years ago, where they have no direct connection or nostalgia. This library is now theirs, in this time.