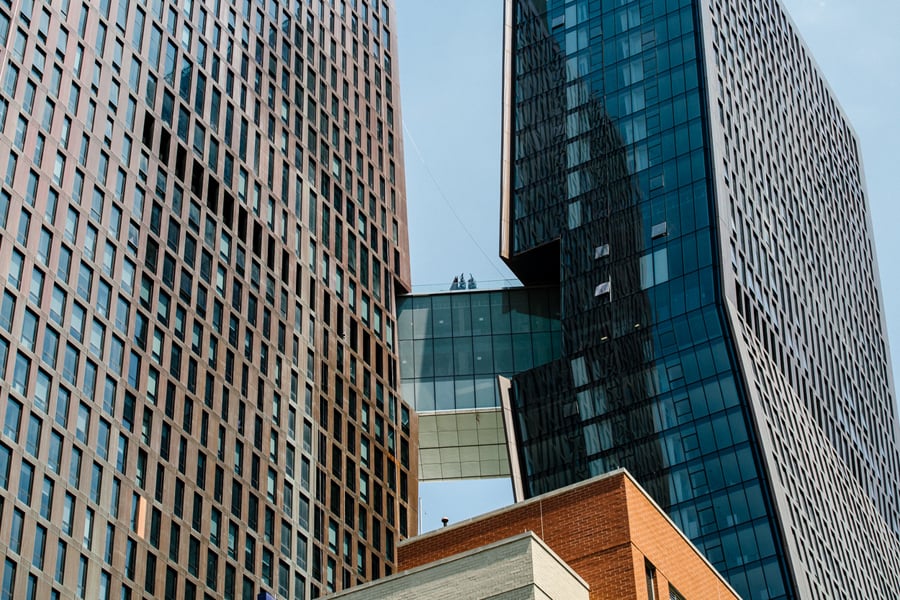 September 5, 2017
SHoP Used 4.25 Million Pounds of Copper Cladding for These Manhattan Skyscrapers
The luxury rental American Copper Buildings in New York City are named for the unusual material used on their facades.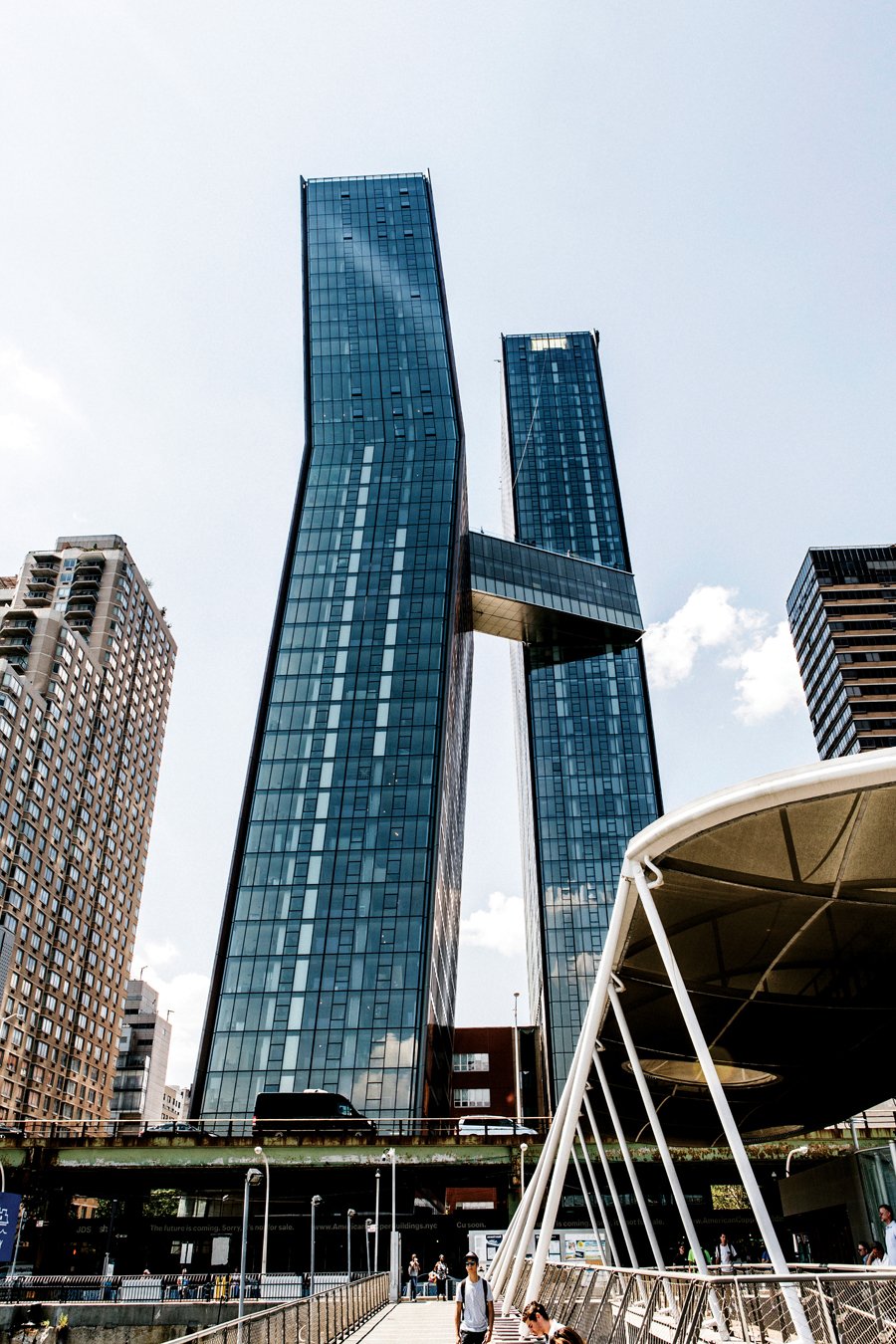 ---
When architects from SHoP presented their scheme for the American Copper Buildings to JDS Development Group, they were aware that their two catercorner towers conjoined by a dramatic sky bridge would take up an iconic spot on New York City's skyline. The luxury rental towers, torqued to make the most of their restrictive zoning envelope, overlook the East River and are in line with the Empire State Building. As JDS founder and managing partner Michael Stern says, "It was important for us not to do a filler building."
So, in one slide, SHoP presented the buildings with copper cladding on the north and south facades that would sandwich the apartments in between and age to a green patina matching the Statue of Liberty. Punched windows would give the cladding a moiré effect. According to SHoP's cofounder Gregg Pasquarelli, Stern laughed and asked whether the next slide was going to present the buildings in gold (it did). "I'll take the copper," said Stern.
The anecdote illuminates an unusual choice for any developer, and for JDS in particular. Traditionally, developers have invested the big bucks in luxury condo buildings, but here a rental is being lovingly labored over—and invested in—from its innovative design to its material choices, inside and out. One reason that JDS can pour more resources into rental residential buildings is that it is an integrated development and construction company, allowing it to push the boundaries of design on a budget and a construction schedule—such as experimenting with 4.25 million pounds of copper cladding. "You're working on a project for the better part of five years of your life," says Stern. "If you're not passionate, it's going to get boring."
---
More from Metropolis
---
The Copper Buildings are anything but boring. The three-story, amenities-filled sky bridge that stretches 100 feet between the two towers is the first major one to be built in the city in 80 years. It features a 75-foot-long lap pool, enabling residents to dog-paddle from one building to the other. It also serves as an extension cord of sorts, connecting the building systems—including the supersize backup generators—on the top of one tower to the other. SHoP began designing the buildings shortly after Hurricane Sandy in October 2012, and anticipating another, similar event became part of their DNA. A two-story basement is designed to flood, and mechanical equipment was moved to the second story.
Inside, 761 apartments with nearly ten-foot-tall ceilings have SHoP-designed kitchens, custom oak floors, and crocodile marble in the showers—details in line with the buildings' sculptural forms and rich facades. "This isn't an anomaly for us," says Stern. "We're doing it over and over again." Indeed, the American Copper Buildings are the first of five projects that SHoP and JDS have embarked on together, including 9 DeKalb, Brooklyn's first supertall skyscraper, clad in bronze and glass. Sounds like they get each other.
If you liked this, you may also enjoy "New York's Current Building Boom is Only an Architectural "Renaissance" for the 1%"