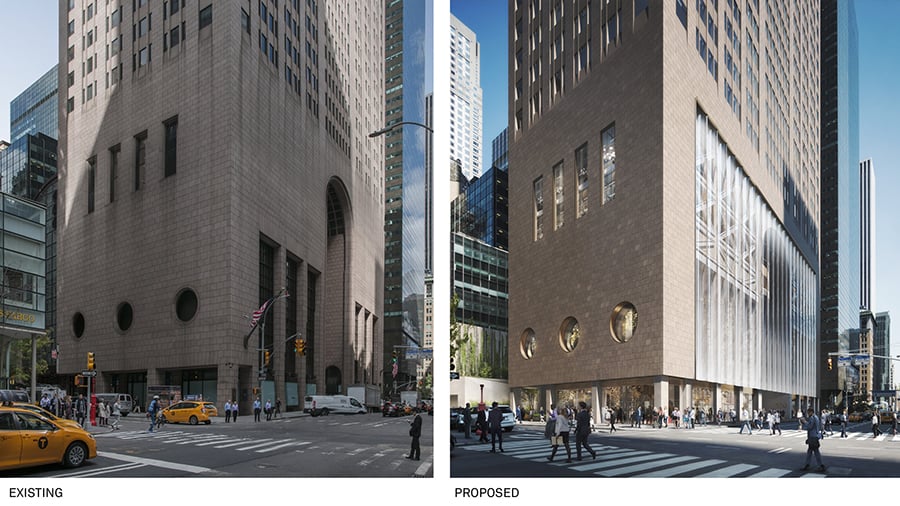 October 30, 2017
Snøhetta Will Radically Remodel Philip Johnson's AT&T Building in NYC
The plan would replace the 1984 Postmodern icon's ground level stone facade with a new, glassy street front.
In 2014, Metropolis Magazine listed Philip Johnson and John Burgee's AT&T Building (also known as the Sony Building and 550 Madison Avenue) as number one on a long list of unprotected Postmodern buildings. Now, that icon—still un-landmarked—faces a major redesign on its ground level.
While it received a stormy reception in 1984, the AT&T Building has aged well, becoming a fixture of the New York skyline. "Whether one likes or appreciates Postmodernism or not, it's a key work in the history of American design," said Andrew S. Dolkart, the former head of the Historic Preservation Program at the Columbia Graduate School of Architecture, Planning and Preservation, to Metropolis in 2014. Much of the building, however, has been vacant for more than year-and-a-half since the departure of the Sony Corporation. Snøhetta's design aims to refresh the tower and attract new office, retail, and restaurant tenants. Saudi investment firm Olayan America is the building's owner and Chelsfield is the developer.
The structure's Chippendale top will remain untouched, though two parts of the design will be changed significantly. The first is the building's Madison Avenue street front. "Since 550 Madison was first completed, its fortress-like base created an uninviting street front, which was then further compromised by a series of ground-floor renovations that effectively closed the building off from its surroundings," said Snøhetta in a press release, issued this morning. A large, scalloped glass facade will reveal the building's structure as well as its atrium, lobby, and first two levels.
---
More from Metropolis
---
The second major change, as per the release and renderings, will come to the building's covered mid-block passageway, which is located at the tower's rear and connects 55th and 56th Streets. The glass arcade and an adjacent annex building will both be removed to create a "serene public space." The firm added that this "lush outdoor garden will be the largest within a five-minute walking radius of the building, providing a respite from the verticality of Midtown."
These plans from Olayan America and Chelsfield wouldn't be the first to alter 550 Madison Avenue. In the early 1990s, then-building owner Sony USA commissioned Gwathmey Siegel & Associates Architects to remake the building's Madison Avenue street level, replacing a 60-foot-tall open-air arcade with storefronts. (While it provided shade in the summer, The New York Times's David W. Dunlap noted the arcade typically "feels bleak, dank, noisy and windblown.") Then, in 2013, the Chetrit Group had explored installing Robert A.M. Stern–designed condominiums in the building's upper floors. However, those plans fell through when Chetrit sold the building Olayan America in 2016.
You may also enjoy "The Po-Mo Watchlist: NYC's Endangered Postmodern Architecture."