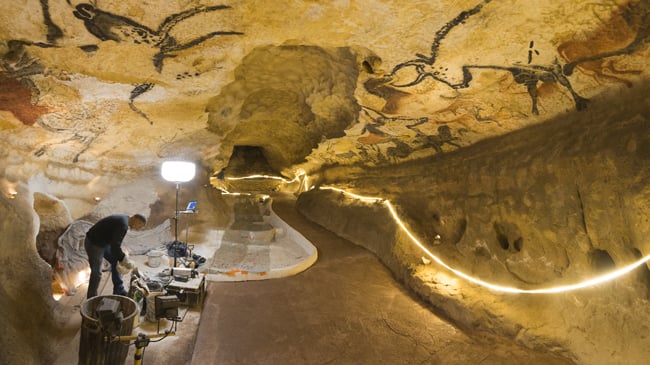 February 20, 2017
At Snøhetta's Latest Museum, The Cave Paintings Steal the Show
The new Lascaux 4 museum uses contemporary architecture to reconstruct the moment of the discovery of the prehistoric paintings.
The Lascaux IV Cave museum in France's Dordogne region opened this past December, 76 years after the discovery of the area's celebrated cave paintings.
Courtesy
---
At a time when objects, artworks, and heritage sites are reproduced endlessly online, is it possible for museums to evoke for today's visitor the sensation of what it must have been like to discover a work or place for the very first time?
This question underpins Lascaux 4, a new, Snøhetta-designed museum complex in south-central France. In 1940, according to at least one version of the site's origin story, a young man took his dog for a walk, lost his dog, and subsequently found not only the dog but a series of caves containing Paleolithic paintings created some 17,000 years ago. Immediately recognized as a place of immense cultural value, the caves were opened to the public, but external moisture and carbon dioxide exhaled by visitors soon corroded the imagery. The complex was closed in 1963, and rather than settle for two-dimensional representations, the regional government of the Dordogne department subsequently turned to 3D reproduction to bring Lascaux back to public eyes.
---
More from Metropolis
---
Following a partial reproduction in 1983, a competition was launched in 2011 for a more fully realized copy. Despite competing proposals from Jean Nouvel and Auer Weber, Snøhetta's striking project (conceived with architect Duncan Lewis and exhibition designers Casson Mann) won out. As the brief stipulated an exact replica of the caves, Lascaux 4 was effectively designed from the inside out. "We started with the caves before looking at circulation, and designed the building to work around the two," says Snøhetta's Rune Veslegard. "But the atmosphere was also important—the acoustics, the humidity—to give visitors the feeling of discovering the caves for the first time."
Photographs may imply that the architects' low-lying structure is rurally isolated, but it actually sits on the edge of Montignac, a prosperous village. Rather than use the region's ubiquitous limestone, the architects opted for concrete and glass. "Limestone was too obvious," says Veslegard. "This is a contemporary building, and like stone, concrete represents something massive and monolithic, but with more honesty than a steel framework behind limestone."
The concrete structure is embedded in the Vézère valley landscape.
---
Although Snøhetta's concrete monolith delights in places—particularly its vertiginous central circulation corridor—the star of Lascaux 4 is its re-created caves.
For three years the Périgord Facsimile Workshop reproduced the renowned prehistoric paintings, entirely by hand, on replica cave walls fabricated in resin and a specially formulated surface that mimics the texture of the ancient grottoes. Sections of the duplicate caves hang from a metal scaffolding system, their undersides displaying the facsimile paintings (based on 3D scans of the originals).
Intriguingly, the question of which caves to reproduce prompted numerous discussions among the architects and other vested partners. "Some experts wanted to reproduce the caves as they are today," says Veslegard, "with ventilation shafts and 1950s light fixtures. Others wanted to reproduce the paintings as they would have been when first painted, or in 1940 when they were first discovered. What we've ended up with is a kind of compromise, a new reality."
This new reality relies heavily on what is almost requisite for new museums—digital technology that augments the visitor experience. Lascaux 4's much-trumpeted "digital personal companion" is essentially a replacement for old-fashioned wall texts, only far more cumbersome. Prior to reaching the replica caves, one must pass through an interactive, screen-based exhibition of cave art, a 3D cinema, and a digitized overview of the history of Lascaux. None of these detours warrants the obstruction. In that sense, Snøhetta's concrete mass is a lot of building for very little meaningful content.
And yet the reproduction cave system is a marvel. The attention given to acoustics, light levels, and humidity has resulted in a truly special environment in which to take a close look at these superb paintings, otherwise shielded from view. Yes, it all feels a little bit commercial, and yes, it's mostly about further boosting tourism in the region, but there's also the generosity of making something visible that would otherwise be invisible (even if these paintings aren't the originals). While Lascaux 4 may not succeed in giving its visitors a true sense of discovery, it certainly imparts a feeling of wonder. That still counts for something.
Sections of the cave paintings were reproduced using 3D scans and are suspended from the ceiling of the new Snøhetta-designed building.