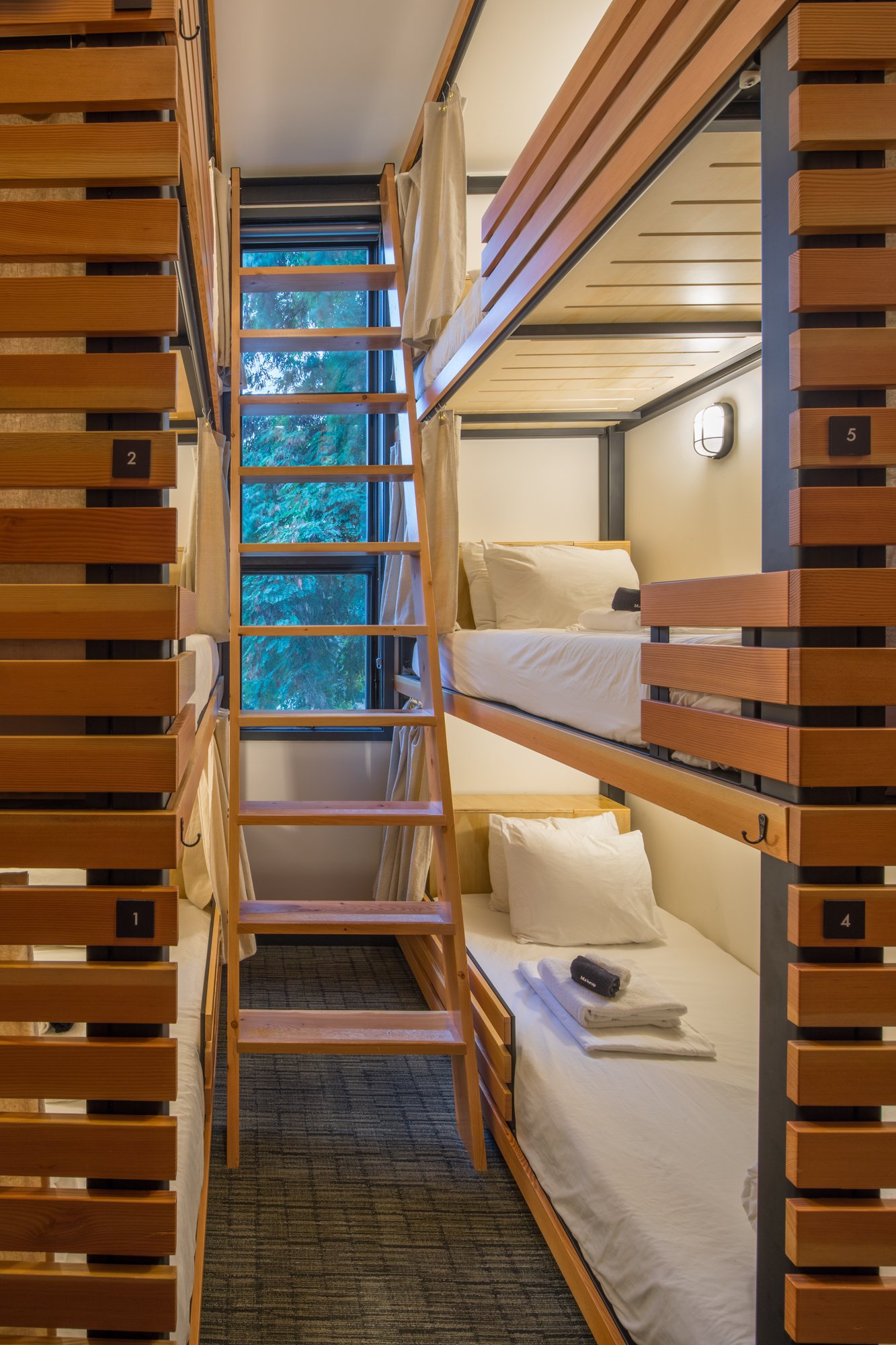 January 2, 2020
Schoolhouse Revival: A New Hotel in an Old School Frames a Scenic Park in Washington
Portland, Oregon–based firms Waechter Architecture and Blossom teamed up to create a boutique hotel within a 19th-century building.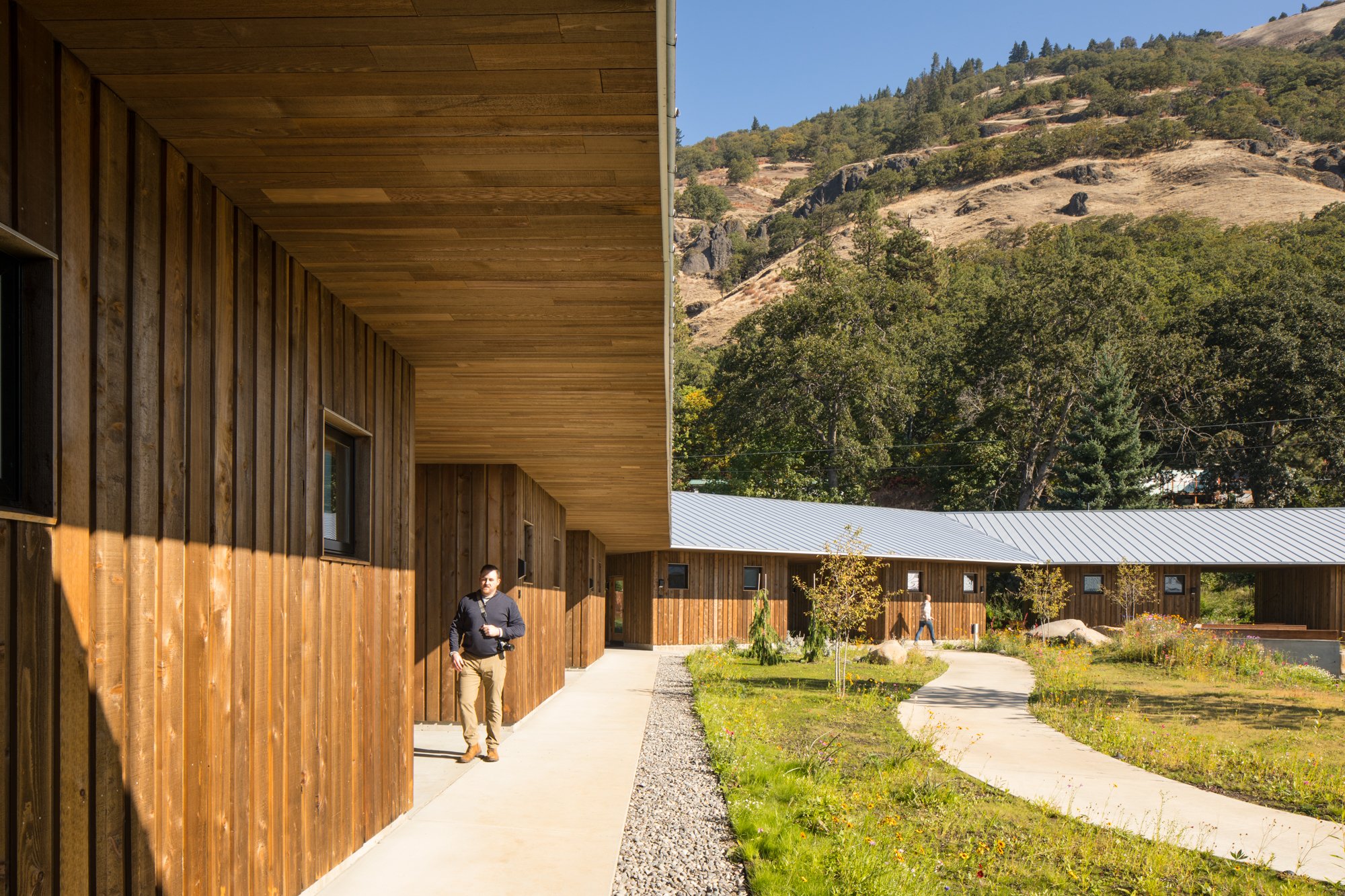 A small town's historic schoolhouse has earned a new life as a boutique hotel in the picturesque Columbia River canyon. With a prime position within the Columbia River Gorge National Scenic Area, a federally-designated area that protects the natural habitat where the Columbia River cuts through the Cascade mountains in Washington, the Society Hotel Bingen was conceived by Waechter Architecture as a modern, 21,000-square-foot retreat that preserves history while maximizing views of its natural landscape.
In adaptively reusing the 10,900-square-foot existing schoolhouse and gym, Waechter designed a cluster of cabins and a spa building, both clad in cedar treated to create a silver patina.
Rich with academic accents from a day gone by, interiors throughout the building complex were conceived by Blossom, the firm behind the hotel brand's debut property in Portland, Oregon.
---
More from Metropolis
---
First built in 1908 overlooking the Columbia River, the Bingen Schoolhouse was rebuilt in 1937, after a fire. Decommissioned in the 1970s, the building was used as a makeshift windsurfer's hostel until 2017. In its life's newest chapter, the former schoolhouse now has 10 private standard rooms, two 24-bed hostel rooms, a refurbished gym, café and lounge, and reception.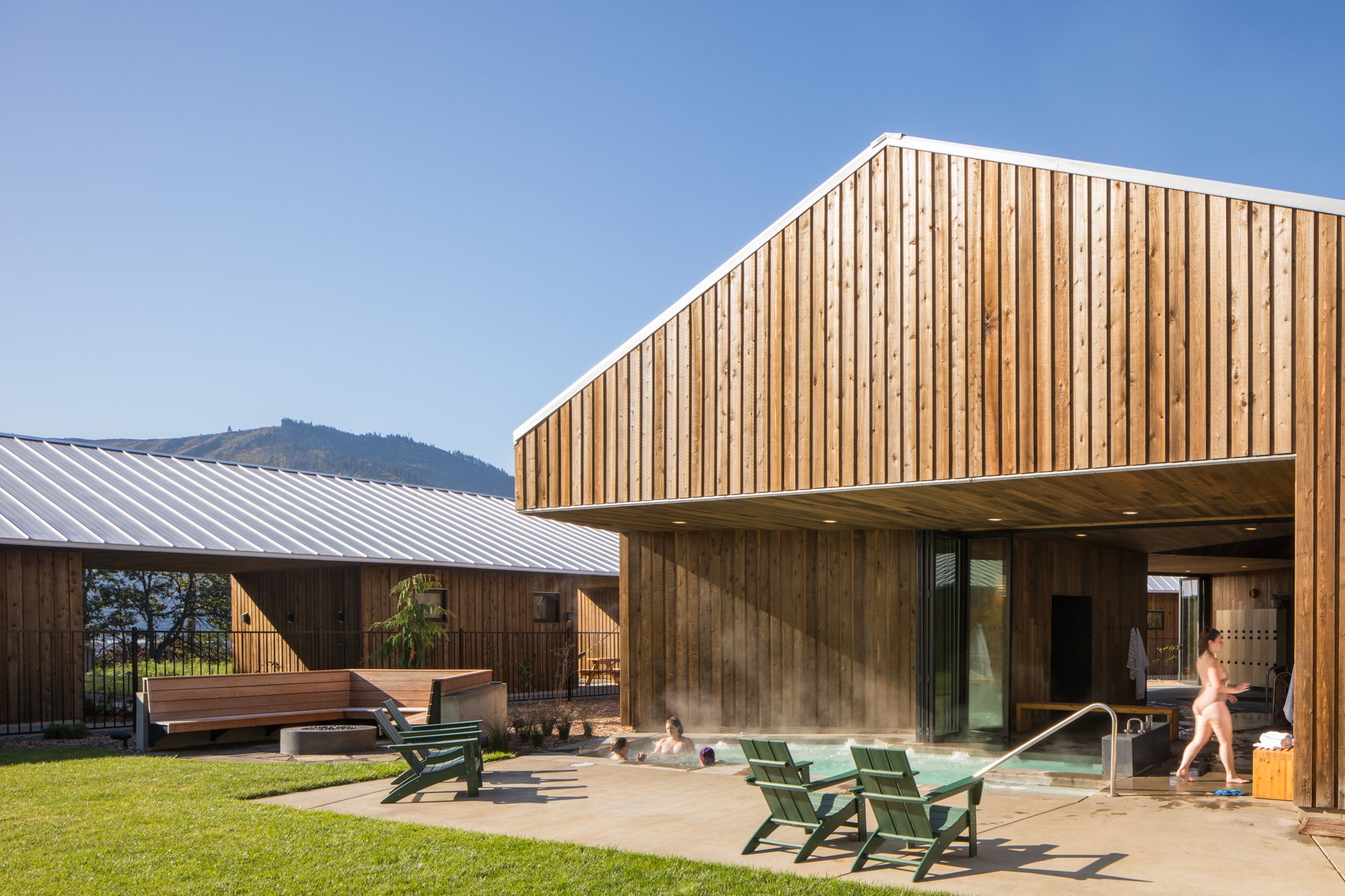 Guests first glean signs of the structure's academic past in the room that now serves as the reception, lobby, and café area. A traditionally styled oak reception desk and a reclaimed slate backdrop may trigger memories for some of scoldings in the principal's office, while two giant fir rounds that serve as coffee tables were made by one of the hotel's owners from a tree damaged in a fire. The lounge-like café area is conceived as an "adult-version of a school library," says Blossom founder Megan Blossom, who included features such as a wall of vintage books, chairs discovered in the basement, lighting taken from the cafeteria, and reclaimed slate blackboards with custom furnishings like tufted sofas upholstered in hunter-green leather and fir-topped tables. Maple flooring found throughout the schoolhouse—either existing in place or salvaged from former classrooms—is original.
Twenty cabins ring the adjacent central courtyard (formerly the school's sports field)—a strategic siting that enables privacy on a site positioned within town yet allows views of a tree-lined hillside and the river. "We wanted to embrace the larger natural context in the most powerful way, but also somehow buffer the local context so the neighbors don't feel encroached upon," says Ben Waechter, principal of Waechter Architecture.
These cabins, totaling 6,200 square feet, are built within a hexagon-shaped ring with a roof which extends to shield a walkway—an early request. "On the covered walkway guests are able to move between cabins regardless of weather," Waechter notes. The extended roof also provides each cabin with its own private alcove of outdoor space, each furnished with a cedar picnic table and hammock.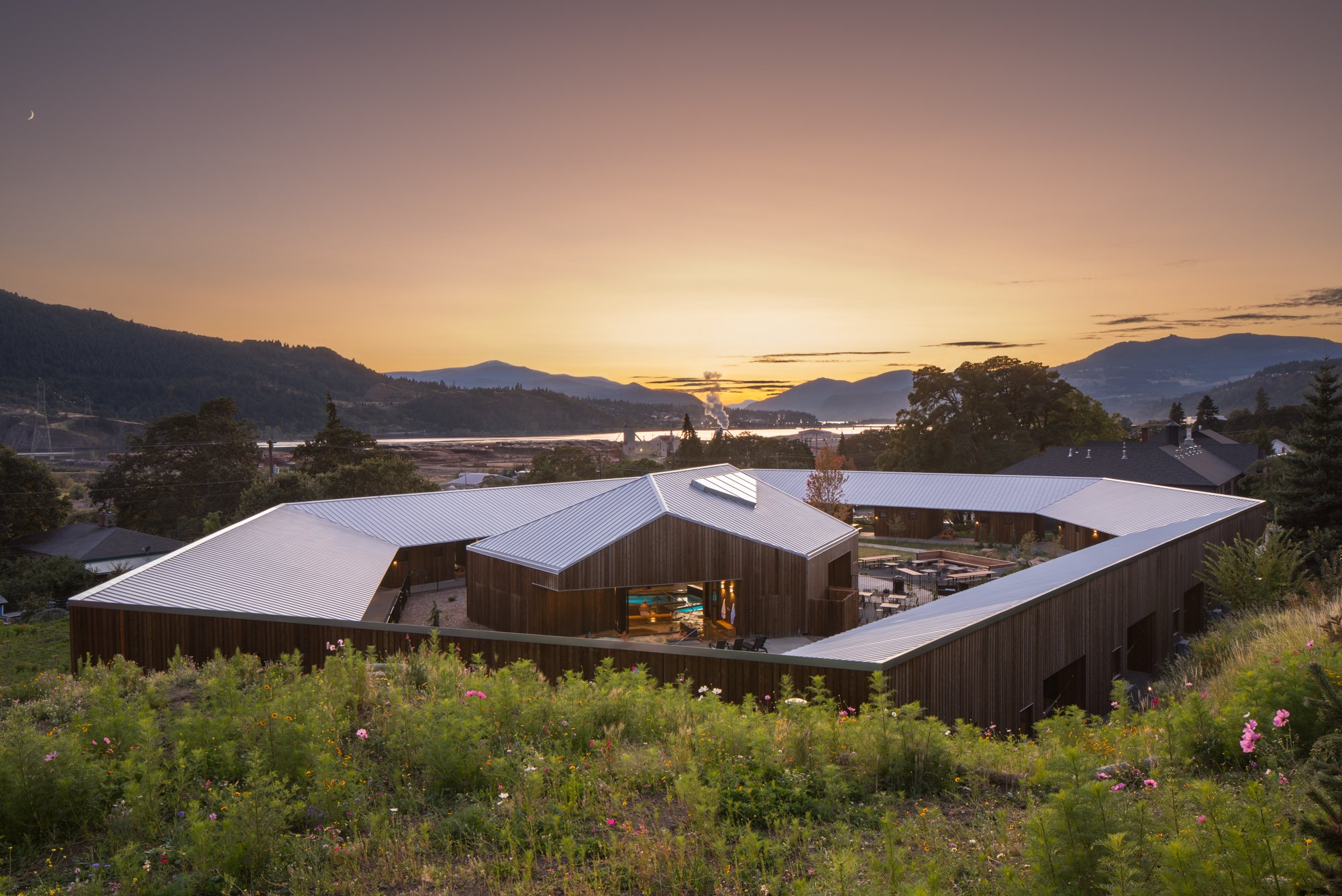 In the center of the courtyard, a hexagonal pavilion houses the 3,900-square-foot spa, with its saltwater soaking pool, cedar-clad sauna, massage therapy rooms, hot tub, cold plunge, and café. A fully glazed wall-to-wall accordion door system, consisting of four 18-foot-wide-by-10-foot-tall folding glass doors, is meant to cultivate an open air feel; during warm months they can be opened completely. The spa building's interior structure consists of four large piers, each reaching towards a 25-foot-long central skylight—a dramatic touch that distributes daylight across the indoor pools.
Color and materiality tie the hotel buildings together, says Blossom. Fir tongue and groove paneling was taken from the former gymnasium and is now found throughout the hotel. An existing dark blue hue from the schoolhouse is now also in its guestrooms. "Our intention was to evoke nostalgia for youthful school days—in essence creating an adult version of 'school,' " says Blossom. In the reception's bathrooms, this nostalgia even regales visitors with advice, in the form of old school safety posters.
You may also enjoy "A New Idea in Architecture? No New Buildings."
Would you like to comment on this article? Send your thoughts to: [email protected]