April 16, 2019
Sunlight and Landscape Views Shape Studio Gang's Latest Chicago Tower
Solstice on the Park, a rental apartment tower in the city's Hyde Park neighborhood, is within spitting distance of Lake Michigan and Frederick Law Olmsted's Jackson Park.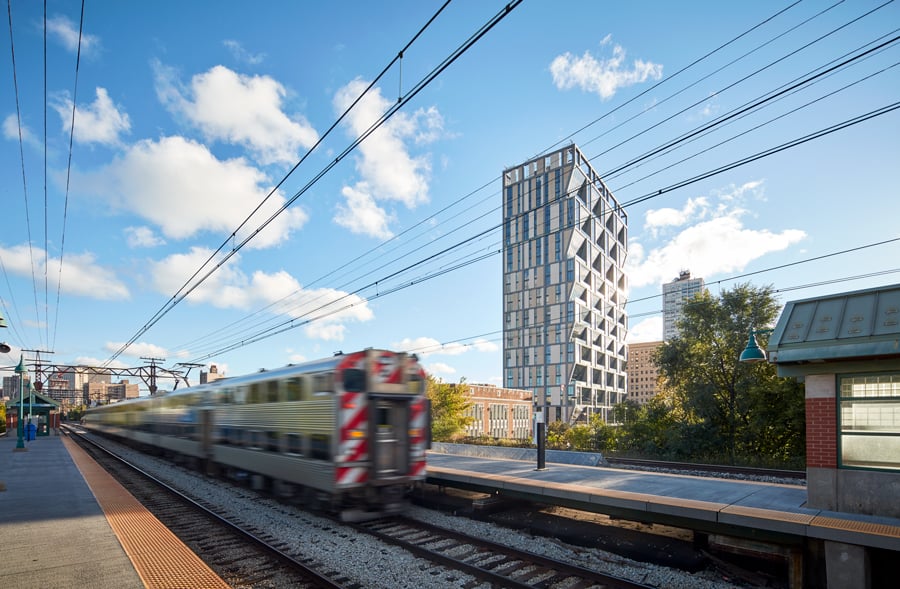 ---
Solstice on the Park, the new Studio Gang–designed rental apartment tower in Chicago's Hyde Park neighborhood, doesn't want for inspiration. The building is within spitting distance of Lake Michigan and Frederick Law Olmsted's Jackson Park, where the Obama Presidential Center may soon rise (pending the outcome of a lawsuit). The interior decor goes out of its way to accentuate these links: The elevators are lined with panoramas of Lake Michigan by the photographer Tom Harris, and in the lobby's "Olmsted Library," stacks of books on shelves (all green) have a notable landscape bent. Less literal are the exterior zinc and fiber cement panels (affixed to a post-tensioned concrete slab structure), whose tones evoke the buff brick characteristic of the area.
Then there's the form of the building itself, striking for its serrated south facade. Windows tilt in from the top floor plates at a 72-degree angle, which matches that of the summer solstice at Chicago's latitude. In doing so, they shield a portion of the total 250 apartments—ranging from studios to three-bedroom units—from the sun as much as possible in peak summer, when it's highest in the sky. At the winter solstice, conversely, sunbeams have unimpeded access when lighting up the shortest day of the year. This play of shadow and light has ecological consequences: lower cooling and heating bills, and a diminished carbon footprint.
---
It also makes for a pleasingly offset facade articulation. Each section of tilted glass stretches across two floors, then three, beginning about two-thirds of the way up. All the while, the composition seamlessly integrates deep balconies (in approximately 45 percent of south-facing units). Solstice's architect, Jeanne Gang, finds that "tipping the glass down a little bit is very nice for the apartment's interior, because it actually draws your eye to the landscape." As the floor-to-ceiling windows lean out, you feel you want to as well.
---
More from Metropolis
---
The effect surprises Gang, who expresses some relief that the long-drawn-out project is coming to a close. The initial plans date back to 2006, years before Gang's breakout Aqua Tower opened a few miles north. Originally planned as a condo building, Solstice was felled by the Great Recession, when Mac Properties was a "young developer who didn't know what they were doing," says Peter Cassel, Mac's director of community development.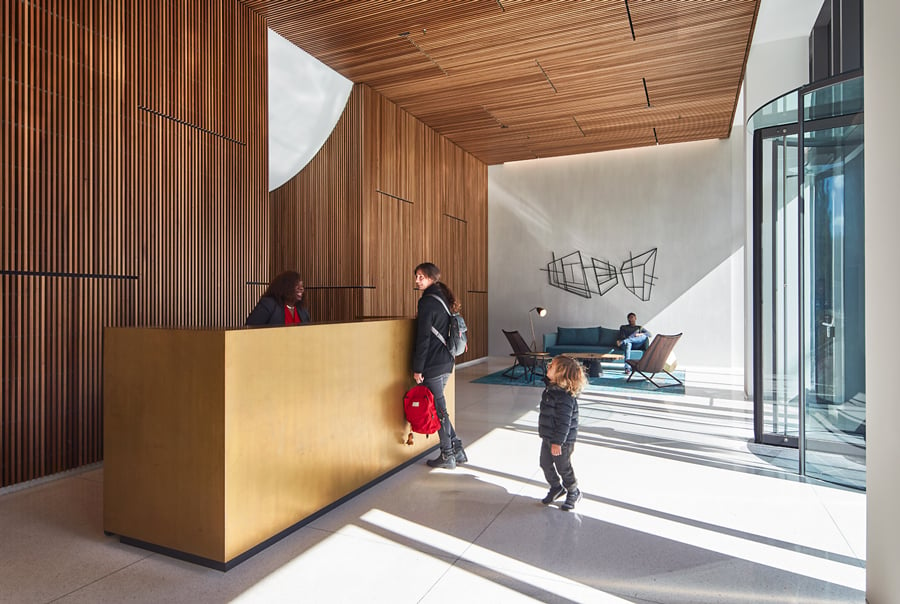 Even as the economy stabilized, Mac realized that luxury for-purchase homes didn't sell in significant-enough numbers in Hyde Park to justify plopping down a building filled with them. The rental market, however, was becoming active and fluid; so in 2015, the project was resurrected, and Gang's firm, which continues to work with Mac, stayed on. "We've all grown up together," says Cassel. The opportunity to build next door to an Olmsted park, in one of Chicago's most sought-after neighborhoods, he adds, made it an "extraordinary development within the context of North America."
The lobby's walls and ceiling are covered in a Rulon wood-slat panel system, and the metallic bronze–painted reception desk sparkles in Chicago's March sun on a moderately overcast day. Amenity spaces are carefully divided between a game room, a glass-walled event space, and a darker-hued café hutch with glazed ceramic tile and granite, cloistered by sheer curtains. Unit interiors, meanwhile, are neutral; the views are the draw.
---
They're made possible by the massing strategy, which Gang calls "solar carving." It's been a long-running theme in her practice, providing the driving idea behind an upcoming residential building in St. Louis and another in Manhattan that grazes the High Line (its base is carved away to allow ample sunlight for park plants). For Gang, designing around the sun—"heliocentrism"—isn't just at the behest of who's inside the building. "The building could be formed to allow sun to hit space outside of itself," she says.
This sun-sculpting offers a fresh perspective on building around climate and geography. If critical regionalist architecture has caught on, it's been mainly through the principles of materiality (adobe in hot climates) and vernacular motifs (pitched roofs in snowy ones). Solstice instead points to form- making principles that are universally applicable, within bands of latitude. "If we really are to respond to climate with our buildings, there are going to be similar climates where similar things work," says Gang. The old high-rise design axiom is that each must pay special attention to how it greets the earth and the sky, but Solstice expands it a bit further, focusing on how a building meets the sun.
You may also enjoy "Two North Carolina Exhibitions Bring New Lenses to Familiar Design Conversations."
Would you like to comment on this article? Send your thoughts to: [email protected]