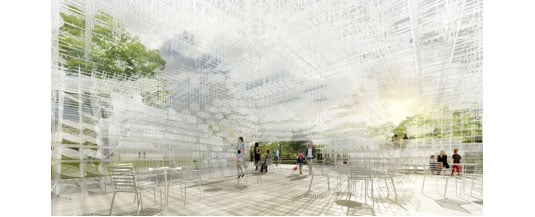 March 4, 2013
Sou Fujimoto's Serpentine Gallery Pavilion
The new Serpentine Gallery Pavilion is a semi-transparent ring that shelters visitors from the elements and forms a visually engaging backdrop
Japanese architect Sou Fujimoto will be designing this year's Serpentine Gallery Pavilion, came the recent announcement. This prestigious commission is given once a year to an international architect who has not completed a building in England. In the past it has been given to major names such as Zaha Hadid, Frank Gehry, and Oscar Niemeyer. Fujimoto will be the thirteenth commission for the pavilion, and at age 41, is the youngest architect to ever receive this honor.
Fujimoto's design is for a semi-transparent ring that shelters visitors from the elements and forms a visually engaging backdrop. The ring itself is constructed from a lattice formation of thin steel poles that form an irregular, helter-skelter geometry. Fujimoto has stated that his intent is to encourage visitors to interact with the landscape, by emphasizing the transparency of the design, and the cloud-like qualities of the structure. The 350 square-foot space will also include seating areas and a café for visitors. The pavilion will be built for three months on the Serpentine Gallery's lawn in Kensington, London, after which it will be dismantled like its twelve predecessors.
---
More from Metropolis
---
The pavilion's unusual design fits in neatly as an extension of Fujimoto's recent work. His firm, Sou Fujimoto Architects, has lately been maintaining a high profile with several bold experiments in residential architecture, like his recent House NA. Each room of this nearly entirely transparent house is at a different elevation, and connected by ladders or stairs to the adjacent rooms. 2008's Final Wooden House was another experiment in multiple levels and dynamic use of space. The house is a box formed out of wooden blocks that are stacked to create an irregular, undulating floor plan. Floors from certain areas become seating for other areas of the house, and the use of each space changes according to the perspective of the inhabitant.
Fujimoto's latest design is an exciting continuation of his experimental approach to architecture. The pavilion will be on display from June 8 through October 20 of this year.
---
Brian Bruegge is an undergraduate student at Fordham University, majoring in communications and media studies, and history. He also studies visual arts and environmental policy, and has previously written for several other websites and publications on a range of topics.