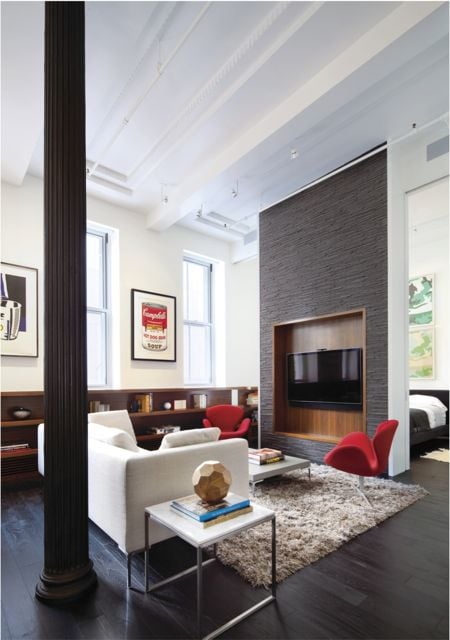 May 13, 2013
The Go-To Source for All Your Luxury Wood Needs
LV Wood finds the perfect locally sourced (and locally made) floor for any space.
LCD Studio designed this New York City loft. LV Wood Hickory Black Opal plays up the dramatic contrast between the floors and the predominantly white millwork of the walls and kitchen.
---
James Caroll and his sister, Giulia, grew up stocking the shelves of their father's floor-supply shop, Buffalo Hardwood, in upstate New York. But James, who now runs LV Wood's New York City showroom, readily admits that his interest in the family business wasn't sparked until 1999, when his father bought a farmhouse in Italy and began working with Italian wood companies. That was when the mom-and-pop shop evolved, first into Legno Veneto Wood, an Italian floor company, and finally into LV Wood, a luxury business that offers a range of sustainable wood for floors and surfaces.
---
More from Metropolis
---
Sustainability is one of the guiding forces of the company, which often uses reclaimed and salvaged woods in their products. Other products are either certified by the Forest Stewardship Council or can be upon request. "We use no rain forest woods in our production, ever," Caroll says. "Our products, with the exception of European oak, are made only with domestic species and are made one hundred percent in the USA."
Caroll encourages customers to consider color before anything else. Preoccupation with species, finish type, and installation are unnecessary. Most of the floors can be made in any size, grade, or format. Once the style is decided, he can gauge what kind of traffic and use the floor will have. "Even the type of person we are making the wood for is an influence," he says. "These puzzle pieces help us to determine the best floor for each client."
Composition: All products, with the exception of those made from European oak, are made from domestic wood species. Reclaimed and salvaged woods are also used.
Properties: The New York City store shows approximately five species of wood with 200 finishes, all of them hard enough to be installed in any home or business.
Applications: The surfaces are installed in residences as well as in businesses ranging from sports stadiums and movie sets to museums and universities.
Images courtesy the manufacturer