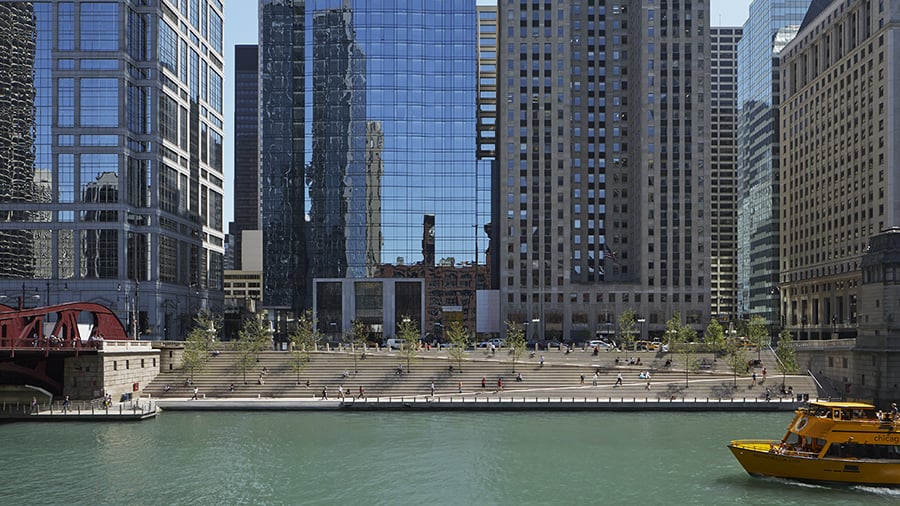 June 12, 2017
Spotlight: Chicago Riverwalk's Transformation Into Recreational Frontier
The popular new public space, a finalist for the Rudy Bruner Award for Urban Excellence, is part of Mayor Emanuel's "Building on Burnham" initiative.
After touring the Bruce C. Bolling Municipal Building in Boston, our team wrapped up our site visits to the five finalists for the 2017 Rudy Bruner Award for Urban Excellence (RBA) with a trip to Chicago. There we explored Chicago Riverwalk Phases II and III, a new pedestrian park providing access to the river and waterfront amenities.
Located in the heart of downtown Chicago, just north of Millennium Park (a 2009 RBA silver medalist), the $95.5 million project, completed in 2016 by the City of Chicago, transformed a series of barren concrete arcades along the river into vibrant public space. "For far too long, the riverfront was a forgotten part of our city, but we have reclaimed this space to create the Riverwalk and transform the river into Chicago's next great recreational frontier," says Mayor Rahm Emanuel.
First envisioned as part of Daniel Burnham's 1909 Plan of Chicago, the Riverwalk is part of Emanuel's Building on Burnham initiative to invest in natural and recreational opportunities in neighborhoods citywide. Now referred to as its "second waterfront" (after Lake Michigan), it has become a popular place to walk, dine, and take in Chicago's world-renowned architecture.
---
More from Metropolis
---
The design of the 3.5-acre project was a collaboration between locally-based Ross Barney Architects (designer of Phase I completed in 2005) and Sasaki from Watertown, Massachusetts. It provides continuous pedestrian access along the south bank of the river from the confluence of its north and south branches to Michigan Avenue, where the trail continues on to Lake Michigan. The park was created within a narrow build-out area between lower Wacker Drive and the river, navigating complex marine and urban conditions including infrastructure, flood resiliency, and substantial vertical grade changes.
The project's design offers an experience of continuity and variety. A series of reflective under bridge passages link five distinct "rooms"—the Marina Plaza, Cove, River Theater, Water Plaza, and the Jetty—that offer unique ways to experience the river. Boat docking and kayak access, fishing piers and floating wetlands, restaurants, and water features, along with ample seating and access to upper Wacker Drive are among the park's amenities. Local vendors offer food and beverages with a water view, boat rentals, and water taxi transportation. Chicago Architecture Foundation and Friends of the Chicago River offer educational programming and tours highlighting architecture and ecology.
The Riverwalk is one of a series of recent additions to Chicago's park system plan, including the 606 and Maggie Daley Park. It's also part of broader planning initiatives including the Metropolitan Planning Council's (MPC) Our Great Rivers vision and the Urban River Edges Ideas Lab, a partnership between the City of Chicago and MPC that is engaging leading architectural firms in developing concepts for additional riverfront development.
Open less than a year, the Riverwalk has become a source of pride for Chicagoans and a popular destination for office workers, residents, and tourists. Revenues have exceeded projections for its food and beverage vendors, and the park is creating a new cache for riverfront addresses, including a recently approved 51-story Bank of America tower and a $27 million Apple store under construction. Emanuel summarizes: "Building on Daniel Burnham's vision, the riverfront investments are increasing river access and turning the waterfront into a magnet for both recreational opportunities and economic growth."
Anne-Marie Lubenau, FAIA, is director of the Rudy Bruner Award for Urban Excellence (RBA) for the Bruner Foundation in Cambridge, Massachusetts. An architect and advocate for educating and engaging people in design of the built environment, she is passionate about increasing understanding about the connection between good design and planning and equitable and sustainable communities.
This post is part of a series written and curated by RBA that focuses on advancing conversation about placemaking in American cities and offers a detailed look at the 2017 award cycle and site visits. Celebrating its 30th anniversary this year, RBA is a biennial design award recognizing transformative places that contribute to the economic, environmental, and social vitality of the nation's urban center.