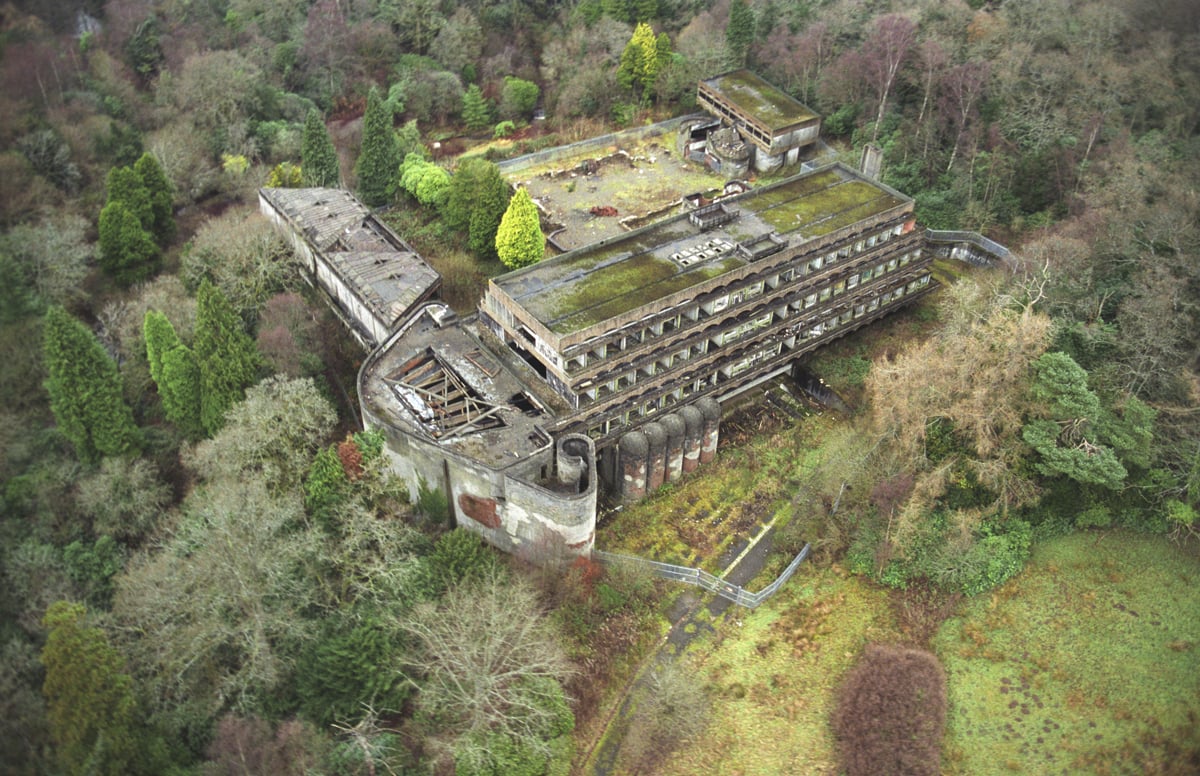 April 27, 2016
At St. Peter's Seminary, Previewing a Modernist Ruin's Coming Revival
After languishing in a Scottish forest for three decades, a Modernist masterpiece enters a new stage of life.
Built in 1966, St. Peter's Seminary is hidden away in a forest 20 miles outside Glasgow.
Courtesy Tom Kidd/Courtesy Almay
---
Modernist architecture, it used to be said, was inadequate because the machined materials of modern buildings wouldn't lend themselves well to picturesque ruination. What, minus the taut skins of glass and plaster, could these stark, boxlike carcasses possibly communicate to future generations?
St. Peter's Seminary in Cardross, Scotland, is a forceful rejoinder to that jibe. Built in 1966 and abandoned 20 years later, the seminary has settled into a state of pleasing decrepitude. Glass and plaster are long gone. The concrete remains largely intact but stained, spalled, and spoiled. Entire roofs and staircases have caved in. The only fresh signs of life are the aprons of graffiti draped all over the "interiors." Yet, the sense of the place lingers, its noble forms still remarkably assertive—jutting forth from the dense surrounding forest—and optimistic.
---
More from Metropolis
---
In recent years, the heritage-protected site has been marked for redevelopment, with one highly publicized scheme calling for the erection of luxury housing grouped around the seminary's concrete husk. It fell through in 2011, but another, more unconventional proposal forged a few years before—to partially restore the main building and convert it into an arts and education center—recently secured the funding for its implementation. "Standard regeneration wouldn't work here," says Angus Farquhar, creative director of Glasgow-based public arts group NVA, which will stabilize the structure and maintain sections as ruins. "We're going to open the space to the public so that they're able to see the bones of the building. It's about building up a sense of ownership for the public."
In late March, over a ten-day period, some 8,000 visitors were given the chance to experience the dilapidated compound up close, albeit by night and with the structures transfigured by light and sound. Led by glowing walking sticks, the visitors ambled through bramble and forest, damp ground underfoot, and pushed up a hill toward a concrete rampart—the Brutalist muzzle of the erstwhile classroom block and reverberant crackles of sound, akin to musique concrète, signaling the way. They then met with the broad curving wall of the ear-shaped side chapel and, upon entering, shuffled up the long ramp that winds its way to the triple-height chapel, where priests once held mass. The space staggers in both directions: Above, the former residential floors terminate, midair, in a ziggurat formation, while the platform below drops down into a shallow chancel.
The seminary (seen in its original state above) was abandoned and left to rot (below) in the 1980s.
Courtesy Glasgow School of Art
Courtesy Alan McAteer
At Hinterland, as the event was called, this depression was filled with water, which reflected the flashing red, blue, yellow, and green lights and rippled when tread upon by spooky hooded figures presiding over the scene. Prerecorded choral music enhanced the darkly cinematic atmosphere. "It's sort of walking through a [Stanley] Kubrick movie, but better," Farquhar enthused at the time of the installation. "You're not seeing a performance—it's all about the building. It's the building playing itself."
St. Peter's was designed by architects Andy MacMillan and Isi Metzstein of Gillespie, Kidd & Coia, a venerable Scottish firm seasoned in Modernist churches (several of which have, unfortunately, been demolished). Built to house 102 priests, it began its decline nearly as soon as it opened. The conciliatory reforms of Vatican II, which directed that priests be trained in their communities and not in isolation, threw the seminary's purpose into question. Despite operational costs and some design defects, it clung on until the 1980s, when it briefly served as a drug rehabilitation center and then was vacated altogether.
Architects have ventured in pilgrimage to the Modernist masterpiece ever since. MacMillan and Metzstein lifted heavily from the postwar volumes of L'Oeuvre Complete, Le Corbusier's self-produced monographic series, pilfering shapes from the chapel at Ronchamp and La Tourette convent. The Maisons Jaouls, too, provided unlikely inspiration, that project's network of tight vaults reworked at St. Peter's with great imagination. The floating Breuer-esque ark of the classroom block, however, appears as a non sequitur—a jarring, if not unwelcome, intrusion into this reliquary of Corbusian form.
Visitors didn't need prior knowledge of Le Corbusier, nor of the handful of secondary architectural references embedded in the seminary's design, to probe the mystery of Hinterland. The well-attended happening, which kicked off the yearlong Festival of Architecture, is a placeholder of sorts and powerfully suggests just how the site might eventually be used for exhibitions, installations, and performances. "NVA's project has really captured the public's imagination," says Neil Baxter, secretary of the Royal Incorporation of Architects in Scotland and a festival organizer. "They have taken this high Modernist architectural model and turned it into one of the most successful cultural events ever organized in our country."
For Farquhar, the fulsome public support of Hinterland, coupled with the awarding of the funds needed to continue the project, comes as a relief, if not "emotional fireworks." Plenty of work lies ahead, with the last stages of clear-up due to begin and the restoration (by Avanti Architects) following thereafter. Just as crucial is an upcoming public assembly to establish the principles of the center. "It will be an agora, a setting in which free people can debate," Farquhar intimates. "Fifty years ago when they built this place, they were optimistic about the future, but now the world's become tougher. I want to use this place to celebrate human values but also to have a debate—a good rammy."
In its decrepit state, the site has attracted architects, bored youths, and graffiti artists.
Courtesy Alan McAteer
In late March, Glasgow-based public arts group NVA staged a light-and-sound show to illustrate the site's potential.
Courtesy Alastair Smith
The organization recently received funding to convert the seminary into an arts and education center. Parts of the structure will remain as a ruin.
Courtesy Alastair Smith