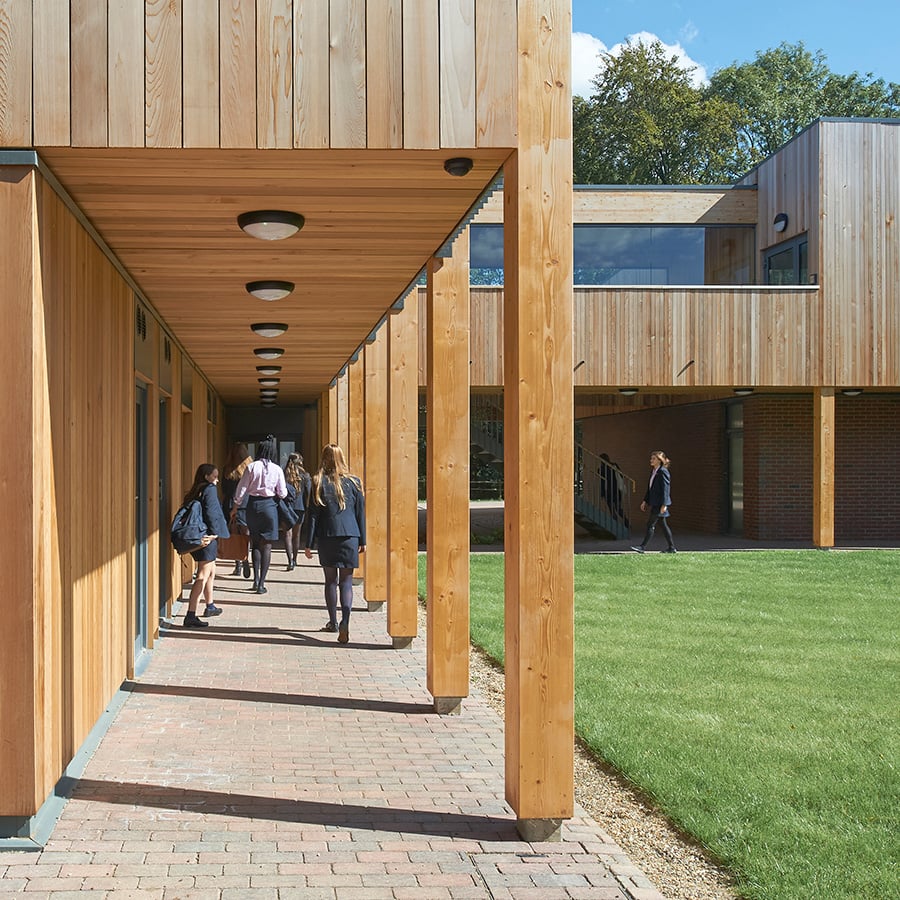 October 12, 2018
A Minimalist School Addition Helps a British School Reconnect with Its Landscape
Years of ad hoc expansions has cut off St Teresa's boarding school from nature, but new buildings by London-based IF_DO aim to turn the tide.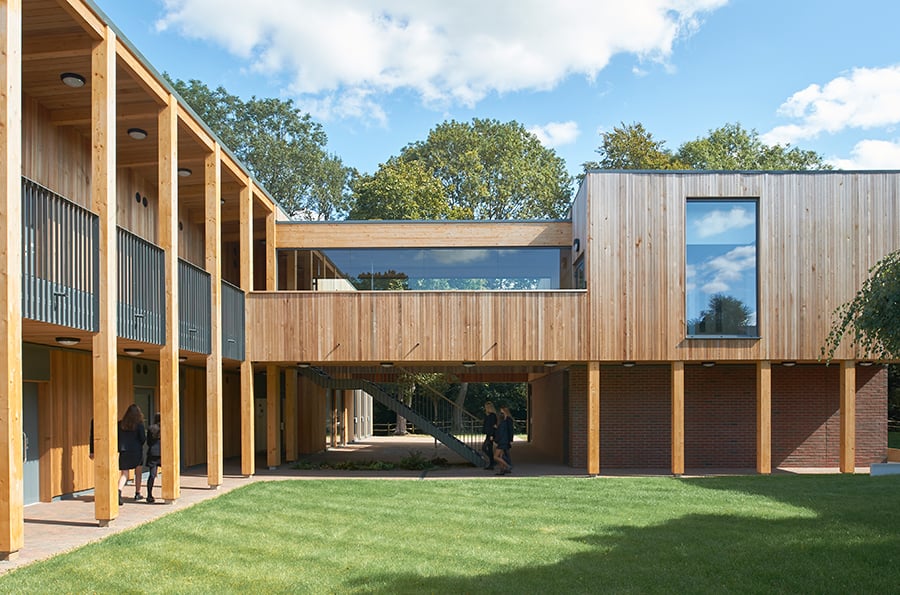 Southern England's Surrey Hills is officially an "area of outstanding natural beauty," though if you were standing in the region's St. Teresa's boarding school, you might never know it. Nature just doesn't find its way into the school grounds.
"There are trees and greenery everywhere, yet, when you're walking through this place it's hard and gray and not particularly inspiring," says Thomas Bryans, director of London-based architecture studio IF_DO, as he points to a slew of single-story prefab classrooms that line the campus' main pedestrian thoroughfare. IF_DO was tasked with designing the school's new addition for sixth formers (the U.S. equivalent of students at grades 11 and 12) and forging a strong connection to nature was the firm's top priority.
The school's separation from its remote, rural settings (getting a mobile phone signal there can be challenging) happened over multiple decades. St. Teresa's was started by nuns as a convent in the 1920s; by the 1970s, the growing school had added the aforementioned prefab cabins. A subsequent hodgepodge of additions resulted in the present-day disjointed campus, which is filled with narrow avenues and barely a blade of grass. Students and teachers may as well be in Bermondsey, the burgeoning southeast part of London where IF_DO is based.
---
More from Metropolis
---
---
The new 7,100-square-foot center comprises two blocks. The northern section houses teaching spaces, offices, a place for independent study, and a common room, while the southern section includes a lecture hall that's been detached so it can be used by the rest of the school as well. New classrooms feel more like seminar rooms, furthering the university feel to the place.
This is no coincidence. Sixth form is often an important stepping stone to university and the architecture hints at this educational progression—a timber colonnade and courtyard "quad" area mimic the urban realms of Oxbridge colleges.
Still, more than being collegiate, the school's design emphasizes ties to the surrounding landscape. The timber cladding recalls the nearby trees, which are always visible thanks to an open ground floor, a substantially-glazed glazed pedestrian bridge, and slender courtyard stairs. Two birch trees add a splash of green and white to the project, as well as a host of soft shadows that move across the building throughout the day.
For a $1.9 million project, IF_DO has packed a lot in, and there's more to come. Phase two of the 10-year master plan will see the removal of the school's temporary prefab offices and, in their place, a new, wider main pathway that will terminate at the silver birch trees.
With the passage of time, the architects are hopeful that the center will help students and faculty become more attuned to their surroundings. The building's flues channel rain water onto the silver birch's graveling and courtyard lawn. This is all part, Bryans explains, of "making students aware of the weather, the changing of the seasons…. They can see the color of the leaves change."
You may also enjoy "Back to School: 7 New Schools and Academic Buildings We Love."