September 14, 2018
FreelandBuck Designs a Cascading Home on a Steep Los Angeles Hillside
The Stack House, built in the hills of the Mount Washington, could provide an architectural model for navigating L.A.'s strict building and zoning codes.
While efforts to build on Los Angeles's daunting yet picturesque slopes have yielded remarkable results, most structures are far more mundane than John Lautner's Chemosphere and Pierre Koenig's Stahl House.
"So much of hillside development is driven by both the code restrictions of the City and the realities of the geology and the topography, so you're between those two worlds all the time, and trying to balance them," explains architect David Freeland, co-founding partner of the L.A. and New York City–based firm FreelandBuck. What Angelenos wind up seeing is "a certain massing…like a stacked box with a shed roof," he adds. "That's what's incentivized by the code and what's cheapest to build. To push against that is tricky, especially when we're on the line."
Freeland is referring to the literal additional investment he and his business partner, Brennan Buck, made in their recent L.A. project dubbed the Stack House. After years of experience assessing the viability of multiple hillside properties and working closely with real estate developers and builders, Buck and Freeland decided to take the leap themselves when they came across an approximately 6,000-square-foot lot in Mount Washington suited to building a spec home. FreelandBuck helmed the front-end process when it came to soft costs, entitlement, and permitting, while development partner Urbanite Homes took the lead on construction. (The Stack House is currently listed for $1.4 million.) It's one of the many ways L.A.'s tightening housing market is generating creative solutions that thankfully, in this case, can produce notable design.
---
More from Metropolis
---
The four-bedroom, three-bathroom home, which measures just over 2,200 square feet, is a standout in its Mount Washington neighborhood. Nestled in the hills northeast of downtown L.A., Mount Washington is known as a creative enclave with a rich history. Freeland lives nearby and has worked extensively in the area. "Our intention was to make a house that had a new domestic quality to it that was not simply trying to take a normal home and put it on a sloped site," he says.
The elegantly boxy volumes containing each space are legible from the exterior, "and as they slide and rotate, they have different views and create different qualities in each of the rooms," Freeland notes.
The interplay of geometric cement board panels and graphic corrugated cladding further "suggest different depths," according to the architect. The four-story building contains a two-car garage as required by the City of Los Angeles at the ground level, a modestly sized but fully functional accessory dwelling unit (ADU) incorporated into the second, with the main entrance to the single-family home at the third level. Three bedrooms and two baths, including a master suite with its own deck, are located on the top floor.
The main living floor resists some trends while carefully considering and accommodating the demands of contemporary life. While open floor plans have certain appeal, "the problem is you're exposed to everything all the time, and people like to find different corners to do different things," says Freeland, who also teaches at SCI-Arc. The main shared level contains an open kitchen facing a living room, with two other distinct spaces that can be dedicated for dining and flexible family use. Curved interior walls contrast with and soften the building's angles, making for a welcoming environment.
Expansive balcony and rear patio spaces also provide a different type of outdoor amenity that's often excluded from hillside living, and views are maximized inside and outside throughout. The backyard area at the top level further reveals how the team's approach closely integrates the unique site and context.
The Stack House reflects one step as part of a broader goal and ongoing conversation about architecture and future development in L.A. "Through design we build a better house," Freeland observes, "but we're building better relationships with the community, and changing the quality of hillside homes."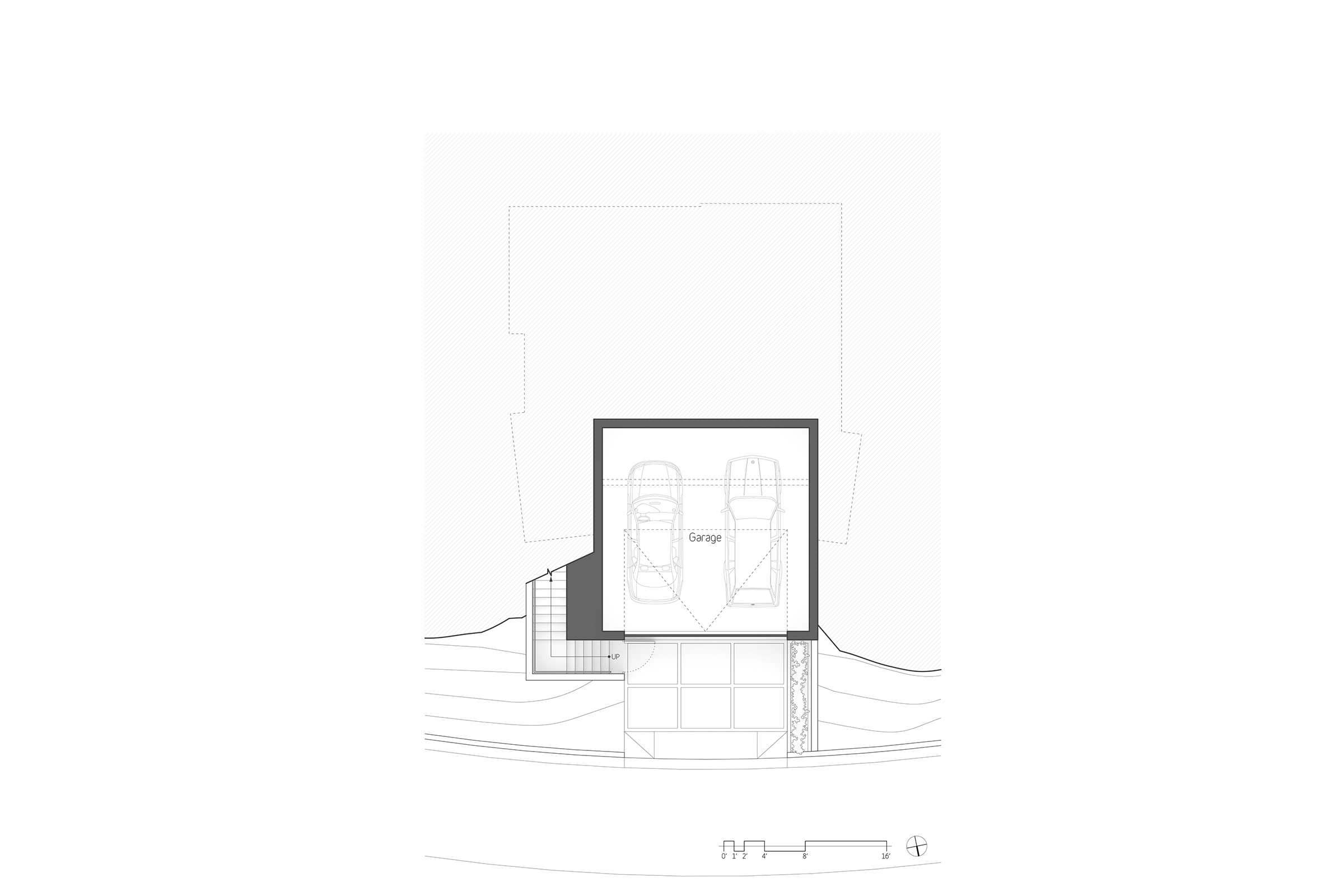 You might also like, "In Israel, a Minimalist Concrete House Serves as an Exercise in Precision Design."