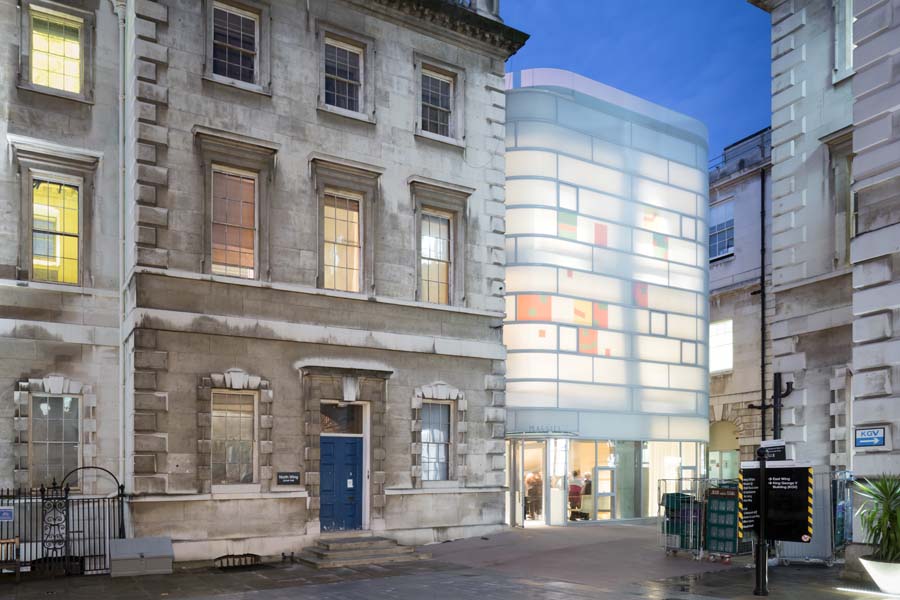 December 14, 2017
Steven Holl's New Maggie's Cancer Center is a Pearl of Optimism in Uncertain Political Times
The new St. Bartholomew's Hospital support facility, which opened Monday, is a sensitive new neighbor in a historic context.
Maggie's Centres, a series of facilities devoted to providing free cancer support throughout the U.K., are extraordinary moments of optimism in the calamitous landscape of British healthcare. Where underfunded public health centers across the country face closure, Steven Holl's new building at St. Bartholomew's Hospital (better known as Barts) in London is the 22nd Maggie's Centre opened by the charity in its 21-year history.
Founded by designer and critic Charles Jencks with late wife Maggie Keswick Jencks, Maggie's Centres provide an array of physical and emotional support services, ranging from advice on social security or hair loss to providing yoga classes. Architecture has been a central facet of this holistic approach to patient care; in 2012, Jencks even penned a pamphlet, Can Architecture Affect Your Health?, attesting to the healing properties of space. A veritable smorgasbord of starchitects has been commissioned to design uplifting structures across the U.K., including Rem Koolhaas, Zaha Hadid, Norman Foster, Richard Rogers, and Frank Gehry.
Those architects typically worked with lush contexts, typically generous garden spaces. Holl, however, had to nestle his Maggie's Centre into the dense 18th-century square of Britain's oldest hospital, which presented many hurdles from local heritage authorities. In 2013, the project was even thrown out by the city's planning committee. Yet by conceding space—a shared fire escape and basement toilets—to James Gibbs's neighboring Great Hall, the finished building has emerged largely unchanged from Holl's initial plans.
---
More from Metropolis
---
Maggie's Centre Barts, which welcomed its first clients Monday, is far more sensitive to its surroundings than the brick 1960s office building it replaces. The structure's misted curtain wall makes it appear as a ghostly shadow among its neoclassical neighbors, its height and window proportions in close dialogue with the quoins of the Great Hall. Yet this is not a derivative or nostalgic building. On the contrary, Holl's approach here is forward thinking, even courageous, says Laura Lee, CEO of Maggie's Centres.
"When you're dealing with cancer you have to be brave, and we have to be brave on their behalf too. Taking on Steven was a brave choice, but it was the right one because people with cancer don't deserve just a secondary pastiche. We had to go beyond."
The concept underpinning the building does indeed go beyond the physical. Holl was evidently influenced by both the notion of spiritual ascension and Gregorian chants. "I believe that drawing is a form of thought, and that music is a vital force, and this building unites these two," he says. Ultimately, the final design took the form of "a thing within a thing" and is as much an emotional embrace as it is an intellectual exercise.
The outer "thing" is the cloudy glass envelope which spirals around the concrete structure in a single swoop and features graphic motifs inspired by Gregorian notation—a nod to the Medieval history of the hospital site. The inner "thing" is a bamboo "basket" that partitions consultation rooms and incorporates a twisting staircase.
With each layer, the materials are left untreated and exposed. "The building is a kind of little manifesto of the authenticity of the materials expressing themselves," Holl says. The warm tone of the bamboo offsets the coolness of the concrete; the milky glass softens the stone all around, allowing mid-December light to permeate throughout. The architecture is serious yet soft, clearly fitting for the center's clients.
As with previous Maggie's Centres, the kitchen—complete with an island and bamboo cupboards—is the spatial and social centerpiece and gives the facility more of a domestic sensibility than a medical one. According to Lee, it is not just for making tea, but also fosters an open, welcoming dynamic between patients and professionals. It's this that separates Maggie's Centres from traditional healthcare centers, even if there are traditional consultation spaces, on the ground and second floors and separated by partitions of yet more bamboo. The top floor, meanwhile, is left open but populated with a mix of built-in and freestanding furnishings. Throughout the building, there is a sense of fluidity and flexibility—no space is prescribed specifically for patient or professional.
At just 6,500 square feet, the Maggie's Centre Barts is compact yet beautiful, a pearl amid aesthetic and economic austerity. For cancer patients in East London and beyond, this is clearly a welcome and wonderful addition to the locally available services. Through Holl's progressive approach, perhaps we can read a vision not just for a better architecture, but a better quality of healthcare facility for all.
"It's optimistic for the future," he explains. "My argument is that we have to have new architecture. The next generation has to feel that it's an open language—that it can be made from anything."
You may also enjoy "At Princeton, Steven Holl Juggles Well-Tested Formulas and Experimentation."