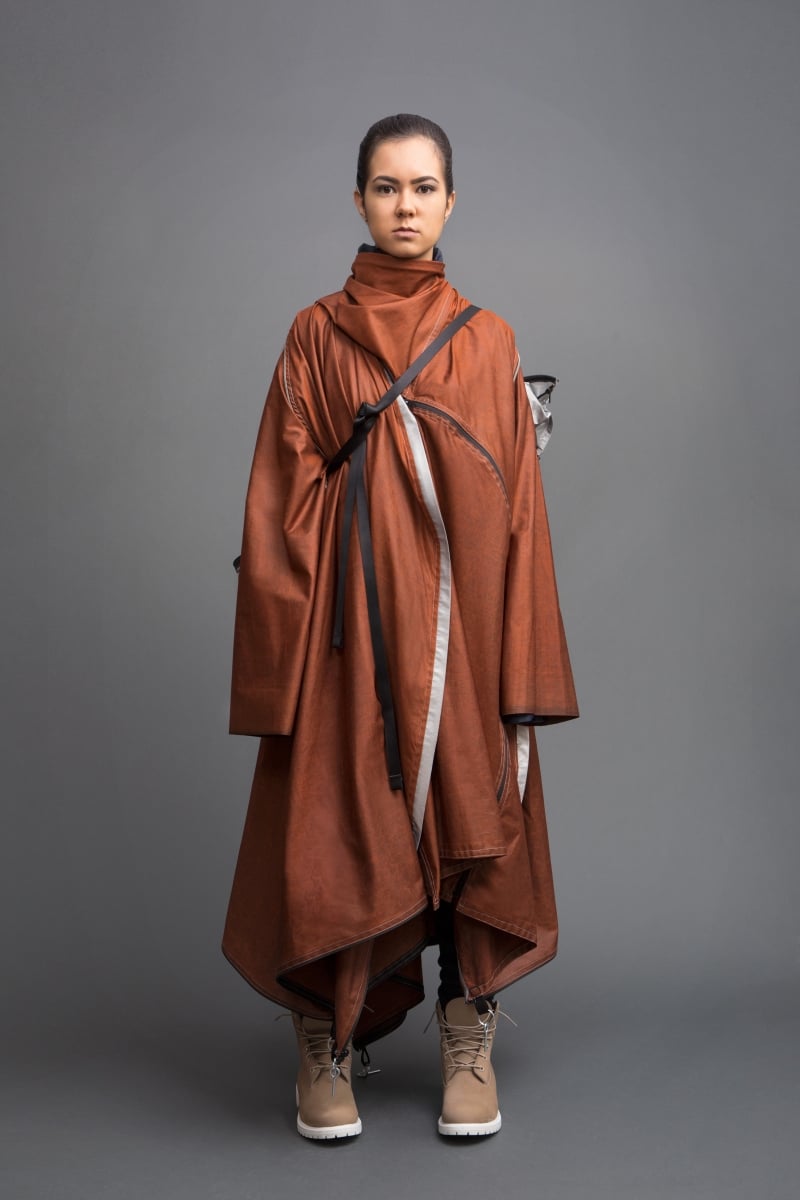 June 3, 2016
Can Fashion Help Refugees? This Parsons Student's Ingenious Line Shows How
"Design for Difference" merges style with utility in multi-functional garments that do more than clothe, but protect, shelter, and carry items.
Angela Luna's fashion line, "Design for Difference," completed for her senior thesis at Parsons the New School.
Courtesy Jessica Richmond
---
When it came time to prepare her senior thesis for the Parsons School of Fashion, Angela Luna decided to take a step back from her planned career in eveningwear design and take on a greater challenge:  channeling her skills towards something bigger than just beading and couture. With the massive exodus of refugees from Syria, Luna saw a tremendous opportunity to outfit those in need. Her resulting senior thesis collection, "Design for Difference," merges style with utility in multi-functional garments that do more than clothe, but protect, shelter, and carry items–and at no cost to refugees. We spoke with the recent grad to learn more about her innovative line and find out what's next for this promising 22-year old designer.
Dana Snyder: What will be the price points of those items on the market? Will they be free? How will they be distributed to refugees?
Angela Luna: The clothing is going to be free for refugees. For the market sale price, I'm really trying to keep this collection affordable, but still keep the quality. So I've been looking at other companies, such as Patagonia and Northface for inspiration, as well as reference for the quality. Having the average price of the clothing in the store from $50-$300, that's the goal. Then having a portion of a portion of those sales go toward the production and distribution of edited versions of these items. So kind of taking away any of the aesthetic [features] that wouldn't be necessary for refugees and then actually partnering with an NGO such as the IRC or the UNHCR and using their channels for distribution.
---
More from Metropolis
---
DS: Can you explain the difference between the line that's designed for refugees and the line that's designed for the mainstream market?
AL: When I first figured out this idea, I spoke to someone who was a field worker in refugee camps. And she said, first of all they're beautiful, but you know, refugees don't really care about the type of fabrics being used, they don't care about the color, they don't care about any of these aestheticized details. They just care that it's going to keep together and keep them warm. She said to get rid of anything you don't need so, that way, the garment is as cheap to produce as possible. That way you can donate more. So, if you take away all those different aspects that would appeal to someone going hiking or climbing or wherever, who actually can afford to purchase those garments, then you're able to produce that clothing for much less money. So you're able to just get that much more of the clothing to refugees themselves.
DS: And what materials are you using?
AL: The fabrics that I've used thus far have been really tech fabrics so waterproof and weather-proof and different things like that. And I'm still negotiating with some fabric mills as to figure out which fabrics I'll use moving forward. You know, this whole collection, I used all the fabrics from Mood Fabrics in New York, so it's kind of hard to guarantee the quality. But going forward, definitely keeping everything waterproof, and trying to do more tech fabrics like that as well.
DS: Are you concerned at all that the versatility that makes these feasible items feasible  will cause them to become more consumer designs than aid-friendly designs in the long-run?
AL: There are different needs on both sides. Being a Parsons student, you know, the clothing still had to be relevant to the fashion market as well as solve all these problems. But I mean, I would like to have it driven more toward needs of refugees as opposed to the other side, of the consumer. But still trying to keep both sides satisfied with the design. But also, there will be some different elements as well for the consumer side.
DS: So you clearly have your priority then.
AL: Yeah– oh yeah. It's definitely for helping refugees in the best way possible. And creating awareness as well.
DS: I know you said you were doing some partnerships with NGO's– UNHCR, IRC. Are there any others that you'll be working with?
AL: I mean, the main issue I'm facing right now is whether I should go about this business on my own. I've been approached by several different companies that are interested in partnering and investing. So now I'm kind of faced with the issue of keeping this brand in my name, or actually merging with another company and using their channels as well.  So that's pretty much what I'm trying to figure out at this point. You know, definitely I would love to partner with as many refugee agencies as possible. That way, the clothing could be widely distributed, and kind of go from there.
DS: The line seems very versatile in terms of the weights and the kinds of fabrics you're using, so it's suitable to various different environments. But is there anything about this collection that makes it geared specifically toward the Syrian refugee crisis?
AL: It's not specifically– it could be applied to other refugee situations, but, you know, for designing the collection, I was specifically analyzing the situation in Syria and Europe. But you know, the more I kind of focused on the design of the collection, the more I saw the ability of these clothes to translate, not just to the Syrian crisis, but to other situations in Africa and US homeless populations. So I definitely think there are other outlets for this clothing as well.
DS: Are there pieces that you think are going to be most popular? Not just among people but among NGOs and partnering companies?
AL: It depends on what the customer is actually looking for in the market. But I have gotten a lot of attention about the tent jacket. So a bunch of people who do hiking and camping kept messaging me and saying, "can I get a jacket?" Definitely that one is a major piece. But there's also the child-carrying jacket, I can definitely see that for new mothers who want to be stylish in a way and also give back, and I can also see that one being popular with NGOs. Another one that I think would be really good is the flotation jacket. I'm from Massachusetts, so I can even see that on a boat in the harbor, as well as, of course, the overseas journeys across the Aegean Sea.
Small Tent Jacket, by Angela Luna
Courtesy Jessica Richmond
---
DS: The tent piece in particular was very cool– I thought it was quite interesting that you considered the kind of housing issues that these people either currently are experiencing or are about to experience. So it seems like that could help with things like temporary settlements, etc.
AL: Exactly, the tent one has been the showstopper piece, I think, of the entire collection. That's definitely been great. But you know, I definitely see the possibility of this. I've used it– I've set it up probably over a hundred times. It's still holding strong, so I definitely see its potential to be used, possibly for long-term. Hopefuly it doesn't have to be, but it definitely would address the needs of shelter as well.
DS: Were the garments that you've designed inspired by any designer or line?
AL: Actually not any specific designer that I've noticed in the current fashion market. But you know the entire collection was inspired by a previous graduate of Parsons– she graduated a year before me– her name is Lucy Jones. I actually caught her final presentation last year, before entering into my senior year. Her collection was designed to assist paraplegics in getting dressed. It was called "Seated Design." She completely developed this whole new method of patternmaking to address their issues. So I looked at her collection and was completely blown away. I wanted to kind of address my thesis with a similar problem-solving method as well. So, she was my major inspiration. Other than that, in terms of visual inspiration, I tried not to look at other designers because I didn't want to be influenced too heavily by their work. In terms of concept, Lucy was really my main inspiration. And we're friends now too so that's cool too.
DS: Are you planning to extend the line to include any other clothing? Any undergarments or childrenswear, for instance?
AL: Yeah, childrenswear was definitely one of the things I was looking into as well because I definitely saw need there in terms of refugee children. But right now– I mean I have done some undergarments, just a basic shirt and a basic pant that is unisex and one size and kind of can adapt to different body types. So that's definitely something that I have to think about going forward. But I definitely do see having the potential to do other clothing as well, and then having, again, the proceeds that come from that go back toward more donations. But I know that a lot of the sales generally would come from less of the statement pieces but more of the everyday useful pieces.
DS: As you start to evolve as a designer– now that you've graduated–and move away from designing specifically for refugees, how do you think the thinking behind this line will inspire your future work?
AL: I hope to stay only in the kind of solution-based design field. I think that it's the most rewarding experience as a designer, to be able to look at a problem and then find a way to address it using your skill. So going forward I really just want to focus on addressing problems kind of the same way that I did this and keep working at that.
DS: Are there any kind of current, ongoing things or problems you're thinking of designing for?
AL: Every day I'm looking for the next thing that's going to catch my eye. One thing that I do want to mention is that the refugee crisis is not going away. As much as I would like it to go away, it's going to be here for the next few years. So I really want to maximize this project to its potential, that way it has a large impact and can actually make a difference. But looking towards the next project….I know that there have been new developments in terms of fabric sourcing, where you're actually converting used water bottles that are polluting the ocean into fabric. So that's something that's incredibly exciting and I'd love to utilize it in the future. With the climate change crisis, sustainability in design and especially fashion could, I think, turn it around. I'm definitely looking into something like that for future projects.
DS: So what is your favorite part or aspect of the line that you've just produced, if you have one?
AL: That's a good question. Well it's kind of hard for me because I keep looking at it and noticing things I want to change. But just the notion of problem-solving was my favorite thing. I don't have a favorite garment. That's kind of like choosing a favorite child. But just the whole concept of the need for shelter and being able to create a jacket that has a tent come out of it, that was my favorite process of the design experience, and the most enjoyable time that I actually had, thinking through these problems.
Backpack Jacket, by Angela Luna
Courtesy Jessica Richmond
Large Tent Jacket, by Angela Luna
Courtesy Jessica Richmond
"Design for Difference" by Angela Luna. From left to right: large tent jacket, backpack jacket, reflective reversible jacket, sleeping bag jacket, small tent jacket, inflatable floation jacket, child carrying jacket.
Courtesy Jessica Richmond