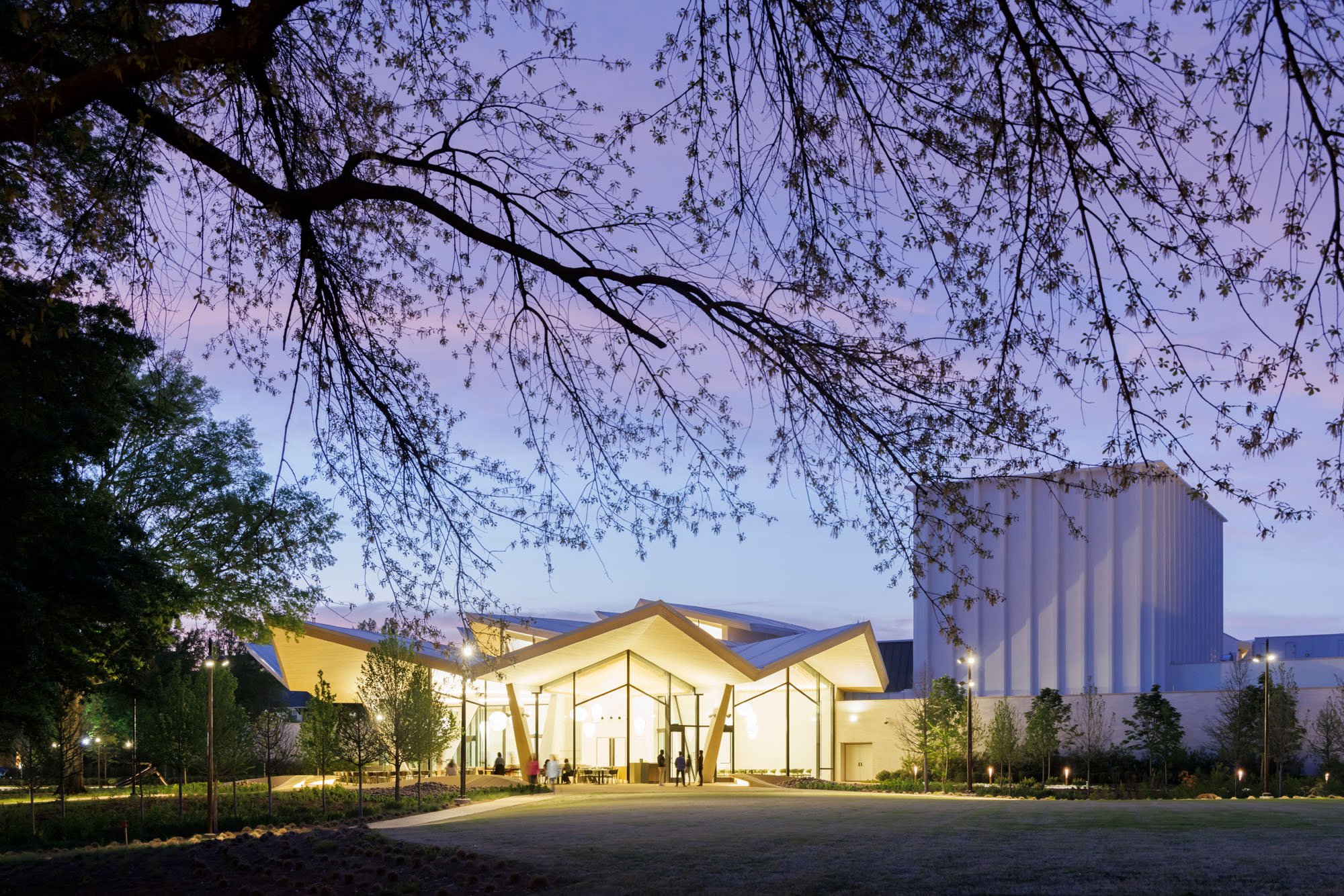 May 9, 2023
Studio Gang Reimagines the Arkansas Museum of Fine Arts
Eight previous expansions to the Arkansas Museum of Fine Arts are but a memory thanks to Studio Gang's fantastic redesign of this local institution. The project, located in Little Rock's bucolic MacArthur Park, builds upon the structure of the existing museum while completely overhauling the museum-going experience and transforming what was a confusing warren of hallways and galleries into a showpiece.
Resolving Decades of Ad-Hoc Renovations
Ad-hoc expansions can go wrong in many ways, but rarely so substantially they had at this this museum. Plenty of museums in city parks ignore either the city or the park, but somehow this one abjured both. Until the reimagined museum opened in late April, its main entrance faced a parking lot instead of opening to either the urban environment or the park—a wasted opportunity.
"Over time they had built eight different buildings, eight different structural systems, eight different mechanical systems, and it had just gotten very confusing to visitors," said Jeanne Gang, founder and leader of Studio Gang, explaining the situation when her office was hired to undertake what began as a modest reorganization.
The museum's faith in Gang's approach soon prompted much more ambitious fundraising for a complete overhaul. Gang sought to preserve several original elements but at the same time, "there was the need for something new; an exciting and kind of fresh architecture that would energize visitors and give it more of an identity so that you could see it," she says.
---
More from Metropolis
---
A Standout Atrium and Dramatic Roofline
The standout gesture is a central atrium that the architect likens to a spine, an apt comparison not only because it's a central circulatory feature, but because it's topped by a roof of eight-inch-thick concrete folded into a vertebral form. The roof, which is punctured by skylights spans and unites two prominent new entrances that face the city's downtown and park.
At each, the concrete roof terminates in crimps—which the architect refers to as petals—designed to provide shade to outward-slanting windows of clear glass, some as large as 18 by 12 feet. There's an air of Saarinen at Dulles or Donald Wexler's roofing here, but the slanted columns of precast concrete and the visible undulations of the roof beyond shake up any clear mid-century formalism.
The atrium's roof segments are separated structurally from support for the remainder of the building (a concern in seismically active central Arkansas) but the threading was generally a thrill. Gang explained "I love the constraints, things that you can land on and things you can't."
The main entrance is a sort of peristyle in which a new second story "cultural living room" rings a Henry Moore-appointed courtyard. This blossom contains not new life but history, with the museum's original 1937 carved limestone entrance returned to use after decades of entombment.
Entering through the main doors reveals a series of a series of staircases and the broad atrium, where a series of plywood ribs hang from the folded concrete roof portions in zigzag pattern provide acoustic absorption and visual interest. Juliane Wolf, design partner at Studio Gang explains that it contains "over 6000 pieces that are all individually hung but no two of them are parallel."
The museum slopes down to a similarly styled one-story entrance and new café facing MacArthur Park. Landscaping by SCAPE provides a seamless transition between the larger park and the museum and unusually leafy parking. 
A Unifying Diagonal
Circulation in museums can be tricky; sometimes there's not much between the deadening linear sequence where you know far too well where you are and the hedge maze of more fanciful arrangements that might have you wondering how you'll ever get out. Gang achieved a great balance in the main galleries, largely square but with a diagonal main allée slashed through. "I've always liked museums where there is an enfilade but also a palace that you can get lost in," reflects the architect. That geometry also helped connect the otherwise disjointed existing structures.
Galleries themselves were designed with the museum's unusual collection in mind: former longtime curator Townsend Wolfe pursued a bargain-hunter's track, in many cases acquiring drawings instead of paintings; the results on display, from Signac to Rembrandt to Piranesi to Rodchenko, testify to the merits of this approach. Natural light is no friend of these works and is kept skillfully away. A larger gallery near a picture window contains works less sensitive to sun, with an installation, Spring Song by Natasha Bowdoin designed for easy visibility from the exterior.
An Art Museum with Local Character
It's a rare occasion when two museums designed by the same architecture firm open at essentially the same time: With Gang's Gilder Center at the American Museum of Natural History in New York opening a mere two weeks after the Arkansas Museum of Fine Arts, we are in such a moment. Normally the world would receive obvious variations on a theme; that's emphatically not the case in these two projects. Nature is a rough inspiration in both cases but the barnacular reef of the Gilder Center is about as far as you can get in nature—or design—from the bright orthogonality of the museum in Little Rock. Gang explained her aim in Arkansas. "There's a tendency at an art museum to want to be an international art museum and want to have an international architect but to me that makes it all feels the same: I want it to be from here."
Would you like to comment on this article? Send your thoughts to: [email protected]