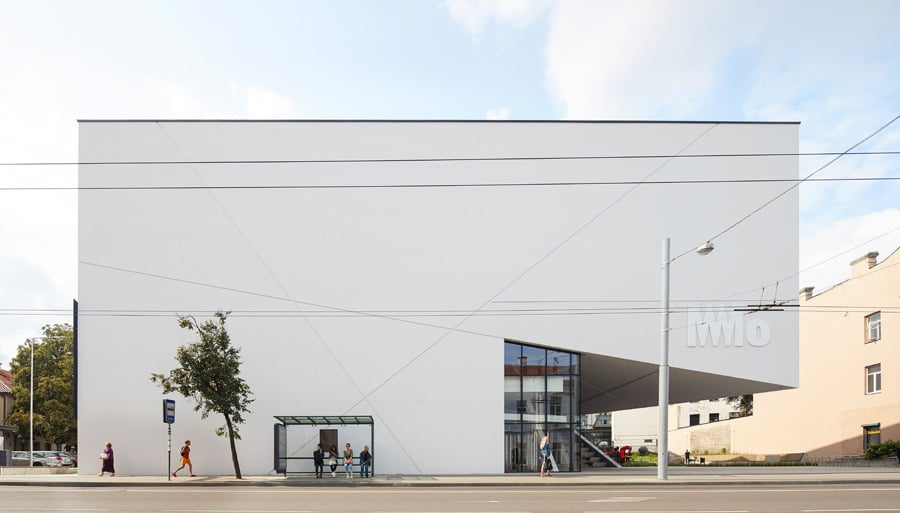 October 18, 2018
Studio Libeskind Designs a Bold Yet Contextual New Art Museum for Vilnius
The crystalline MO museum, which opens today in the Lithuanian capital, is the crown jewel of a larger cultural renaissance.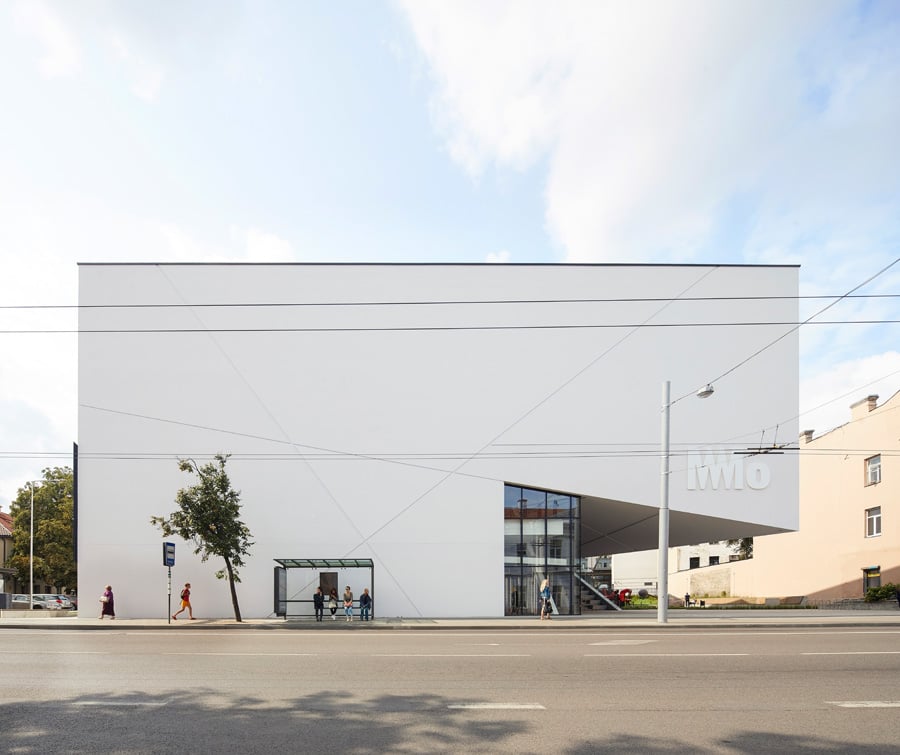 Despite occupying the geographical center of Europe, Vilnius, Lithuania could never claim to be the continent's cultural capital. You might even call it sleepy. But this lovely city of Baroque architecture and rolling landscapes is visibly waking from its slumber, becoming a haven for creative people like street artists, designers, chefs, DJs, and architects. It's also gotten a whole lot of attention thanks to its controversial tourism-board-created nickname, the G-Spot of Europe. (Hard to find but..well, you get it…)
Another vital (and less scandalous) piece of the city's cultural rekindling is its new MO museum, designed by Studio Libeskind with local firm Do Architects. The audacious structure, dedicated to modern Lithuanian art, is located just outside the city's historic wall, at a crossroads between its old and new towns. Although it opens today, it's already starting to act like an urban magnet, attracting people and energy to its neighborhood and the city as a whole.
The 33,000-square-foot building was privately funded by local philanthropists Viktoras Butkus and Danguole Butkiene, who were determined to fill in Lithuania's artistic blank spots and elevate its world profile. Clad in troweled stucco, like most of Vilnius' frontages, the MO is essentially a deconstructed white box, consisting of two fractured, interlocking masses. Its steel-framed structural gymnastics carve out a wedge-like center, unlocking a glazed, deeply-shaded entry, an active front plaza, and a grand public stair burrowing through the building's heart toward a rear courtyard and amphitheater.
---
More from Metropolis
---
The porous, interwoven composition, framing enticing glimpses through the museum's heart, pulls energy and people into its vicinity, welcoming the city inside. Visitors can explore its many public areas, which also include a sculpture court hugging the museum's edge, at all times. And once inside they take in light and views from all directions, soaking up the area's messy vibrancy.
"It's a celebration of being in the city," says Libeskind, whose goal was to create a structure for everyone, not just well-educated and well-heeled culture lovers. "It's as much about streets and people as it is about art."
The double-height lobby, with its glowing, off-kilter white walls and understated palette, first gives you a tantalizing peek via a long, glazed bar at the museum's collection, which is mounted on rolling walls in storage. The museum's free-standing concrete spiral stair, wrapped in rolled black steel, flows up to a small mezzanine photo gallery and adjacent library (with museum offices across the public stair), and then to a capacious top floor main gallery. That open, flexible space—clearly the museum's centerpiece—feels even larger than its 10,000 square feet, thanks to soaring ceilings, mammoth windows, and a lack of columns. Its tilted geometries, drawing visitors through the art and to the views outside, create shade, limit reflections, and evoke a sense of constant movement and tension.
The MO's exceptional collection includes 5,000 pieces of Lithuanian art from 1960 to the present, making it the largest of its kind in the world. Many works have never been seen by the public, since Soviet-era officials once banned all but approved "Socialist Realist" work that promoted communist ideals. The inaugural exhibition, All Art Is About Us, interweaves pieces from radically different time periods and explores key themes like myths and legends, abstraction, nature, and loss of control (a situation this oft-conquered country is all-too familiar with.)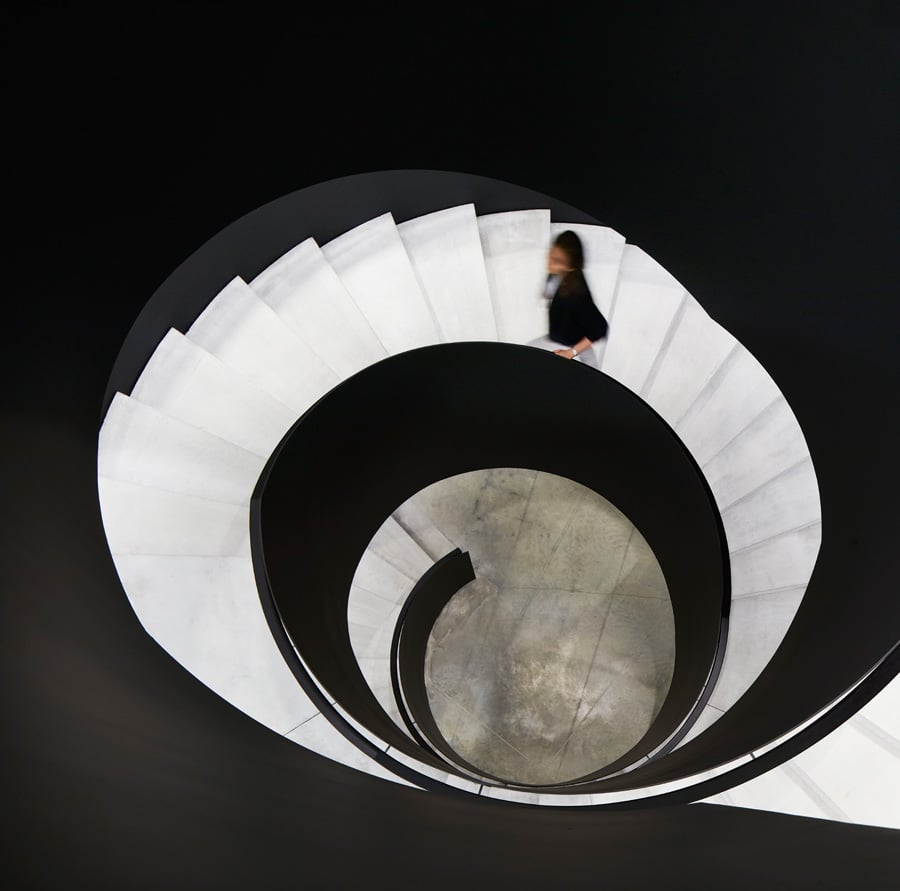 The project, which cost approximately $7.8 million, is the culmination of Vilnius's decade-long quest for a new art showpiece. Butkus and Butkiene first held a competition for a structure on the city's riverside, near a planned Guggenheim museum by Zaha Hadid. Both projects died at the usual hands of money and politics. Once the current scheme finally got going, locals feared that its form—on the site of an abandoned Soviet-era cinema that nonetheless elicited some nostalgia—could damage the city's charm and scale. ("They thought we would create a spaceship," jokes former Libeskind associate Giuseppe Blengini.) But while the building looks nothing like its historic neighbors, its materials, size, and even employment of an internal courtyard all feel very much at home. Several design-savvy stores, cafés, and restaurants, well aware that the MO would soon open, have already started popping up nearby.
There are a few missed opportunities—the lobby, while refreshingly unpretentious, lacks a certain wow factor; it would be nice to have sweeping views of the historic city in addition to the newer one; and you still get a sense that Studio Libeskind could add something new to its crystalline formal repertoire. But the museum is without a doubt a success—an electrifying and inviting game changer for a place that certainly needs one. With its stirring embrace of its surroundings and its elegant, but not precious, relationship to art and space, it provides valuable lessons for an art world that tends to take itself too seriously and turn its back on those outside its cloistered confines.
Lithuania, too, can have that reputation, but things are changing fast and the country is clearly trying to lift its austere facade. In this troubling time of turning inward and building walls, it's a big deal to celebrate a new institution that is doing just the opposite.
You might also like, "A Modernist Shopping Mall Is Reborn as an Exuberant Museum in Helsinki."