December 4, 2019
Studio Schicketanz Takes on Net Zero in a New Residential Project
A residence in Carmel Valley fuses its clients' love for the past with sustainable, contemporary living and forward-looking building products.
Sometimes it's crucial to know when to walk away and start from scratch. 
"It was just very schizophrenic," architect Mary Ann Schicketanz recalls of a house she remodeled years ago in California's scenic Carmel Valley on the Central Coast. Given that it was the second home she worked on for her clients, a couple of math teachers turned textbook publishers, Schicketanz had a strong relationship that allowed for direct, honest communication. 
"It had no clear concept, and I said it will never be a good house," the Carmel-based founder of Studio Schicketanz explains. So, she eventually told them, "'If you want a good house, we've got to build your house.' And they went for it." 
---
More from Metropolis
---
After 16 months of design and 18 months of construction, what resulted is an environmentally conscious, carbon net-zero home located just a few miles inland from the Pacific Ocean at the Tehama development, which was founded by famed Carmel denizen Clint Eastwood. The residence reflects the owners' travels and passions, and is designed for the retired occupants to age in place.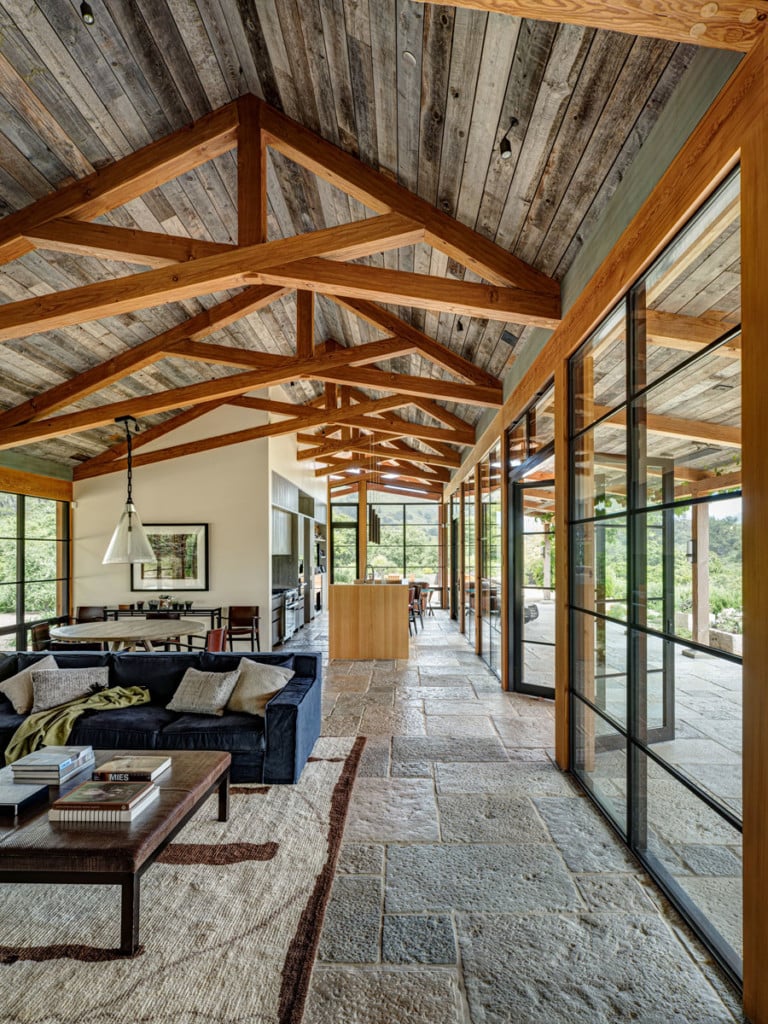 The main house itself is 3,570 square feet, with an ample garage area and a 2,000-square-foot caretaker's residence built directly underneath, thanks to the sloping site. (An elevator connects the levels, and the entire home is ADA accessible.) While the property feels blissfully remote, the location is within about a 10-minute drive from commercial amenities. In other words, it's an ideal balance of urban convenience and solitude. 
Schicketanz's team created fluid spaces to maximize indoor-outdoor living, and a plan that centered around a mature oak tree in the courtyard. She also collaborated closely with the couple to integrate their sensibility into a different aesthetic. She became familiar with her clients' belongings when she was involved with one of their previous home renovations. "Slowly, I noticed things would migrate out of the store room into the rest of the house," Schicketanz says. This time around, she already knew what resources were available to help make the house truly theirs.
Working on the Carmel home provided an opportunity to revisit the past through a contemporary lens. "They were really drawn to that country vernacular but they never knew how to marry [the style] with their ambitions of wanting to have a modern house," Schicketanz says. "They love surrounding themselves with these things. That was part of the inspiration for the project." The aluminum roof, cedar board and batten siding, and reclaimed wood from Montana that was used for the ceilings are in keeping with local rustic building traditions, and are materials that blend with the owners' furnishings and possessions, both new and old.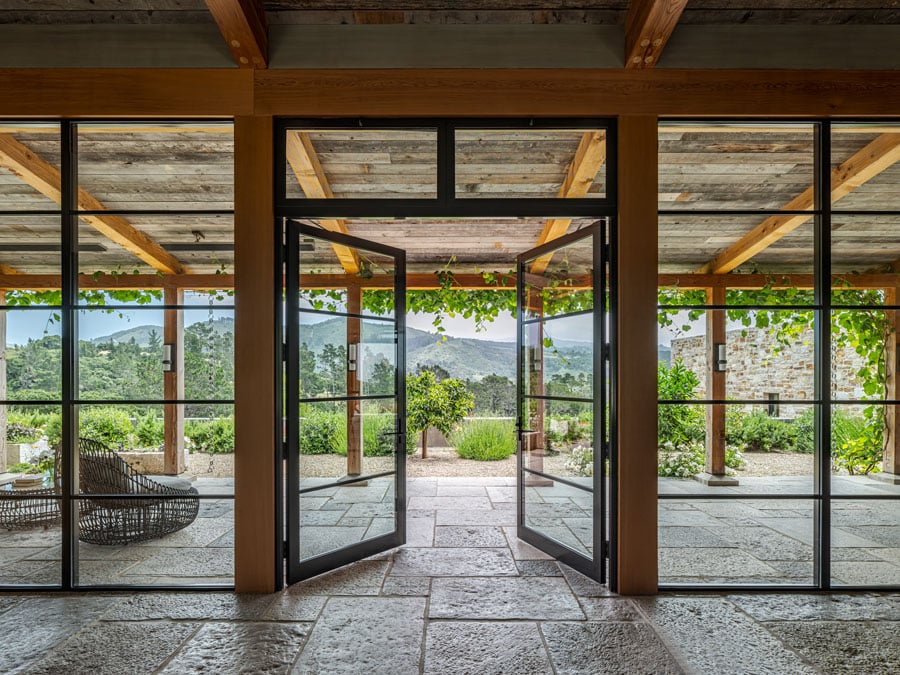 To achieve net-zero status, building components such as Blomberg Windows were mostly sourced within a 500-mile radius, and the house is equipped with Tesla Powerwalls for energy storage. A year after the house was complete and power bills and energy production were analyzed, Studio Schicketanz installed a 600-square-foot ground mount system to replace the first roof system. The Scaglione stone used throughout is a newer and experimental material of sorts for Studio Schicketanz; the manufactured solid, textured surfaces are based on molds of ancient stones from Jerusalem and other places that far exceed the 500-mile rule. "It's holding up nicely," the architect notes. Meanwhile, Schicketanz's firm's extensive experience in this region was a boon to managing expectations and navigating the various bureaucratic intricacies of building in this part of the world, too.
In the end, this fresh approach brought multiple elements full circle through thoughtful architecture and interior design that took location and personal experience into account. "I think they really loved the process. It was a lot of fun," Schicketanz says about the clients. "They themselves are such wonderful, interesting people. I admire people who come from unexpected places."
You may also enjoy "In the SF Bay Area, David Baker Architects Bucks the Trend of Dull Modular Housing."
Would you like to comment on this article? Send your thoughts to: [email protected]