June 3, 2021
An Outpost of the Swiss Government Is Rooted in a Multinational Modernist Legacy
In Chicago's John Hancock Center, an office of the Swiss Consulate was designed by HHF Architects and Kwong Von Glinow, who took cues from Swiss Modernist Otto Kolb.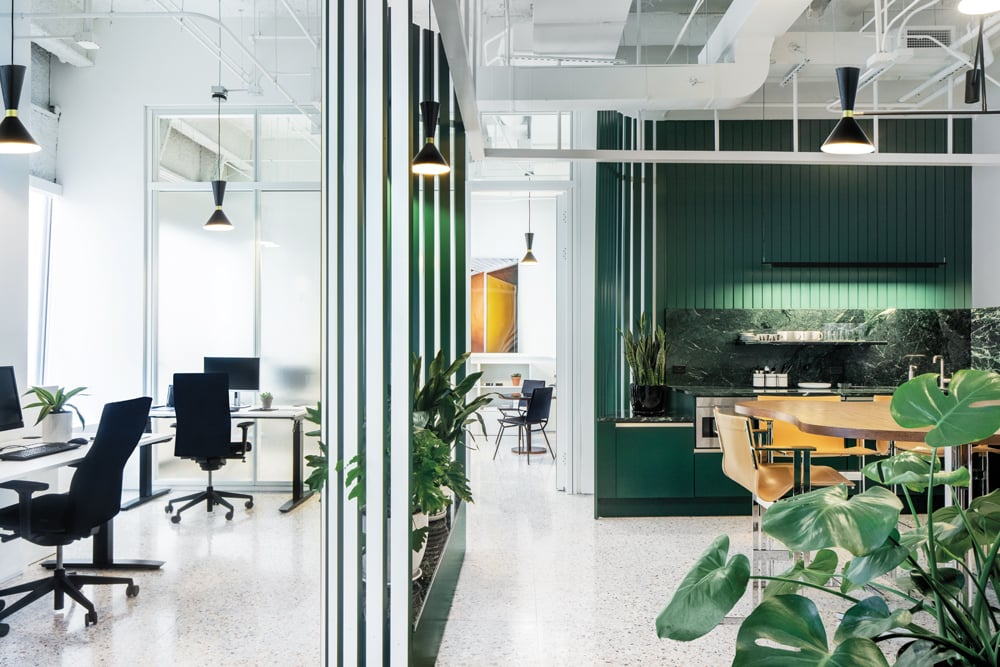 For the design of the Swiss consulate's new office in Chicago, the goal was to "tell a story that relates Switzerland to that city," says Jodok Brunner of the Swiss Federal Office for Buildings and Logistics (FOBL). A collaboration between Swiss firm HHF Architects and Chicago-based architecture practice Kwong Von Glinow, the newly designed workspace isn't crafting a new story from whole cloth so much as updating a little-known but (very) long-running narrative.
The outpost's origins date back to 1864, when Switzerland became the first country to open a consulate in the Windy City. It also revives the legacy of Otto Kolb, a Swiss architect who taught design at the Illinois Institute of Technology in the 1940s and '50s. Revisiting his oeuvre, the renovated interior adds to the story of the Switzerland-to- Chicago axis, which is itself a tale of émigré architects who moved to the midwestern city in the early 20th century, establishing it as a beachhead for Modernism.
The project begins with as good a starting point for Chicago Modernism as you can get. It's located on the 38th floor of the John Hancock Center, which HHF's principal and founding partner Simon Hartmann calls "the most beautiful office tower in the world."
---
More from Metropolis
---
The compact office, at only 1,500 square feet, is tied together by a "green core," a social kitchenette and lounge space adjacent to the entrance, a meeting room, and workspaces. Its sense of intimacy is a result of the private nature of this workplace; a bright red reception desk next to a mirror-polished chrome door is the only access point. Because this consulate is not visited by the public and is primarily a workplace for just five staffers, the design team wanted to "create something more domestic," says Kwong Von Glinow's cofounding partner Alison Von Glinow.
Deep green walls in the core area, which is adorned with potted plants and a green marble backsplash, create a sense of enclosure. A delicate lattice is a soft division of the space, transmitting light from the western-facing window wall while offering some separation from noise and distraction. This social space is a "total connector," says Von Glinow, who logged significant time in Switzerland while working for Swiss architecture firm Herzog & de Meuron with her Kwong Von Glinow cofounder and husband Lap Chi Kwong. "You're never really cut off from anywhere in the office," she says. "There's a sense of connectedness and continuity. We saw that reinterpreting and embracing Kolb's domestic explorations could provide a contemporary working environment for this small office."
The domestic scale of the office's central core is a reference to the central cylindrical fireplace designed by Otto Kolb for his home outside Zurich, which is similarly lush with interior foliage. The arc of the vertical lattice dividers presents a faint minimalist echo of Kolb's nested cylinders, and the furniture selected for the project offers organic folds of fabric juxtaposed with sharp wire or rectilinear frames. These updates to the midcentury furnishings are the result of a collaboration between Kolb's granddaughter Ginger Zalaba, herself an established designer and CEO of Zalaba Design, and the design team. It's hard to tell where work by the late designer, his granddaughter's permutations, and HHF's and Kwong Von Glinow's updates begin and end. "We systematically blurred authorship among us, but also with Otto Kolb," says Hartmann. The resulting continuum discards some of the manic energy of Kolb's architecture while retaining its cohesion and repackaging it in an efficient and collaborative workspace.
You may also enjoy "Louis Denavaut Imbues a Parisian Tech Company's HQ with Character and Poise"
Would you like to comment on this article? Send your thoughts to: [email protected]
---
Register here for Metropolis's Think Tank Thursdays and hear what leading firms across North America are thinking and working on today.