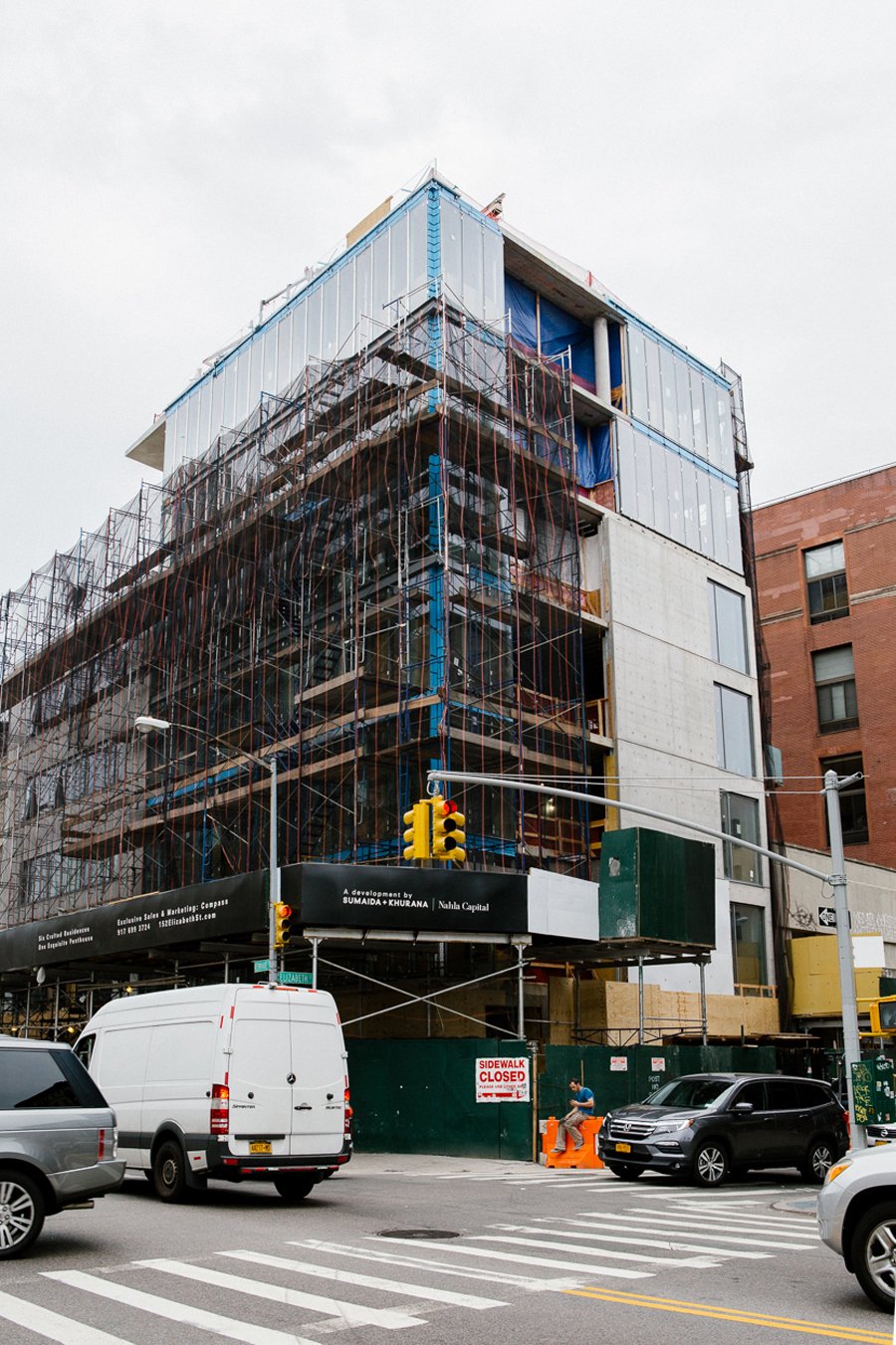 September 6, 2017
Inside Tadao Ando's First Building in New York City
An ambitious developer duo sets the bar high with a new multiunit residence by Tadao Ando—the Japanese master's first building in New York City.
"Ando-san was at the top of our list; I kept calling his office, trying to convince him for a meeting," says real estate developer Amit Khurana of his attempt to commission architect Tadao Ando for a multi-unit Manhattan residence for his fledgling firm, Sumaida + Khurana (S+K), founded three years ago with architect and builder Saif Sumaida. "I was in Madrid, meeting with investment partners, when I heard back. Let's just say I left my meeting and lost my investors, but won the talent."
The project in question, 152 Elizabeth Street—a seven-story jewel box made from glass, burnished steel, and Ando's signature, poured-in-place concrete—is still very much under construction and set to open this fall. S+K is confident of a successful coup, and rightfully so: While the Japanese master of minimalism has previously worked on interior projects in the city, the luxury multi-unit residence marks his first building in Manhattan.
The project is yet another addition to the continuing trend of world-class talents designing high-end New York residences for the (often foreign) buyer with deep pockets—one need only reference the row of needle towers amassing along Central Park South, some reportedly averaging sales at $7,000 per square foot.
---
More from Metropolis
---
A stone's throw from the foot of the Williamsburg Bridge and sited a block from the bustle of the Bowery, 152 Elizabeth Street surely signals a sea change for the increasingly tony Nolita neighborhood. But befitting Ando's elegant and subdued monumentality, these are luxurious accommodations at a comparatively quieter, less conspicuous scale: six units ranging from 2,000 square feet to 4,100 square feet, and one triplex penthouse comprising more than 5,600 square feet as well as a private rooftop terrace.
"I would like to make architecture that has that kind of subtle sensitivity," says Ando about the commission, in a short film released by S+K. "I would like to create something that only a Japanese person could do."
Khurana too promises a different approach: "As developers, we are great lovers of architecture. So much of what we do is oriented around the architecture, but our approach starts from the inside out—because people live on the inside, we want to focus on creating a quality interior environment that also speaks to the exterior." To that end, he enlisted the renowned architect and designer Michael Gabellini, of Gabellini Sheppard Associates, known for a not-dissimilar luxurious but spare aesthetic, to join the ambitious enterprise as interior architect.
The model unit, currently available for view by appointment, is uncannily hushed thanks to airport-grade glazing with "an exceptionally high OITC rating," Gabellini points out, an impressive asset for downtown living. Throughout, elevated natural materials—floors and corridors wrapped in Dinesen oak plank; slabs of cooling Bianco Sivec marble in the bathroom; kitchen cabinetry made from sheets of eucalyptus wood, custom-cut from the same tree, paired with Gaggenau appliances galore—further craft a serene sensuousness heightened by defining details.
In Ando and Gabellini's vision, luxury is clearly rendered as a rarity of technical and aesthetic precision. Perfectly mitered corners, custom hardware, and floating ceilings in the manner of Mies van der Rohe make for a pristine interior suitable for a prized art collection (not coincidentally, the units will include a built-in dehumidification system). The lobby, when complete, will include a lush water feature, and later this fall, a seasonal green wall designed by Ando with landscape architects MPFP will adorn the building's south-facing facade, bringing a burst of color to the block.
For Khurana and Sumaida, 152 Elizabeth is simply part of a three-for-three score for their overarching goal to bring great architects to every building project they execute. For the time being, that budding portfolio consists of luxury multi-unit residences in Manhattan by star architects: an 80-unit, 34-story residential tower in Hell's Kitchen by Álvaro Siza, the Portuguese Pritzker Prize–winning architect's first in the city, is currently under way.
But Sumaida—who, having studied architecture at Cooper Union, describes his 20-plus-year foray into construction and development as happening "almost by accident" and doubtless holds an edge by knowing the profession from both sides—insists that goal will eventually apply to a variety of building types, other urban markets, and potentially other countries as well.
"As a builder," Sumaida says, "I don't really discriminate."
If you enjoyed this article, you may also like "SHoP Used 4.25 Million Pounds of Copper Cladding for These Manhattan Skyscrapers."