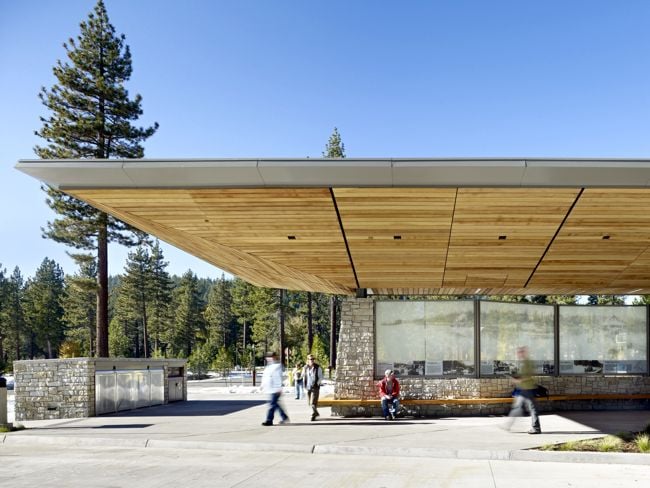 June 17, 2013
Tahoe City's New Architecture Showpiece Makes Mass Transit More Appealing
By getting tourists out of their cars, the Tahoe City Transit Center protects its surroundings.
Set in the scenic environs of Lake Tahoe, the transit center encourages visitors to use public transport.
---
More from Metropolis
---
Courtesy Bruce Damonte
With a rugged landscape cherished by outdoor enthusiasts, the area around Lake Tahoe in California is renowned for its natural beauty. However, the region's popularity also has  generated problems—growing traffic congestion and the environmental deterioration that comes with it. In hopes of improving the situation, the local government recruited San Francisco–based WRNS Studio to design a showpiece transit hub in Tahoe City to make area bus service more appealing. "They wanted to entice people to get out of their cars and into public transit," says Wright Sherman, a partner at WRNS and the project architect. "The hope is that people will park their cars [when they first arrive in the area]," adds WRNS's founding partner Jeff Warner, "and then get on one of the buses to visit other points around the lake."
Building the Tahoe City Transit Center required coordination between government agencies at local, state, and federal levels, because the site is located on U.S. Forest Service land. The area also has famously heavy snow loads of up to 250 pounds per square foot. And everyone involved wanted to build an efficient transit hub without ruining the site's natural appeal.
Most of the transit center's peak-load lighting needs are met with solar panels.
Courtesy Bruce Damonte
The solution developed by WRNS revolves around a roadway loop, with bays for six buses. The building at the center of the loop offers a mix of indoor and outdoor waiting areas covered by a long, low, 5,000-square-foot roof with dramatically expansive eaves that shelter passengers as they board buses. "We wanted to step as lightly as we could," says Warner. "So instead of shedding snow off the roof, which would increase the amount of land we needed to build this facility, we looked at holding the snow on the roof—and then using that water as a resource."
The dramatic roof, which collects snow and repurposes it, is one of many sustainable features.
Drawings courtesy WRNS Studio
The resulting roof design, which employs plenty of hidden structural steel, is vaguely reminiscent of one of Lake Tahoe's traditional wood-hulled boats. In the winter, an ice-melt system gradually turns snow into water, which is filtered and stored in a 4,000-gallon cistern for irrigation and toilet flushing. In the summer, the laminated solar cells on the roof deliver up to 80 percent of peak energy demand. Even the roof's shape is designed to make the building more comfortable—in warm months, it provides shade for the interior spaces; in cold months, it allows sunlight to pour inside.
The transit center's sunlit waiting room.
Courtesy Bruce Damonte
Beneath the roof, there is an 1,100-square-foot waiting room, a same-size outdoor waiting area with benches, two restrooms, a small office for one employee, and bike lockers. Most of the structure is clad in local materials—western red cedar and Sierra granite. Wood surfaces that require more durability, including benches and doorframes, are made from Douglas fir. "We worked hard to create a modern, forward-leaning building that was still uniquely of its place," says Warner. Because it is also meant to be an example of sustainable design, bronze plaques embedded in the granite walls explain the building's systems to users.
Opened last October, the center is already encouraging more people to use public transit. "This facility just increases the overall awareness of the system," says Will Garner, transit manager for the Placer County Department of Public Works, who notes that passengers previously had to dash across a highway to transfer between buses. "This is the first time I've actually seen people walk onto buses with ski boots on," he says. "That tells me how easy it is to get to the front door of one of our ski areas."