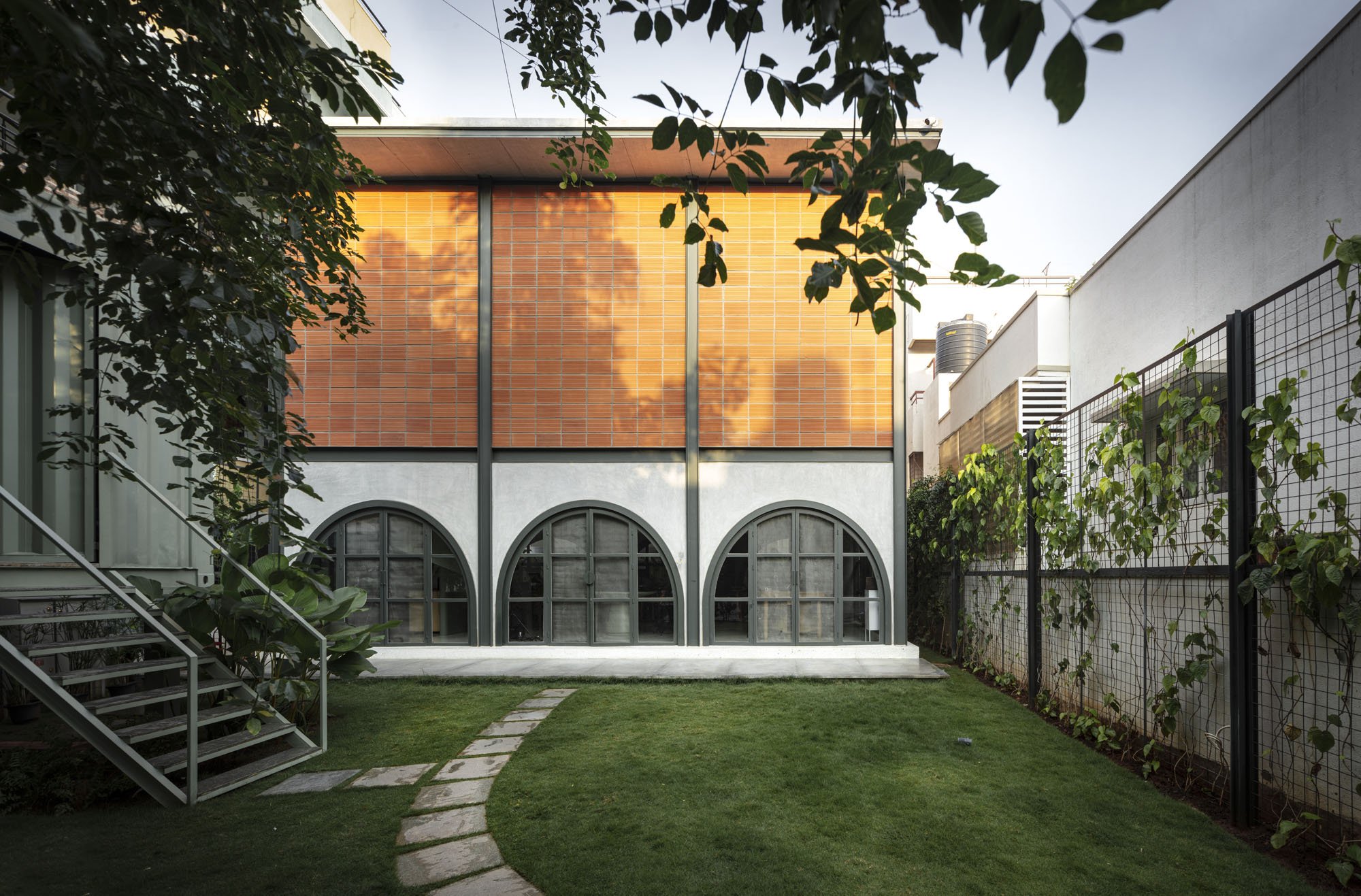 April 5, 2023
In Its New Studio, Taliesyn Design Showcases Biophilic Design Prowess
For nearly two decades, Taliesyn Design & Architecture has embraced biophilia with a particular flair for materiality and the advancement of craft's expression through construction. With its new 2,400-square-foot space—nearly half of which is landscaping—the Bengaluru, India based studio has translated the practice's ideologies and work ethos into a functional, well-crafted workplace.
Crafting a Biophilic Campus
Existing site conditions, local resources, and a wisp of serendipity inspired the solution for the petite campus. Visitors enter from the northeast corner by way of a modest stone tile path that bleeds into the lawn as it meanders through a landscaped garden, organic in both styling and flora. The property is anchored by a native Indian Beech tree, which serves as the site's nucleus, and is then parsed into sections for social interaction, material research and experimentation, and the studio proper.
Flanking the main foliage to the south is a refurbished shipping container stilted above a sunken outdoor space thinly veiled in gridwall fence panels that allow for vine growth without obstructing sightlines across the lawn. The recess is lined with hollow terracotta blocks and recycled materials from the site creating a proprietary blend of patterns and textures—a Taliesyn motif. This semi-open footprint provides a continued courtyard experience visually while demarcating the seating area below often utilized for dining or respite, especially when it is made host to informal events or social activities.
The defunct shipping container—acquired from a reseller in Chennai, the nearest port to Bangalore—is another of several eclectic construction materials sourced locally for this project. Yet, it presented the biggest challenge in its adaptive reuse. The container's dimensions were altered, exterior treated, and interior insulated to assure thermal comfort for inhabitants while maintaining the ideal environment for the material library.
To the west stands the two-story main studio. The facade is bifurcated horizontally with a bold, exposed structural skeleton that creates the framework for terracotta blocks on the upper portion, which act as a backdrop for the Beech tree's emerald canopy, while cement arched panels outfitted with glass fenestration wrap the ground floor in a grand gesture. The first story is perforated with rectilinear windows that provide daylight and airflow for natural cooling while the ground level's terrazzo floors were cast on-site using recycled broken chips.
---
More from Metropolis
---
Inside Taliesyn Design & Architecture's Studio
Internal volumes are less rigid, laid bare to augment visual connections through the expansive space from nearly any position. A variety of distinct, oiled beech furniture pieces and notable fixtures indicate programming, which includes a lobby and its signature circular metal stair, the designers' workstations adjacent to administration, concealed powder rooms, and a mezzanine discussion area above. The upper floor also transforms from the founders' private sanctuary to a conference area, maintaining a sense of transparency as there is no envelope segregating it from the studio.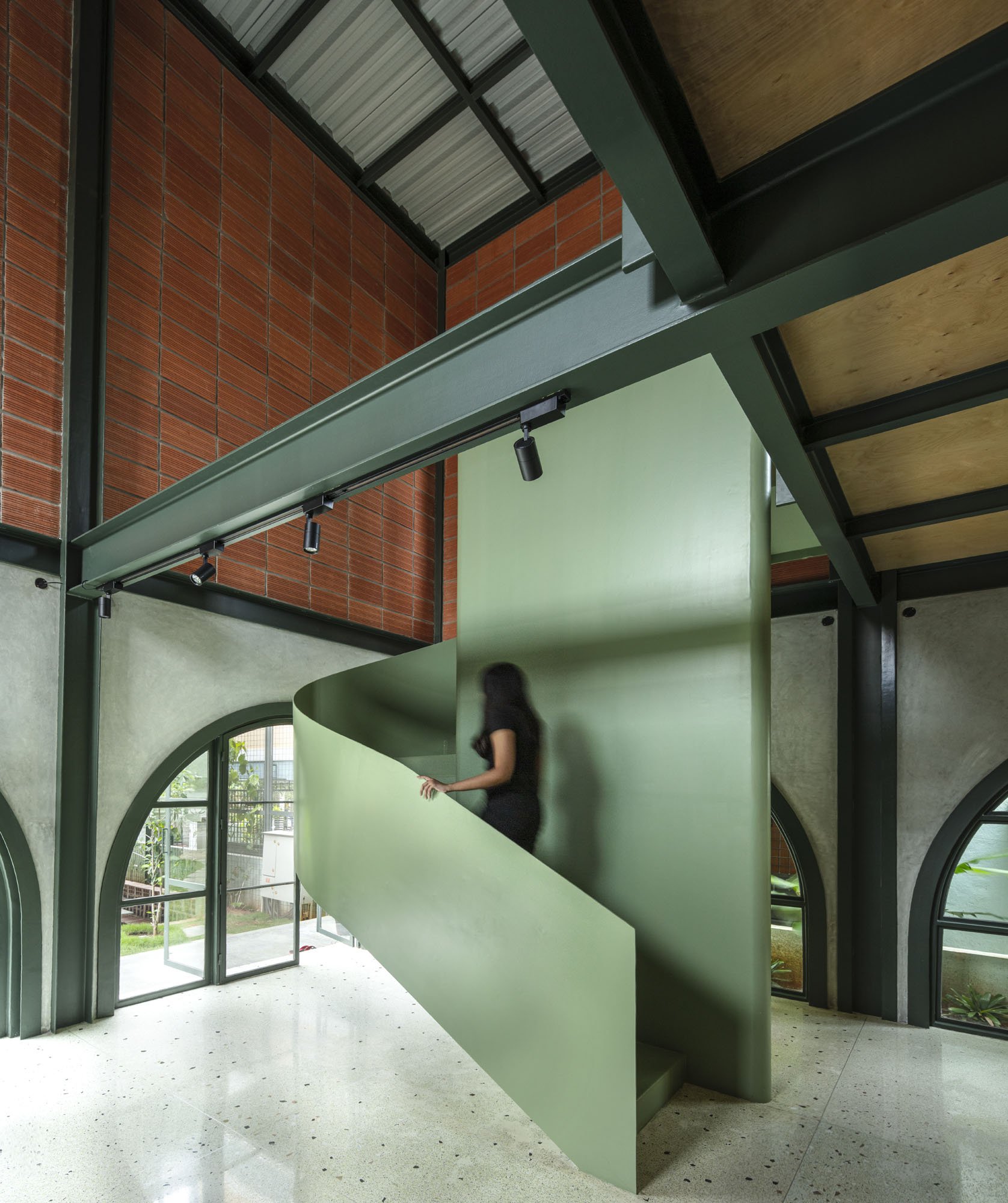 Capping the mass is a simple two-layer roof structure made of concrete and metal sheets that house solar panels, which meets all their electrical needs, and a rainwater harvesting system that anticipates a more sustainable future.
Projects like this buck the oft homogenous visual language of passive design proving that biophilic solutions yield a high experiential return on investment. "The space is holistically woven to create an ambience embracing the materials' honest untreated characteristics and maximizing their natural physical properties," says Mahaboob Basha and Shalini Chandrashekar, Taliesyn's principal architects and directors. "Building on a sense of nostalgia to connect the old studio with the new, this simplistic workspace inculcates the collaborative effort inherent in our practice."
Would you like to comment on this article? Send your thoughts to: [email protected]