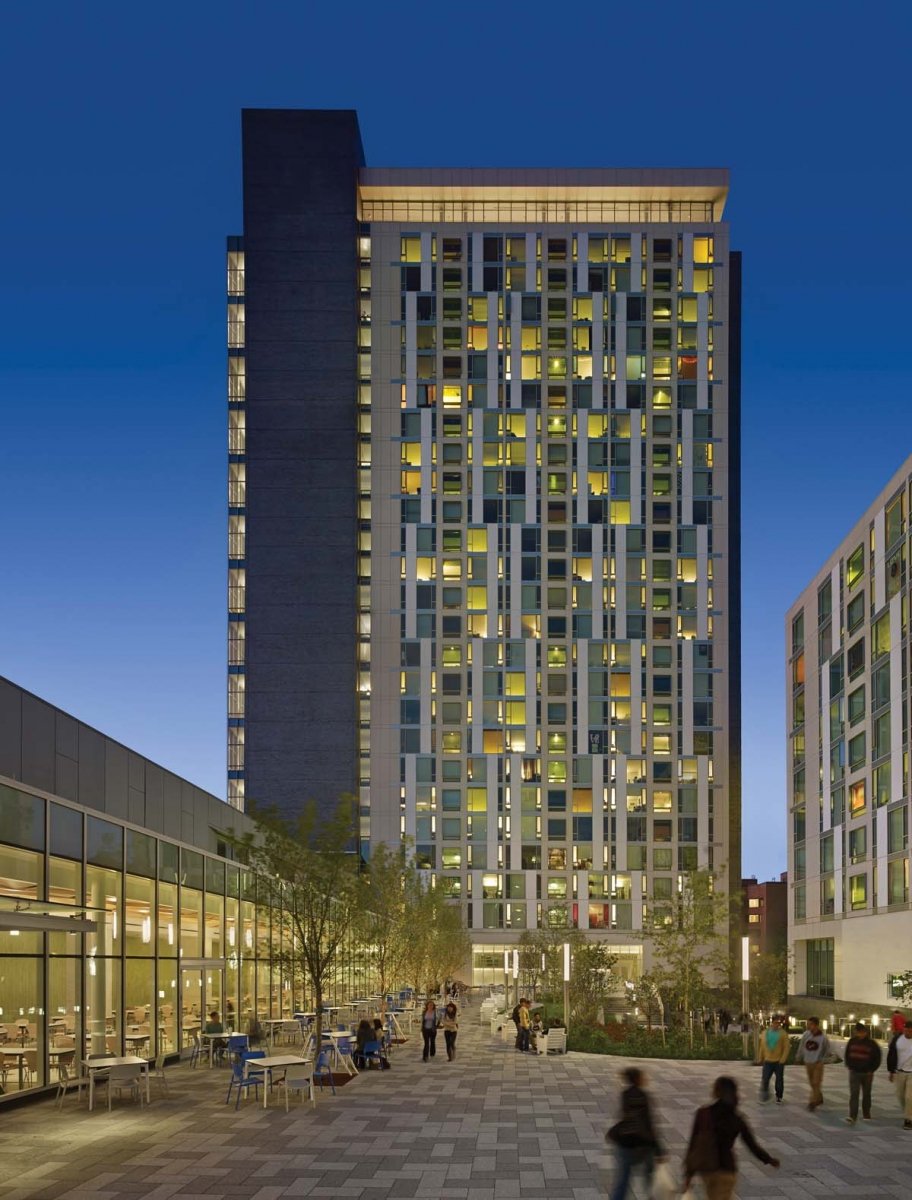 October 14, 2014
Temple University's Morgan Hall Is a New Model for Student Housing
In northern Philadelphia, MGA Partners builds an urban oasis for Temple University students.
"There's nothing random about this facade," says Dan Kelley, Morgan Hall's architect. "The vertical windows, which are operators, go all the way down. So the pattern lines up in terms of the structure, enlivening it without looking like a barcode."
Courtesy MGA Partners Architects
In the early 1960s, Philadelphia became a center of innovative architecture, as Louis Kahn, Robert Venturi, and Romaldo Giurgola redefined the course of American Modernism. Though both his contemporaries achieved lasting fame, Giurgola, who focused on teaching and building but wrote relatively little, has been relegated to the annals of architectural history.
Yet his namesake firm—MGA Partners—lives on. "The idea is not to repeat what Aldo was doing, but to carry on the legacy of the firm," explains MGA principal Dan Kelley, a Giurgola protégé who has led the firm since the late 1980s. Kelley and his team have designed various buildings in Philadelphia and nationally, with an eye to the master's values—namely the importance of place.
---
More from Metropolis
---
Their 2013 Morgan Hall dormitory for Temple University in North Philadelphia continues Giurgola's emphasis on context. Built atop a former parking lot, Morgan Hall unifies the cacophony of educational and residential structures on campus, and assuages issues over housing and territorial expansion between the university and the surrounding working-class neighborhood. It does so without expanding Temple's footprint—to which locals are adamantly opposed—and further opens the main north-south axis of the campus to that community.
The central elevated courtyard, landscaped by OLIN.
In this way, the project, which comprises a 27-story tower and two adjacent housing blocks, is the fulcrum of Temple's urban campus. Its central pedestrian thoroughfare, Liacouras Walk, extends toward Center City via Morgan Hall's sweeping entry staircase on Cecil B. Moore Avenue; the latter leads to a cloistered courtyard, around which all student entrances are located. The trajectory continues diagonally to another stairway at the corner of Oxford Street and Broad, Philadelphia's most important corridor.
The tallest structure north of Center City, Morgan Hall's tower is Temple's definitive architectural object. Its curtain wall facade incorporates rhythmic bands of white tile, while the charcoal brick cladding the service core creates continuity with the area's red-brick institutional buildings. The butt ends of the oblong frame the dormitory's key social spaces, such as the double-height, glass-framed lounges—located throughout Morgan Hall's three housing structures—that organize the 1,275 residents into social groups of 60. "They're like neighborhoods," says Kelley. "One of the primary challenges was to subdivide more than a thousand students into groups that will make them feel comfortable." Inside, public areas and four student suites contain Herman Miller, Vitra, and Knoll furniture; wide-screen televisions; and sweeping views of Philadelphia and neighboring New Jersey—appointments that resemble luxury housing more than inner-city dorms.
Kelley sees his own emphasis on craftsmanship, evident in the detailing of the ceiling in the tower lobby, as a result of Giurgola's mentorship and legacy.
The residence emerged from MGA's master plan for the campus, designed in 2009. The firm stipulated early on that Temple hire a campus architect as part of its investment in architecture, and also called on the school to rebuild its library as a campus crucible. Though another master plan has since been adopted, Temple selected Snøhetta to design its new library, following MGA's recommendation. "I like to believe that they saw Morgan Hall and said 'Wow, we can have good architecture,'" explains Kelley.
Ultimately, Morgan Hall's immediate impact is positive: When students leave the neighborhood and move back onto campus, they mitigate clashes between the university and the surrounding community. Students receive high-quality lodgings, and, as the university's representatives eagerly note, the businesses inside Morgan Hall provide employment.
But that economic relationship might suggest a more troubling long-term result: If Morgan Hall suggests the future of Temple's buildings, the arrival of luxury-grade student housing also portends even faster gentrification for North Philadelphia. To that end, one hopes that Temple's newfound commitment to good architecture gives locals access not only to cafeteria jobs, but to living arrangements of comparable comfort as well.