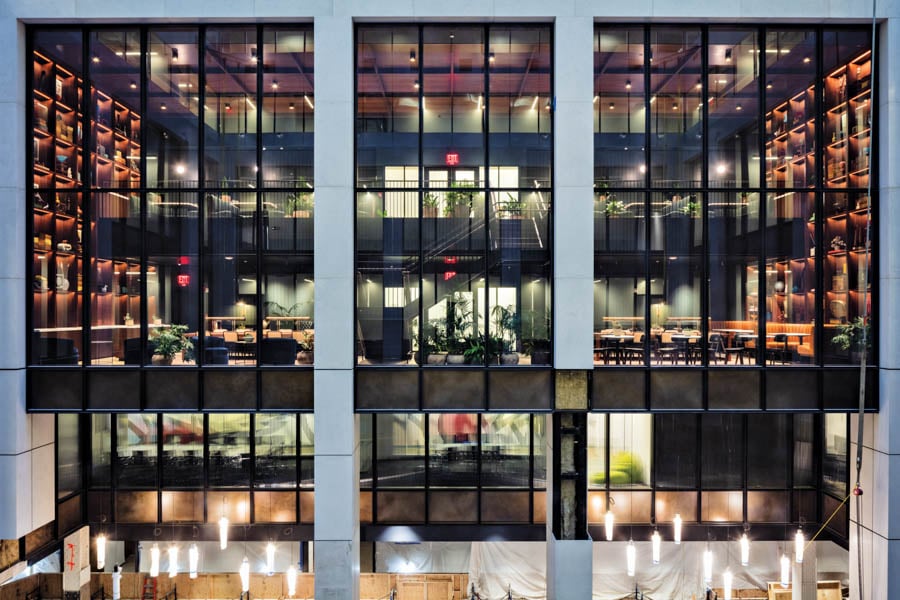 February 12, 2020
Tech Start-ups Find a Shared Home at The Company Building in Manhattan
While the SHoP-designed project offers an antidote to many of Silicon Valley's ills, a larger urban dilemma remains.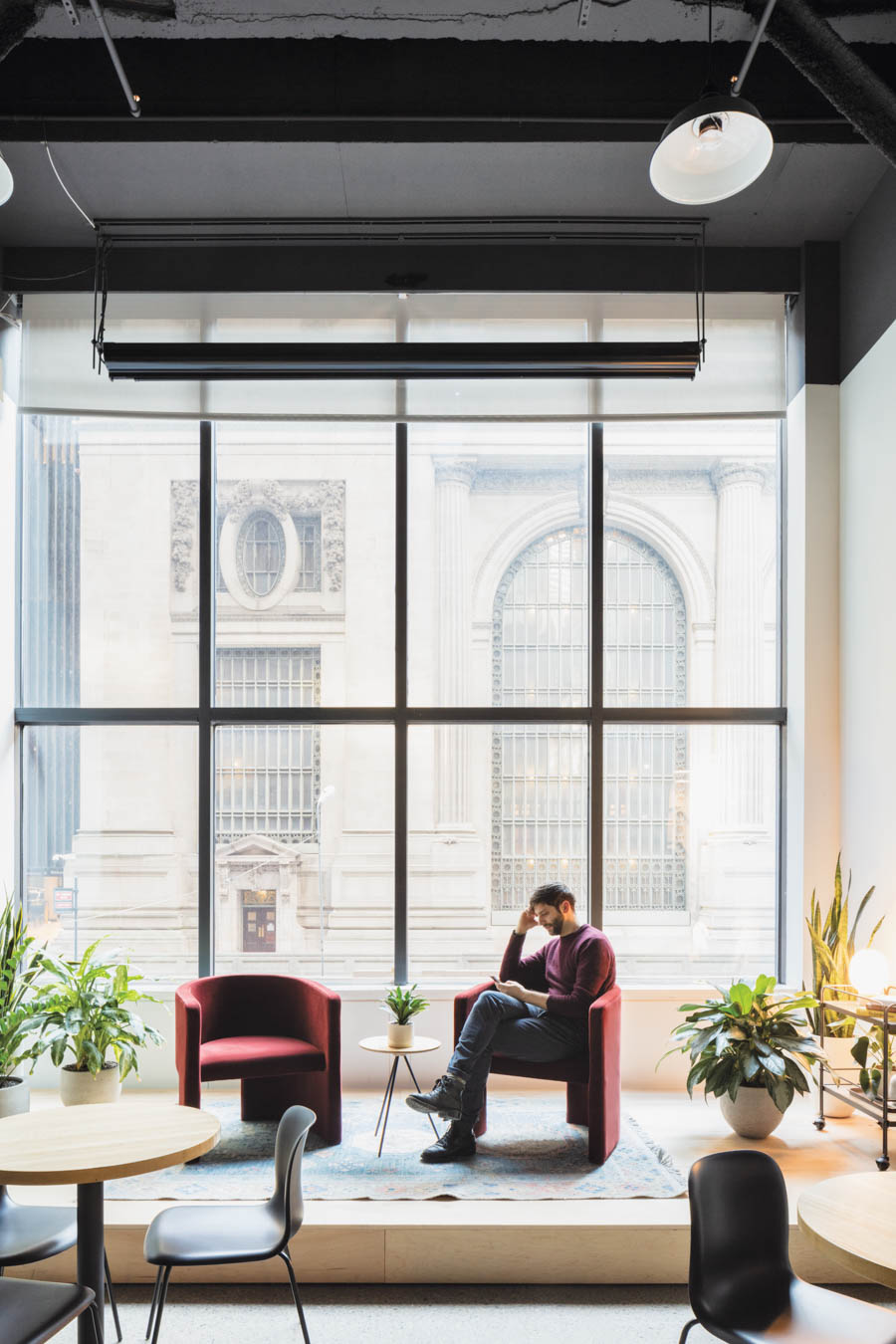 ---
On an upper floor of 335 Madison, a 29-story glass-and-granite office building across the street from New York's Grand Central Terminal, there's an austere space painted all white, spotted with communal desks, low couches, and minimalist chairs. Potted snake plants and fiddle-leaf fig trees provide decoration, and copies of Kinfolk magazine fan out across coffee tables. A large sculpture by the Japanese artist Takashi Murakami towers in a corner, awaiting its move to the lobby, currently under construction.
The environment is closer to a massive coffee shop than a standard midtown workplace, but that's exactly what 335 Madison, now branded as The Company Building, is trying to sell—specifically as office space for tech companies. (What's defined as technology is loose; tenants range from co-living start-ups to manufacturers.) It's meant to look homey, "like your cool friend's apartment," says Paris Smith, Company's head of brand, on a recent tour of the in-progress renovation, which was sensitively designed by SHoP Architects in close collaboration with the building's owners, Milstein Properties. "Our whole vision really comes from the concept of making the workplace feel like your favorite hotel," Smith explains.
In tech-industry parlance, "full stack" denotes an engineer who can handle all levels of software design, from user experience to back-end databases. The Company Building offers a kind of full-stack commercial architecture: It contains space and amenities for every size of business, from a dedicated coworking area on the 16th floor for solo start-ups to self-contained offices on the fifth through seventh, up to the empty higher floors, which are marketed for much larger businesses to take over, as Facebook has on the 17th.
---
More from Metropolis
---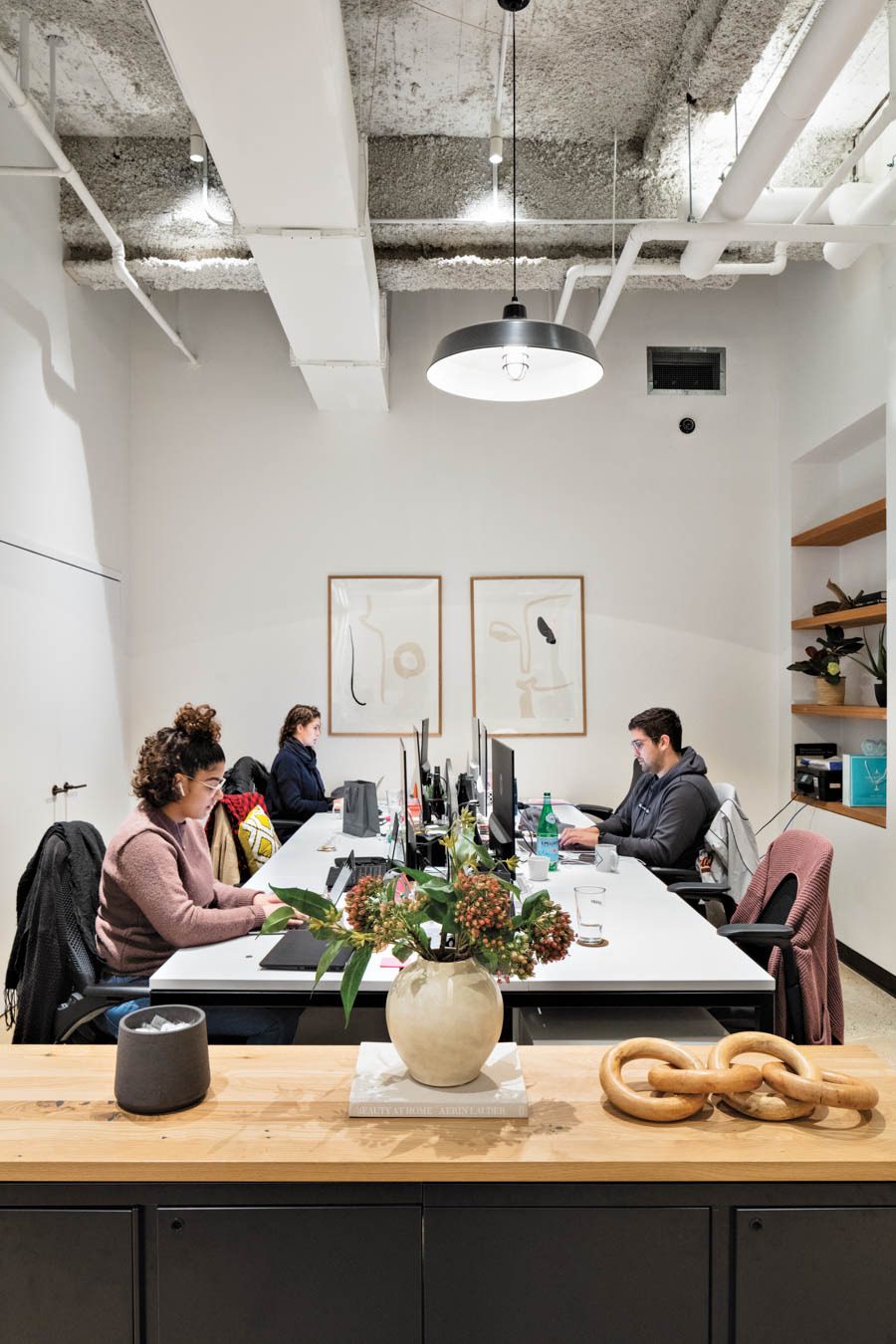 ---
The ready-made office spaces are all already operational; only one remained empty at the time of my tour in December. As a business grows (or shrinks), Company makes it easy to change offices on demand like a hermit crab swapping shells. As Uber is to cars or Airbnb is to apartments, "this is real estate as a service," says Alexi Nazem, whose start-up Nomad Health moved through six different spaces in the building as it grew from five employees to 90. "It allows me to focus on growing my company."
Company will also become a home away from home when the rest of its amenities are finished over the course of this year, with the gym due to open by early 2021. Smith compares the building to the campuses of the largest tech companies like Google and Apple, which feature perks like free cafeterias, fitness centers, and doctors' offices inside the corporate confines. But rather than have to pay for all these services, Company's tenants get them along with their space in the building. The completed design features a pool, spas, and workout areas, as well as cafés, restaurants, and bars. Company will operate all of the on-site facilities, so tenants can offer chosen staff members corporate accounts, perhaps as a way of sweetening a job offer. A forthcoming retail area off the lobby will provide stall space for smaller local brands, or even direct-to-consumer start-ups in the building, where they can market-test products.
Smith describes it as a "day-to-night concept." Not only do the start-ups never have to move out, the employees never have to leave. The suburban corporate campuses of midcentury and the faux-utopian Silicon Valley compounds are thus transposed to the fabric of midtown Manhattan, a place where it's usually hard to be as self-enclosed as The Company Building. The lower areas might be public, but they're public in the manner of a hotel—an advertisement for what you don't have access to, and a way to keep tenants spending money while feeling a superficial sense of connection to the outside world.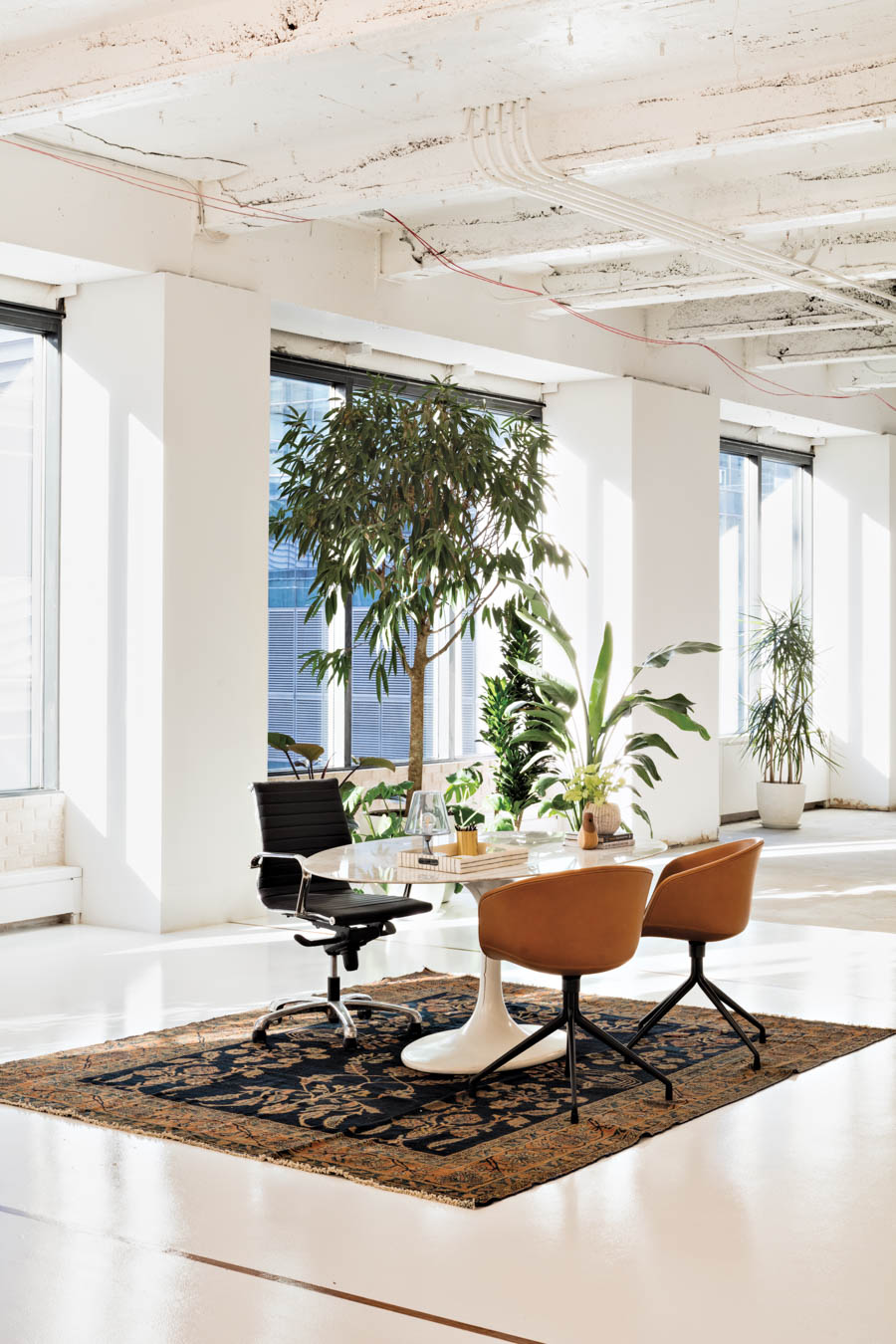 ---
Originally 335 Madison was the site of the Biltmore Hotel, opened in 1913. Architects Whitney Warren and Charles Wetmore's grand, hieratic block pioneered the use of air rights by buying up the space over the yards of Grand Central. The building survived until 1983, when the firm Environetics (now ENV) remodeled it as the red-granite monolith that stands there today. A central atrium pierces the building, giving it the slightly claustrophobic, panopticon-ish effect of a science-fiction film set. In 1985 the New York Times deemed it "awkward" and "dead as a doornail." Bank of America used it as a headquarters, but Milstein eventually found itself with a third of the space empty and decided to rethink its purpose.
The concept for The Company Building evolved from Grand Central Tech, a start-up incubator that Milstein launched in 2015. Most incubators take equity in a start-up in exchange for some investment, logistical support, and growth advice, but not Grand Central Tech, which offers a year of office space for free, along with its community and event programming. The incubator acts as a scouting mechanism for the real estate. Many of the companies choose to stay in the building and pay rent, either for the coworking space or for a separate office. Start-ups also provide the marketing pitch: Larger companies can mingle with smaller, more dynamic projects in the hopes that some of the energy will rub off.
Milstein carried out an extensive survey to see what the tech-oriented tenants wanted, then brought in SHoP. "This was an outdated midtown office building," says the firm's founding principal Corie Sharples. "It didn't have the vibe that these kinds of companies were really looking for; that was our first challenge." The goal was to create social connection and excitement throughout the structure. SHoP blew out the walls in the atrium to open it up more and made the entryways more inviting, with better elevator access. On the fifth and sixth floors, visible from the lobby, the firm installed a library-like, tenants-only common area called The Perch, which has tables and plush banquettes for private meetings. "You not only have physical access, but you have visual access," Sharples says. "It feels like you're part of something."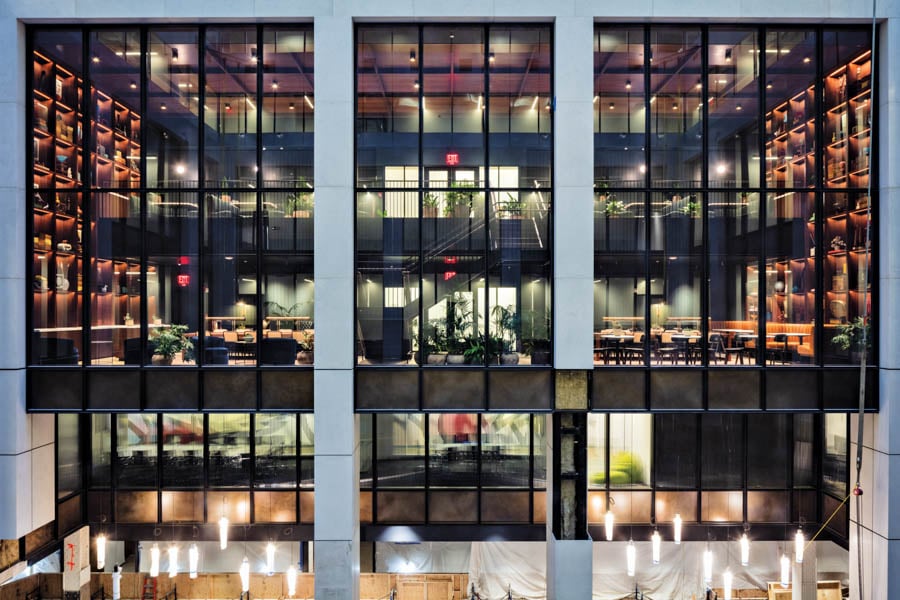 ---
Besides flexibility, community is the selling point for any coworking operation. "Being an entrepreneur is lonely; being able to have social interaction with peers is really important," Sharples says, describing The Company Building as a "safe space."
SHoP also designed a moody bar called Bergamo's on the lobby level, paved in rough-hewn marble and set with eclectic dark wood furniture, including vintage pieces in a Middle Eastern mode—like a colonial British men's club. "We imagined that we stumbled onto some remnants of the Gilded Age architecture that might have been walled up and forgotten about," Sharples says. Bergamo's will be open to the public in the evenings, and at those times it might be the most successful element of the building. It's classic urban space updated for the 21st century; unlike in Gilded Age venues, there are electric outlets near every barstool.
The Company Building combines architectural Postmodernism with the spare postindustrial aesthetic popular among tech companies that pose as scrappy underdogs even when they are the opposite. In his 1991 book Postmodernism, or, the Cultural Logic of Late Capitalism, Fredric Jameson critiqued the strategy of creating a holistic environment within a single building, arguing that John Portman's Los Angeles Westin Bonaventure Hotel, with its soaring atrium a more elaborate version of 335 Madison's, aspired to be a "complete world, a kind of miniature city." The building supplanted the city around it, becoming "rather its equivalent and replacement or substitute."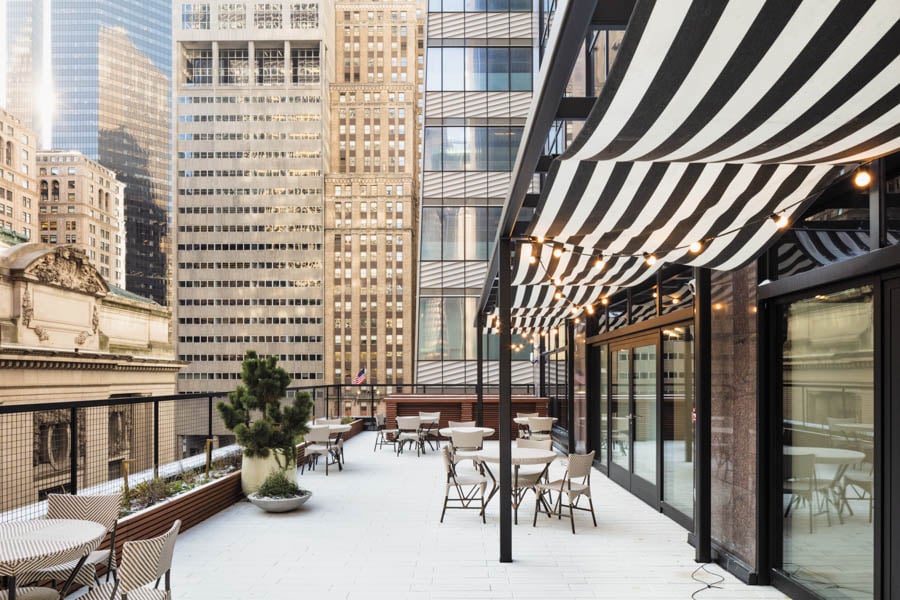 ---
For better or worse, this is what The Company Building accomplishes. Its tenants can commute from their suburban homes in Connecticut or their luxe Williamsburg condos; arrive in Grand Central; walk through the passageways that connect to 335 Madison; take the elevator up to their floor; take another elevator down for coffee, lunch, and happy-hour meetings; then retrace their steps to the train without ever setting foot on the street. The routine is like living in San Francisco and traveling only on the Google bus—comfortable, but doesn't it represent everything the city stands against? The architecture creates an illusion of interaction without the risk or diversity that makes it real.
For better or worse, this is what The Company Building accomplishes. Technology companies have long been obsessed with collaboration. The thinking goes that if you get enough smart people into one space, the natural chaotic energy of different disciplines and professions bouncing into each other in hallways, stairwells, or lounges will result in instant creativity. Architecture seems to facilitate entrepreneurship. In 1962 Eero Saarinen completed his ultra-Modernist Bell Labs Holmdel Complex in New Jersey; there, another glassy atrium separates quadrants of labs and offices, all visible to each other. (The structure recently underwent its own Company Building–like transformation.) In the '70s, MIT's slapdash Building 20, where any occupant could mess around with the space, became a generative site for everything from hacker culture to linguistics. (Noam Chomsky kept his office there for decades.) Xerox's sprawling Palo Alto Research Center, designed by HOK in 1970, was a similar interdisciplinary source of innovation in personal computing.
With the resurgence of Silicon Valley in the 2000s came a vogue for "innovation districts" and more creative workspaces. Coworking ventures like WeWork give everyone the ability to pretend they're a tech worker, hustling on an open-plan floor, dreaming of striking it rich in some future IPO. These spaces create the veneer of a new work-lifestyle without doing much besides cramming more people into less square footage. (WeWork allocates around 54 square feet per worker, whereas alternatives and traditional offices give at least 100.)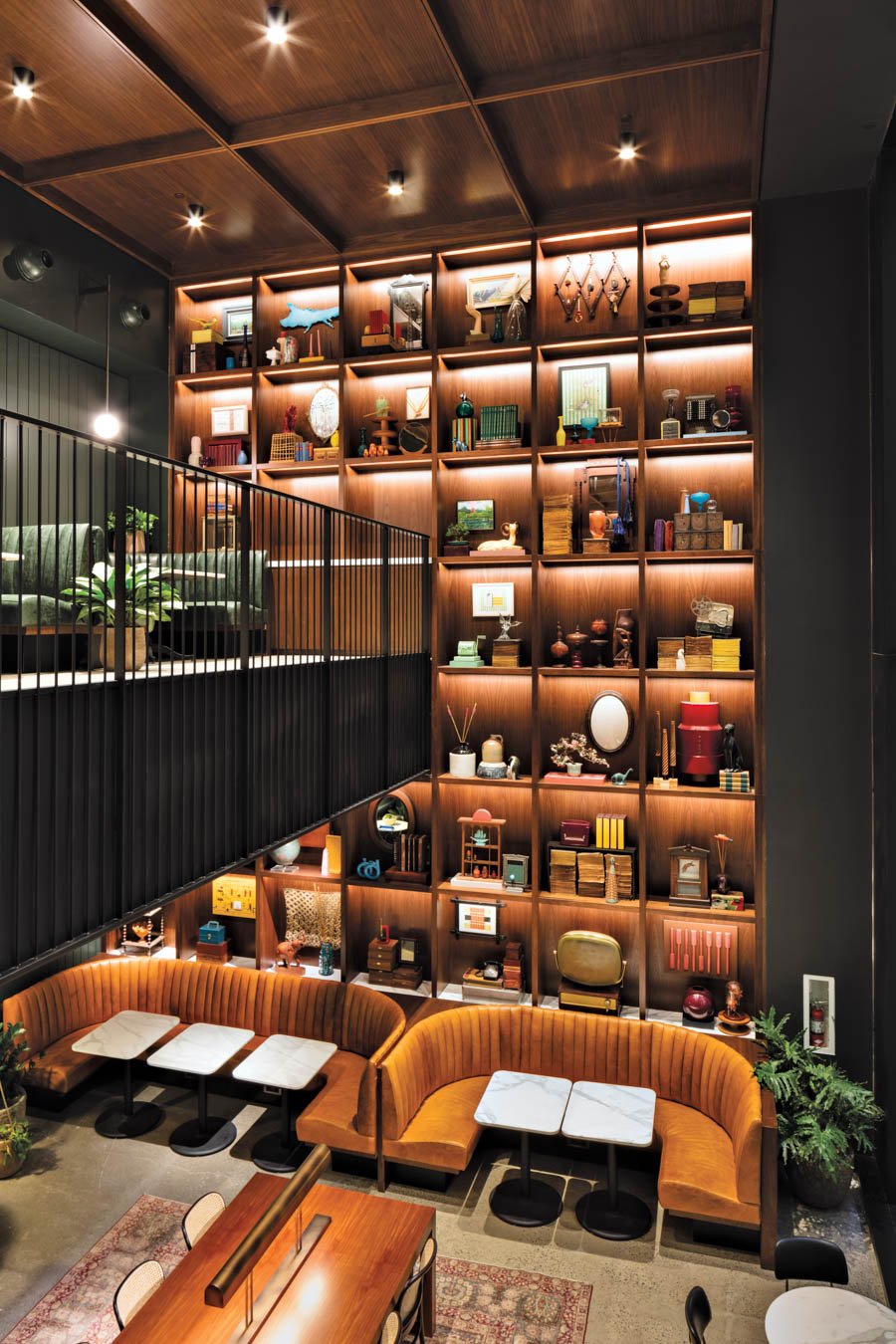 ---
New York City's own tech neighborhood emerged around Union Square with local companies like Tumblr and BuzzFeed, earning the nickname Silicon Alley. A WeWorkification of urban space has ensued, with one-off coworking operations popping up around the city. Zero Irving, a new rental office building near Union Square designed by Davis Brody Bond, shares Company's glassy, potted-plant aesthetic and brands itself as a "tech micro-city." Camp David in Brooklyn's Industry City, designed by David M. Sullivan, is the same, mingling open coworking on the bottom floor with larger rental offices above. All of these spaces look more like hotels than offices.
A core argument of Silicon Valley work culture is that your job should be your life. As WeWork commands, you must do what you love (and make money doing it). If you're not hustling, you're not trying hard enough. Coworking spaces turn this into a spatial ideology, subtly encouraging their users to conduct their entire lives within the context of work. Company's corporate tenants take advantage of the start-up veneer to push the same attitude on their employees. Fredric Jameson's critique rings true: The architecture doesn't offer freedom, but confinement.
What's cast as innovation is instead a method of ignoring what makes Manhattan appealing in the first place: the actual hectic motion of the streets, the serendipitous encounters with people who aren't just like you. The cost of convenience is uncreative numbness, which isn't very good for either life or business. "People at start-ups pull superlong hours, so having off an hour a day is a big quality-of-life improvement," Alexi Nazem of Nomad Health says. "It's so cold today I didn't even go outside. I went straight from Grand Central to the office building, all indoors."
You may also enjoy "Keep Calm and Terra-cotta On."
Would you like to comment on this article? Send your thoughts to: [email protected]