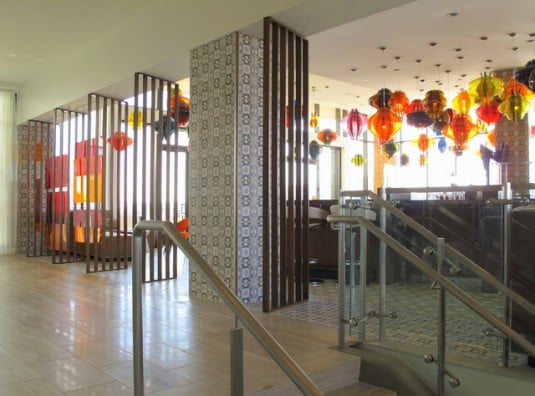 April 13, 2013
The Design Art of Jorge Pardo
A case study in the discussion on the relationship between the creative and the commercial
As much as the boundaries between design and art fade away (at DesignMiami galleries sell design through an art market structure, such as a $50,000 limited edition of 3 "designer" chairs), yet we continue to need to categorize and make distinctions between the two. And when we can't see the distinction, bewildered, we cry for an explanation. A recent post here by Starre Vartan elaborated on one of the defining factors of that distinction: the relationship between the creative and the commercial and what it means to both. This was a great insight. Then my visit to Indianapolis and the new art hotel brought even more clarity to the topic, a case study for discussion. The Alexander Hotel (a 209 room property, part of the CityWay redevelopment complex in downtown Indianapolis) is the result of an initiative by Indiana developer Brad Chambers, a long-time art philanthropist and collector. With the assistance of the curatorial team, lead by chief curator Dr. Lisa Freiman of the Indianapolis Museum of Art, Chambers wanted to bring to the project the inspiration that art, his passion, gives him and, in the process, bring to Indianapolis something new and unique. Beyond a comprehensive and thoughtful art collection put together exclusively for the hotel, 14 artists were commissioned to create site-specific pieces for the property. All pieces make relevant statements and combine successfully to bring the trendy art hotel category to America's Midwest. Undeniably, the piece de resistance is Jorge Pardo's "design" for the bar and lounge, Plat99. Pardo was given one of the most prominent parts of the project to design. The bar and lounge area is a glass box slightly pulled off the main volume of the Gensler designed building, hovering on the second floor at the corner of the busy intersection where the hotel is located, its curtain walls serving as a teaser, inviting passersby for a closer look at what's inside.
---
More from Metropolis
---
A MacArthur Fellowship grant winner, Pardo eludes definitions. When talking to him about the project it's never about it being an installation, or an interior design task, but always about a vision and expressing a sensibility to experiencing space. "I approach it as  the challenge of how to deal with the problem of display, while making a relevant  gesture and  how people will react and interact with it," he told me. That the space should have a "glow" in the evening was for Pardo a big part of that gesture, after all it is a room that's most alive at night. So the ceiling is covered with some 120 lights that spill out of the bar and into the hotel's lobby and main stairway. Organic, sensual shapes and in various lively color combinations, each light is unique and the resulting light-field gives the place a cool vibe, yet makes the expansive room cozy and somehow intimate.
The floor and wall coverings were another opportunity for Pardo to further explore his play of space. A specially created concrete tile, patterned with a flair of 70's graphics but here lighter and softer, were made in a gradation of tones and then applied with the brighter hues on the outer layers, gradually gets neutral as it goes in, creating a subtle movement and energy.
In projects like this several voices are involved, including interior designer, Gensler's Nancy Nodler, corporate architects and builders–sometimes finding common ground between visions can be difficult. But that was not the case here. When asked about that part of the process Brad, who was personally involved in every phase  of this venture, tending to every detail, told me that "early on there was an understanding that this was to be a different hotel and art was a fundamental value of the project."  With that settled, it paved the way for creativity to lead. So is this Art or is it Design?  Is it a hotel bar or a museum gallery?  If you'd ask Jorge Pardo, the answer would probably be a liberating, "it doesn't matter."  He is not concerned with the definitions, but with the creative response he was commissioned to make. It is an opportunity to explore his creativity freely, and his particular sense of space and how to organize it into a functional, yet expressive, environment. Quite fitting for a project that will cater to some of the top creative minds of companies such as Eli Lilly, Rolls Royce, and WellPoint–all located within a stone's throw of the hotel. As Brad puts it, "I think Jorge's work connects the interior of the hotel with the exterior. At night, the lights create a striking statement about the innovative nature of this hotel and its role in the city; it creates a new reference."
Once inside Platt99, I felt that thrilling sense of experiencing being inside a creative impulse. Be it art or design it is simply a wonderfully original expression. All photographs by Paul Clemence. Paul Clemence is an award-winning photographer whose work is part of many collections, including the Mies van der Rohe Archives and housed by MoMA, New York.  He exhibits both in the U.S. and on the international fine art circuit, from classic B & W prints to large scale photo installations. A published author, his work can also be seen in major design and lifestyle publications. His "Architecture Photography" Facebook page receives over half a million hits monthly.