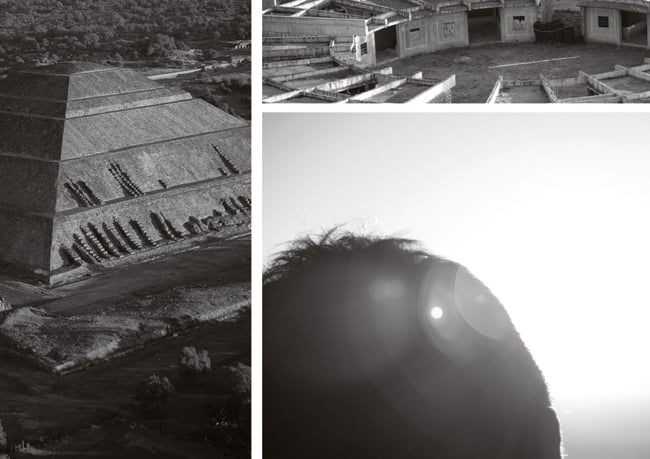 July 8, 2013
The Importance of Graphic Design as Contemplative Art
Students create a visual album (book) of images inspired by their trip to Mexico
We called it a "contemplative design adventure." In summer 2012, I traveled through Mexico for three weeks with six of my top graphic design students. We meditated regularly and sought out experiences of landscape and culture that could galvanize their practice as designers. Our ultimate goal was to create a book together: a full-length visual album of images inspired by the trip. The university where I teach and serve as Graphic Design Department chair, Santa Fe University of Art and Design (SFUAD), supported this concept and fully funded it.
The idea for the trip sprung from my philosophy that graphic designers must develop a heightened sense of perception—a way of seeing, appreciating, and being that helps us authentically reflect the external world through design. I wanted to help the students cultivate this expanded awareness through meditation and travel, and I wanted to see how these practices would inform their art.
---
More from Metropolis
---
The six students, originally from Mexico, had become close friends and colleagues during their studies at SFUAD, forming a design collective called "Hexágono." Energetic and motivated, they created work that had style and rhythm backed by an evolving sophistication. They constantly refined their quality and craft, and they embraced the ethos of contemplative design.
Now these students had the chance to embark on an educational journey through indigenous regions of their home country where they had never before traveled. We began our trip in Mexico City and ended in Querétaro. In between, we spent 23 days wandering and driving through Chiapas and the Yucatán. Now a tribe of nomadic designers, they explored, watched, participated, appreciated.
They made banana tree pulp paper, ancient-Mayan style. Walked through a rainbow from behind the waterfall of Misol Ha. Fell asleep in hammocks on the powder white beaches of Tulum. Heard the ceaseless ocean waves alongside morning mediation practice. Climbed steep vertical steps, deep within the belly of the earth, past stalactites and stalagmites, in utter darkness. Drifted by orchids growing freely in the wetlands and water canals of Sian Ka'an and watched crocodiles in the Cañón del Sumidero. Floated by Aztec ruins on the edge of Mexico City at sunrise in a hot air balloon. Emerged from a sweat lodge to see an expansive full moon. Savored fresh fish and chilaquiles. Laughed with profound joy under magnetic yellow and copper skies.
Through these many experiences, the students learned how to listen to the beauty of the Mayan ruins. Tune in to the primordial energies of rhythm, repetition and pattern. See beyond looking; hear beyond listening; sense beyond touching.
Returning to SFUAD for the fall semester, the Hexágono spent months in the studio crafting endless imagery and meandering narratives. The end product is a book called The Importance Of…, which serves as a visual response to their travels. The book shares the perspectives of six contemplative graphic designers. Some pieces incorporate photographs, symbols, or cultural references found on the trip. Others are the result of experimental image-making, expressing the emotional journey of each student.
Throughout the trip and book-making process, I saw transformations. I saw a group of young graphic designers contemplate time and space and become more content and more engaged. I saw them apply graphic design thinking to focus their attention in gentle spaciousness and not fill every moment with an abundance of thought. I watched as their sense perceptions heightened. I saw each student—Rebecca, Pablo, Suzelle, Fernando, Marco, and Ana—magnetize the riches of artful awareness.
I think this trip will forever change the way these students approach, apply, and appreciate graphic design. They developed a deep appreciation for the similarities and differences within each of us, between cultures and beyond concepts. It was magnificent. To have this type of experience with friends and colleagues is a critical, yet newfound component of design education.
David Grey is chair of the Graphic Design Department at Santa Fe University of Art and Design. He is also the founder of Sun Mountain School of Contemplative Art and the publisher of the design broadsheet Cottage Scholar. David holds a BA in psychology from Tufts University and an MFA in graphic design from CalArts. He teaches graphic design as contemplative art and mindfulness practice.  When not teaching, meditating, or enjoying great New Mexican food, David runs a graphic design studio where he produces both client-based commissions and personal projects. His work can be seen at www.dgrey.com.